Best Chicken Wing Wednesdays Restaurants in Calgary, Alberta
I don't know about you, but when Wednesday rolls around I am usually scrolling through my contact list to see who's up for some chicken wings and beer. After all, you can't beat how cheap wings are on this very special day that every foodie and their cousin have marked down on their brains weekly calendar.
Usually a one-two combo with an alcoholic beverage of your choice, wings Wednesday's are the perfect time to relax mid-week while chatting with company and enjoying the different wing flavours. Here are three of Calgaryism's top picks to do exactly that at:
Riverstone Pub
Address – 773 Northmount Drive NW

Phone Number – 403-509-1560

You have to love wings wednesdays at places like the Riverstone Pub where there's an entirely separate menu just for wings. With 69 different flavours, you'll never get bored with wing night at this awesome inner city pub.

The wings are also cooked perfectly to leave some juicy flavour inside. Some are breaded while others are lathered in sauce, making for a nice mix depending on which ones you order.

The menu is also laid out into different categories: "Shes a Hottie," "Wet n' Wild," "Hey Honey," "How Bout' Them Cowboys," "Crazy Chicks," "Rub me Tinder," and "Hall of Fame," giving you a general idea of what category to browse based off what flavours you like.

Riverstone isn't your typical neighbourhood pub either. Inside you'll find 3 pool tables and 3 dart boards, the latter of which is free to play. It's not a surprise to find local pool players competing in the afternoons over a pint of house draught beer. This also makes for a very lively atmosphere almost any day of the week!

There's also a $5.00 drink special for the house lager on Wednesdays which goes hand-in-hand with wing night every time. Throw in a few games of darts or pool and its a great time – all the time! Stay tuned for a restaurant review.
Beagle 14
Address – 410 14th Street NW

Phone Number – 403-283-6678

Wings Wednesdays at Beagle 14 are as good as it gets with just $0.39 cent wings and $5.00 Beagle brew pints and Jager shots!

With 36 different flavours to choose from, more than most Wing Wednesday restaurants in Calgary, it's hard to get bored of the flavours at Beagle 14. We recommend the dill pickle, voodoo, lemon pepper, suicide hot and the house special – Beagle 14.

The nice thing about Beagle 14 wings is that you can actually taste the flavours, unlike at some other restaurants around the city.

Many people in the Hillhurst area and northwest part of the city love this place for its friendly atmosphere and comfortable patio which has just undergone a major renovation to include even more space. Inside is comfortable too with regular tables, high tables and bar seats with HDTV screens on almost every wall.

I've always had exceptional and friendly service when at Beagle 14 and definitely recommend it as a destination on your list of best chicken wing Wednesday restaurants to try in Calgary!
Rose & Crown Pub
Address – 1503 4th Street SW

Phone Number – 403-244-7757

The Rose & Crown pub has its own claim to "Wings Wednesdays" with its pound of wings and drink combo that also will hit the wallet for about $5.00 a pop.

These wings are somewhat of a cross between those at Mug Shotz and Hudsons with a nice balance between bread and size, while the taste is right on point.

Rose & Crown has about ten or so flavours to choose from of which I really liked the coconut thai curry, salt & pepper and parmesan ranch.

Each pound of wings comes with a few celery and carrot sticks and a ranch dip. Sometimes I think it`s just to make you feel not guilty for stuffing your face with fried chicken wings – the veggies are a nice addition, anyhow!

One really neat thing about the Rose & Crown is that it's a very old building with several different sectioned seating areas. These provide a reasonable amount of privacy for you and your company every time.

I also love their patio section during the spring and summer which backs right out onto 4th Street SW, although you may have to wait for a bit to get a seat during peak times.
Mug Shotz Sports Bart & Grill
Address – 12, 2808 Ogden Road SE

Phone Number – 403-264-4441

Hailed as one of the best places in Calgary to eat wings at, Mug Shotz won`t disappoint on Wednesdays with its thick and juicy chicken wings.

Those with gluten sensitivities and a general distaste for breaded wings should stay clear, however, as part of the restaurants trademark is breaded chicken wings.

The bread is actually part of their secret to begin with; it`s almost as if it holds in all the flavour and juice when being deep fried, making for one of the tastiest wings in the city. It`s unusual location on Ogden Road SE puts it dead smack in the middle of an industrial zone, but heck, the trip is well worth it.

Oh, and don`t expect anything spectacular from the restaurants atmosphere as some would call it kind of run down but I like to think of its older bar-style interior as adding character to one of Calgary's best chicken wing restaurants. Check it out!
Hudsons Canada's Pub / Canadian Taphouse
Wings Wednesdays don`t get any better than at any one of Hudsons locations around Calgary.

Not only are the boneless AND boned chicken wings delicious, but every restaurant in this chain has a classy atmosphere and is as entertaining as it gets with a dynamic table seating arrangement and multiple HDTV`s which typically are broadcasting the game.

Every time I have been on a Wednesday to cheap out and grab a pound of wings with a drink for just over $5.00, the chicken wings have been cooked to perfection and had me leaving with a lasting impression as one of the best spots to do so.

Choose from about a dozen different flavours to accompany your alcoholic beverage of choice. I highly recommend trying the honey srirachi and salt and pepper flavours – they are my favourites!

Also, the dark lager that you can choose to accompany the wings is a bit sweeter than Guinness but tastes pretty similar other than that. Check it out!
What are your favourite "Wings Wednesdays" restaurants in Calgary? Let us know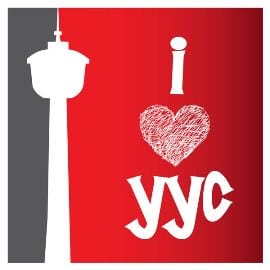 below and we will add them onto our list above!
Join Us
Looking for more of the best local restaurants, activities, events and everything else to do with YYC? If so, we invite you to join us at Calgaryism on Twitter, Facebook and Instagram to stay updated with all our posts via your live social media feed. We hope to see you there!