Canada Named 3rd Best Country in the World! (2019)
January 23, 2019
By Cody Battershill
Canada Ranks 3rd Best Country in 2019!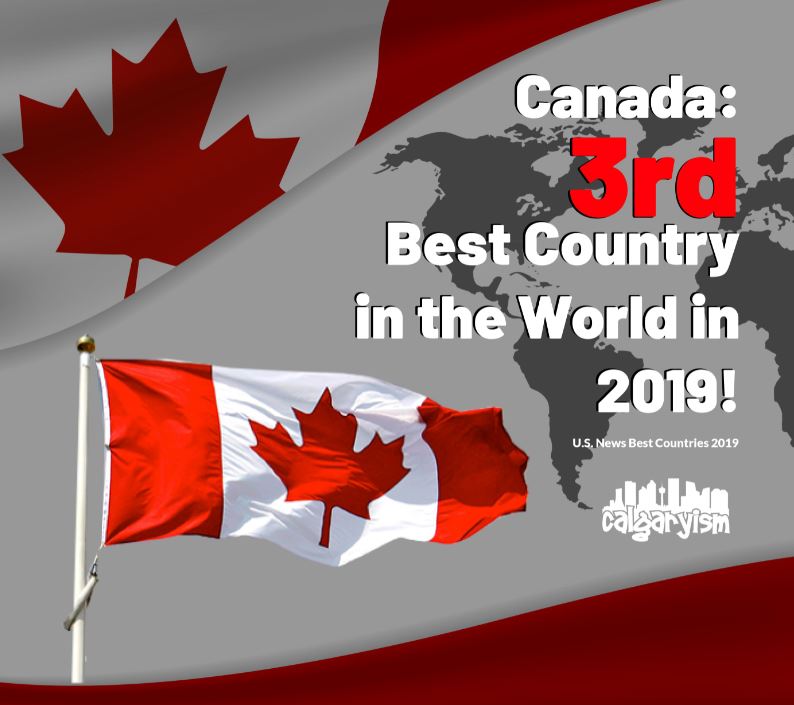 Finally… a media organization which confirms my biased views as a Canadian, that my home nation is one of the best! This is something I knew all along! Just kidding. But here's the scoop:

The U.S. News and Report's Best Countries 2019 named Canada as the second-best country in the world, up one spot from the previous year. It was beaten by only Switzerland, which held onto its title as the best of the best for three consecutive years.

Canada previously held the second spot since 2016.
Top 10 Best Countries in the World 2019:
Switzerland
Japan
Canada
Germany
United Kingdom
Sweden
Australia
United States Norway
France
How Nations are Ranked
How does U.S. News come up with its rankings? How do they know that Canada is actually the 3rd best country in the world? Here's how they do it.

Data is collected for various categories (seen below) with different percentage weights to determine an overall point score out of 100, then ranks countries accordingly from highest to lowest.
-----------------------------------------------
Entrepreneurship – 17.87% - connected to the rest of the world, education, entrepreneurial, innovative, skilled labour force, access to capital, technological expertise, infrastructure, legal framework, business transparency

Quality of life – 16.77% - job market, economically stable, affordable, income equality, family-friendly, politically stable, safety, public education systems, public health systems

Citizenship – 15.88% - cares about human rights, religious freedoms, gender equality, environmental stewardship, distribution of political power, property rights trustworthy, progressive

Movers – 14.36% - dynamic, distinctive, different, unique

Cultural influence – 12.96% - cultural entertainment, influential culture, trendy, prestigious, fashionable, happy

Open for Business – 11.08% - manufacturing costs, favourable tax environment, corruption levels, bureaucracy, government transparency

Power – 7.95% - Global leader, politically influential, strong international alliances, strong military, economically influential

Adventure – 2.00% - climate, friendly, fun, pleasant, scenic, sexy

Heritage – 1.13% - rich history, great food, cultural attractions, culturally accessible
Report Methodology
In short, a set of 65 different country attributes were identified, which were then included on a mass survey sent out to more than 20,000 people worldwide. Participants recorded how they felt about each of these attributes regarding each nation.

These 65 attributes were separated into 9 different categories (above). The more a nation was associated with a certain attribute by participants, the higher it ranked.

A total of 20,301 individuals from four regions – Asia, the Americas, Europe and Middle East – and 36 different countries were surveyed. Of the respondents, 5,693 were business decision-makers and 11,238 were elites.

Every participant's response was weighted equally in the results.
Which Countries to Rank?
U.S. News found its 80 ranked countries by using subsets of data showing:

Top 100 countries in terms of GDP in 2016
Top 100 countries in terms of foreign direct investment inflows in 2016
Top 100 countries in terms of international tourism receipts in 2016
Top 150 countries in the U.N.'s Human Development Index in 2016

Countries that did not participate in these fielded reports or did not make it onto the list of all four were not included by U.S. News to be evaluated.
I Love Canada
Canada is one of the best countries in the world! Way to go Canada, True North strong and free!
Canada is a world-leader when it comes to transparency, democracy, woman's rights, equality, freedom of the press, religious freedoms and environmental stewardship to name just a few!
As Canadians, we should be proud of our country and everything that makes Canada great! We should continue to work towards bettering Canada not only for our own national interests, but also for those of the world.
More Canada equals a better world because we are so transparent, regulated and free!