VIDEO: 7 Cool Facts about Canada – World Economic Forum
February 20, 2017
By Cody Battershill
Seven Cool Facts on Canada by the World Economic Forum
The World Economic Forum has put together a fascinating list of facts that you may or may not know about Canada. Check them out!
[pb_vidembed title="" caption="" url="https://www.youtube.com/watch?v=B8IRJey1kTs" type="yt" w="580" h="385"]
#1 - Canada is the world's most educated country, with 55 % of adults having some sort of degree
The Canadian education system is ranked one of the best in the world, with students coming in seventh place overall in the triennial Programme for International Student Assessment (2015) – Sourced from National Post
#2 - Canada has more coastline than any other country, with 202,280 kilometres in total
Next up in a not-even-close second place is Indonesia, with 54,716 kilometres, and in third, Greenland with 44,087 kilometres – Sourced from CIA World Factbook: Coastline
#3 - Parts of northern Canada have lower gravity than the rest of the world
You'll weight about a tenth of an ounce less than you would anywhere else on Earth - Sourced from Conde Nast Traveler
#4 - Canada has the third largest proven oil reserves in the world
At 173 billion barrels - or 27 504 802 022 544 trillion litres - a significant amount of Canada's proven reserves are found in the oil sands and in conventional wells in the western province of Alberta.
#5 - Canada's population is smaller than Tokyo and Yokohoma's metropolitan area
Tokyo-Yokohoma have a combined population of roughly 38 million. Canada's total population is just over 35 million - Sourced from World Atlas
#6 - Canadians consume more doughnuts than any other people in the world
Apparently this is a result of coffee being the most popular drink in Canada. After all, there is a Tim Horton's on nearly every street corner – Sourced from the Canadian Broadcasting Corporation
#7 - The province of Ontario has 250,000 lakes containing 20 percent of the world's fresh water
Less than half of the fresh water in Canada – about 7 percent – is renewable because most of it is fossil water retained in underground aquifers, lakes and glaciers
Do you know some cool facts about Canada that aren't on our list? Drop us a line below and we will gladly add them!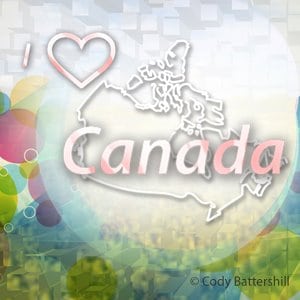 I Love Canada
Looking for more of everything to do with Calgary, Alberta and Canada as a whole? If so, we invite you to join us at Calgaryism on Facebook, Instagram and Twitter today. We hope to see you there!