Centre Street Japanese Hot Pot Calgary Restaurant Review
July 26, 2017
By Cody Battershill
Centre Street Japanese Hot Pot Calgary Restaurant Review

Having a knack for Asian cuisine, I always love trying out new restaurants whenever I see or hear about one. A few of my friends mentioned there was a new Japanese hot pot place that just opened and that we desperately needed to try it!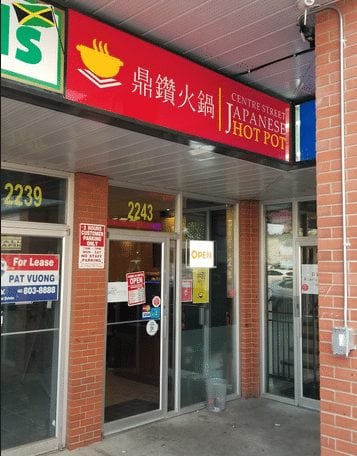 We set out on a weekday to try Centre Street Japanese Hot Pot, and what we found was a great alternative to all-you-can-eat hot pot restaurants that cost about $30.00 each. Here, it cost just under $20.00 per person and you get a bowl of ingredients that is more than big enough to fill the stomach.

*10 rated as best
Atmosphere & Service
Inside Centre Street Japanese Hot Pot you'll find an L-shaped room with two-to-six person tables spread along the perimeter. Windows on the north side let light in, a nice feature considering that this restaurant is tucked away in a strip mall and feels congested just looking at the half-blocked sign from parking lot. Tables and seating are comfortable and there's ample spacing between for privacy.

As far as service goes, this restaurant has a "do-it-yourself" expectation where you get initial drinks, have your food brought out to you and soup refilled if need be – but that's about it. I didn't appreciate the fact that I had to get up to get my own drinks especially when being asked for a tip while paying the bill.

On the plus side, there's a water and iced tea (sugar-free) drink dispenser that gives you two options when filling your own cup up. When our servers did manage to come to the table, however, they were very polite and helpful.
Our Orders
Double beef hot pot (large) - $18.99 - Choice of 16 different broths, two meats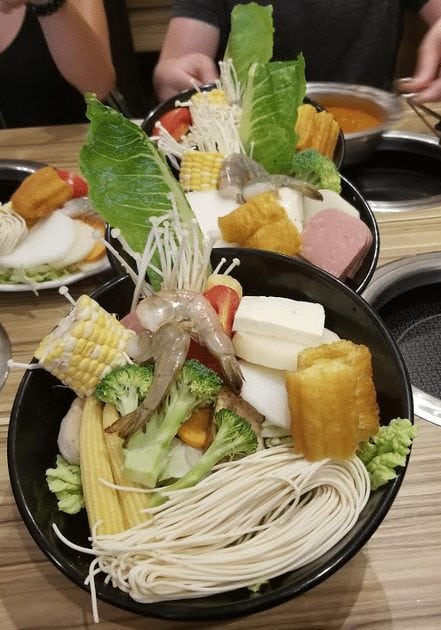 First off you choose what size of hot pot you want (small is $15.99) and then your broth. The next step is to choose what meat (beef, lamb, pork, chicken) and noodles (rice, glass, udon, ramen, instant) you want. A large gets a double order of meat.

A bowl and tray is brought out to you with:

Noodles of choice
Meat of choice
Crab legs
Prawns
Spam
Lettuce
Tomato
Carrots
Corn
Baby corn
Broccoli
Radish
Mushrooms (two kinds)
Tofu

…and a few other ingredients to put into your soup. A bowl of your broth is then put onto your heating tray and you're off to the hot pot races!

My tom yung kung broth was as I expected – sweet yet spicy and not too greasy to boot. The veggies were fresh and tasty while the beef was thinly sliced and moderately lean. One thing I didn't like much though was the spam as I am not a huge fan of canned foods.
Bubble tea - $3.00 to $3.75 (combo with soup) – your choice of flavour and style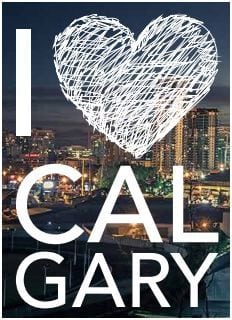 Centre Street Japanese Hot Pot offers combo meal where you save $1.00 on the price of any of their bubble tea's when ordering hot pot. They have around 50 different flavours and the fruit ones are made with real, fresh ingredients.
Overall, Centre Street Japanese Hot Pot was a good hot pot experience that gives an affordable alternative to the more expensive all-you-can-eat ones around Calgary. We recommend it to those looking for good hot pot at a great price!
One thing I wasn't quite sure about though is what or how this restaurant distinguished itself as a "Japanese" hot pot. There was nothing to indicate it was authentically Japanese whatsoever during my visit.
Centre Street Japanese Hot Pot
Address – 2243, 2213 Centre Street NW, Calgary, AB
Phone Number – 403-455-3188
I Love Calgary
Looking for more of the best local restaurants, activities, events and everything else to do with YYC? If so, we invite you to give us a like at Calgaryism on Facebook and Instagram – stay updated with everything Calgary via your live social media feed today. We hope to see you there!