Find Out What's New at Century Gardens Park
May 17, 2019
By Cody Battershill
West Downtown Park Project Almost Done!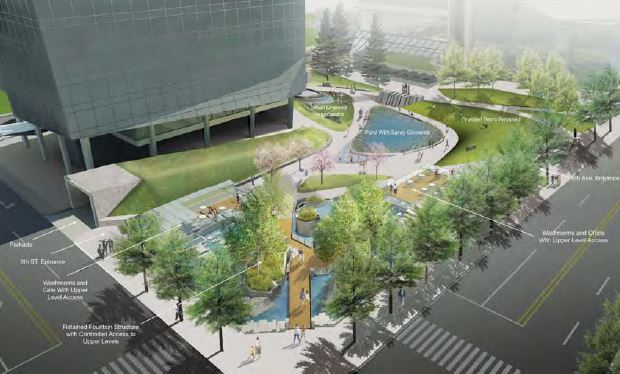 It's taken quite a few years for the City of Calgary to finally move forward with plans to redevelop Century Park Gardens.

For some, this west downtown park was a pleasant spot to eat on lunch break, a thoroughfare for the nearby C-Train station for others, and a sectioned-off public urination station for a select few at night.

Once completed, hopefully it will be those things again, except for the last of course. According to redevelopment plans, it seems this will be true.

Included in its new design are some of the park's original design features such as the concrete fountains and waterfalls. To make the park more open and less prone to public peeing, the concrete staircases and ramps to the upper level will be removed.

Replacing those will be two public buildings that will have a public washroom on one side and a café on the other. Access to the top park level will be from inside those buildings and be restricted after hours.
Location: Century Gardens Park
[map src="" width="100%" height="350px"]
Quick Facts: The New Century Gardens Park
New public bathrooms
Small grass amphitheatre
Retained public art from the old park
Retained historic fountains from the old park
New central splash pond with water jets
Open-concept design with more walking space and sight lines
Two new park pavilions with space for a café, seating area, office space etc.
A total of 70 new planted trees and the restoration of 16 old ones
Controlled access to the upper south-west fountain area
Set to open late in 2019
History of Century Gardens Park

Almost 45 years ago, in 1975, Century Gardens Park was developed to celebrate the City of Calgary's Centennial birthday.

Original designers of the park were inspired by the foothills and Rocky Mountains, hence the large concrete pillars, varying elevations and waterfall fountains.

Today, some of the park's original components are reaching the end of their life cycles. This has given the City the opportunity to redevelop it into a modern urban park that will serve its purpose better than ever before.

At a total cost of $9.7 million, it should give west downtown a much-needed greenspace and boost of vibrancy this area has always needed.

Learn more about Century Gardens Park and other redevelopment projects by the City of Calgary today.