Why I Love Connaught – Cilantro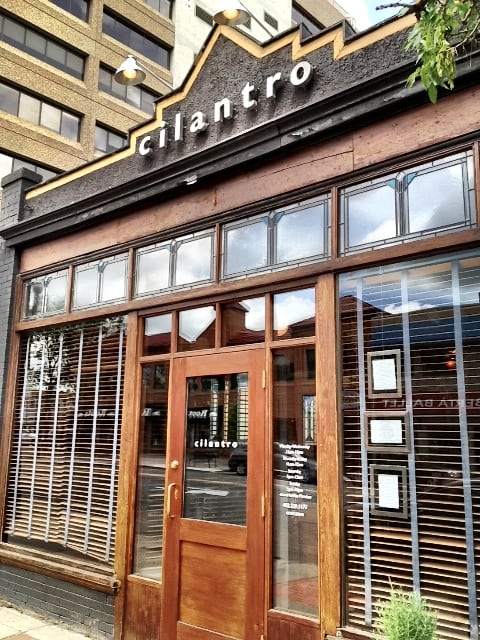 With all of the new restaurants popping up in Calgary's downtown, especially those in the Beltline districts of Connaught and Victoria Park, I temporarily forgot about Cilantro; an old faithful of mine.
Upon sitting down to lunch, I felt a sort of sadness wash over me, as if I had neglected an old friend. I hadn't been to Cilantro in ages and was really missing out. But like any good old friend though, we picked up right where we left off! I immediately felt comfortable and excited, and quickly remembered why I like this spot so much. Pinot Grigio to celebrate the reunion? Yes please!!
A testament to its high end quality food is the fact that Cilantro has survived and thrived in Calgary's Beltline for 25 years.
This summer, for the first time in 22 years, the rustic casual CRMR restaurant has changed its menu. I had just a sampling of the new items this week and will be back frequently until I try each of the dishes that I struggled to choose between.
Atmosphere
This time around I got to enjoy the sunshine on their stunning 50 seat enclosed patio and veranda space. Surrounded by white lights above in the trees and luscious Virginia Creepers, it really is a tranquil and calming scene.
Inside and out, this restaurant is so private, quiet, cozy, and well maintained that it's hard to believe you're sitting right in the midst of the hustling and bustling neighborhood of Connaught.
Cuisine
Cilantro's unconventional Californian-Southwestern flare is inspired and created by Chef Ken Canavan. With daily and nightly features, specialty flat bread pizzas, delectable homemade pastas, and scrumptious entrée choices, there is undoubtedly something for every taste bud.
I'd recommend starting your meal with the mussels. I'd even go so far as to say that they are the best mussels in the city. With a choice of either chorizo and clam sauce, or black bean cream sauce, you simply can't go wrong.
The prawns were done in a caramel ginger chili sauce, making them so completely flavorful and a huge hit at the table.
An original menu item not to be forgotten is the pear and gorgonzola flatbread with pine nuts and dill pesto.
And the last item that I was able to try in this particular lunch seating was the duck confit flatbread sandwich. Rich, succulent, and flat out divine, this dish is served with pickled veggies that cut the richness just perfectly.
It was hard to leave without getting a fix of their famous black pepper linguini with chicken and nutmeg cream sauce but I will be back for it and the Hunan flavoured New Zealand rack of lamb very soon.
Award Winning Restaurant
Cilantro offers a brag worthy wine list and has been a recipient of The Wine Spectators "Award of Excellence" 1996 through to 2010. They generally stock 250 different wines by the bottle and offer up to 25 glass pour options at any given time.

Most recently, Cilantro received the platinum award at the Vancouver International Wine Festival in 2013 and the prestigious 'Gold Glass Award' at The Vancouver Playhouse International Wine Festival in 2012.
Check Out Cilantro!
If you live in the Beltline/Connaught area, or even if you don't, don't forget about this iconic downtown Calgary restaurant. Consider this a reminder!!! Cilantro is a classic that ought not to be forgotten. Check out our full Cilantro Calgary Restaurant Review today!
Address – 338 17th Avenue SW, Calgary, AB
Phone Number – 403-229-1177
Get engaged in the Calgary community via social media today at our Calgaryism page on Facebook, Instagram and on Twitter as well. See you there!