Dairy Lane Cafe Calgary Restaurant Review
May 18, 2012
By Cody Battershill
Dairy Lane Cafe Calgary Restaurant Review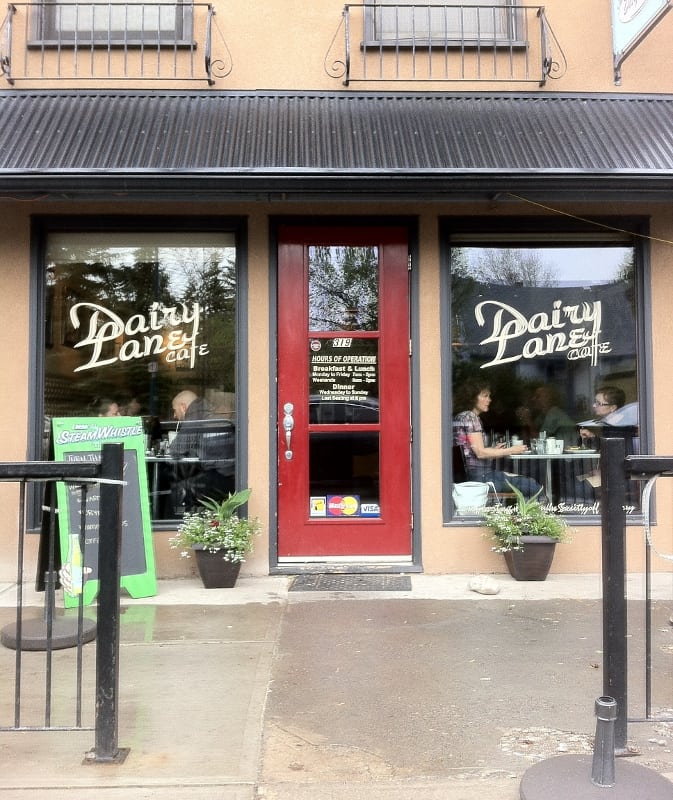 Dairy Lane Cafe is a neat little restaurant tucked away in a strip mall on 19th Street NW between 2nd and 3rd Ave. It has been a long time since I visited such a small place to eat, but I am sure glad I did!
Entering the restaurant I noticed there were only nine tables, and eight of them were full; a good sign for a newly discovered restaurant. Dairy Lane Cafe could definitely buy out one of the retail spaces adjacent to it and still be packed to maximum capacity for breakfast on any Tuesday morning.
I am an Eggs Benedict lover, so I ordered one of the variations with gluten free bread, roasted pepper, avocado and requested they add back bacon as well. The Eggs Benny came with hash browns and the waitress brought along some funky India hot sauce, which just happened to supersede my reigning hot sauce favorite, Franks.
After that first bite, I no longer was paying any attention to my surroundings, not even to my sister sitting across from me. I lost all train of thought because of the deliciousness of roasted pepper, bacon and especially the lovely taste of the avocado, giving my taste buds more than they bargained for. When I snapped back to reality, I had to let my sister know these are the BEST eggs Benedict I have had in town. As an Eggs Benny guy, I have to let everyone know including you!
If you are in the Hillhurst area during the lovely hours of the morning, I highly recommend stopping by Dairy Lane Cafe for a wonderful breakfast. I only saw one table for 4 when I was there, so if you have a larger party you might want to call before hand to have something arranged. Check out Dairy Lane Cafe today for the best Eggs Benedict in town.
Dairy Lane Cafe

Address - 319 19th Street NW, Calgary, AB
Phone Number - 403.283.2497
Thanks for stopping by! Maybe Dairy Lane Cafe is a bit far to travel to for you during the hectic morning traffic hours? Another two lovely breakfast restaurants are:
Blue Star Diner Restaurant in Calgary