Developer Profile – Qualex Landmark
January 23, 2013
By Cody Battershill
Developer Profile – Qualex Landmark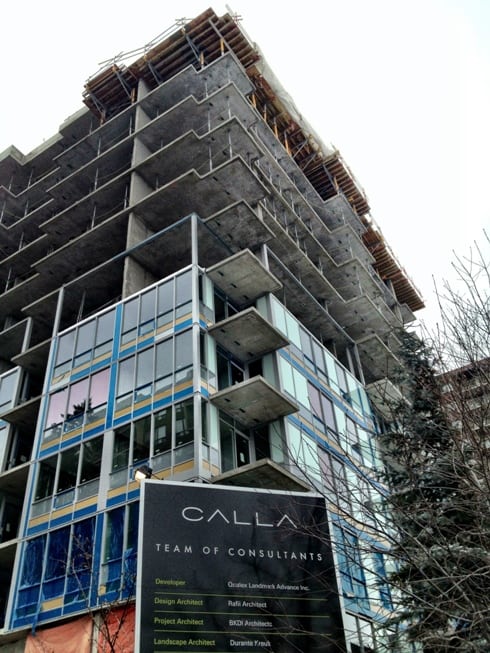 Those familiar with new condo projects here in Calgary have likely heard of the name Qualex Landmark at some point or another. Developer of notable condos such as Stella Nova Luna, Calla and soon to come Mark on 10th, Qualex Landmark is leaving a lasting impression on the new condo market in Calgary.
Qualex Landmark is a Vancouver based developer with an impressive portfolio of over 2500 homes built in British Columbia and Calgary, Alberta. Qualex Landmark has increasingly evolved into a household name here in Calgary because of the quality of product and satisfaction of its customers.
Mohammed and Roger
In 2002, Mohammed Esfahani and Roger Navabi joined forces to create Qualex Landmark, a respected development company here in Alberta and in British Columbia.
Roger Navabi has been involved in commercial and residential projects in Canada for 30 years. Today, as president of Qualex Landmark, Roger oversees the companies' daily operations and project activity.
Over three decades of experience has brought full recognition to Mohammed Esfahani as a highly regarded specialist in his line of work. Mohammed is the managing director of Qualex Landmark. He has an important part to play in the construction of projects and oversees the development team.
Qualex Landmark Calgary Condos
Mark on 10th – construction completion projected autumn of 2015 – Mark on 10th is the newest addition to the Qualex Landmark condo family here in Calgary. Located on the corner of 10th Avenue and 8th Street SW in the Calgary beltline community of Connaught, Mark on 10th will surely appeal to buyers looking for upscale homes in a downtown location. Find out more at Mark on 10th Project Launch.
Calla – construction completed Summer of 2013 – Calla is a sold out new condo development located on 14th Avenue and 6th Street SW, in the heart of the beltline community of Connaught. Calla is another original by Qualex Landmark offering upscale homes, superior inner city location and exceptional value. Learn more at Calla Condos in Calgary.
Luna – completed in 2012 – Luna is third and final condo development of Stella Nova Luna. Also found in Connaught on the corner of 12th Avenue and 10th Street SW, Luna has appealed to condo buyers through an amazing inner city location, upscale features and fantastic in-house amenities. Read more at our Luna Calgary Condo Building Review.
Nova – completed in 2009 – Nova is the second development of Stella Nova Luna, found on the same block in Connaught, Calgary. Nova offers residents an amazing beltline location and great condo floor plans / upscale finishings. Find out more at Nova Calgary Condo Building Review.
Stella – completed in 2006 – Stella was the first condo development to be built on the city block in Connaught. Stella set the tone for the following Nova and Luna developments and was the condo project that introduced Qualex-Landmark to the Calgary condo market. Learn more at Stella Calgary Condo Building Review.
Qualex Landmark has a long history of high rise condominium construction. They have a proven track record for building and completing beautiful buildings, each original in their own ways.
If you would like to see listings in any of these original Qualex Landmark condos here in Calgary, don't hesitate to call me, anytime! Be sure to check out our 15 Tips to Buying a New Calgary Condo for a smooth buying experience!
Questions about Condos in Calgary?

Contact a Calgary Condo Expert today! Reach me at 403-370-4180 or message me below. I am looking forward to helping you accomplish your condo goals!
[gravityform id="1" name="How Can I Help?"]