Do What the Locals Do – Episode 4 – Kananaskis Country
April 2, 2012
By Cody Battershill
Do What The Locals Do – Episode 4 - Kananaskis Country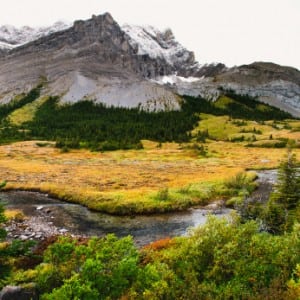 Kananaskis Country is a favorite place to go for many Calgarians during all seasons. Whether it be cross-country skiing, snowboarding, hiking, biking or dirt-biking, the 4000 square kilometers of mountains and foothills are a great place for outdoor activities year round.
One main reason why so many Calgarians use the provincial park is because it is relatively close, only a 30 minute drive west of Calgary on the Trans-Canada Highway. If you can find 16th Avenue North then your good to go. Just head west and you will be at Kananaskis Country in no time!
Kananaskis Country was dedicated to the public as a new wildland recreational area 25 years ago in 1977. The provincial park actually consists of five smaller parks, each with its own unique characteristics. These include Peter Loughheed Provincial Park, Bow Valley Provincial Park, Elbow-Sheep Wildland Park, Wind Valley Natural Area and Plateau Mountain Ecological Reserve.
Built for the Olympic Winter Games in 1988, Kananaskis Village and the Nordic Centre are a great place to spend a weekend for some rest and relaxation.
Kananaskis Village offers 3 different hotels with a variety of in house amenities, including event rooms, fitness centre, spa and fine dining. A 36 hole golfing course is overlooked by the village with Nakiska ski resort in the same vicinity. Nakiska is a great place to ski if you are looking to get away to the mountains but at the same time stay within close proximity to Calgary.
There is a vast expanse of trails and campgrounds as well in Kananaskis Country for outside activities. Why not do what the locals do in Calgary and experience Kananaskis Country for yourself!
Looking for more things to do with the locals?