Do What the Locals Do – Episode 5 – Calgary Zoo
April 20, 2012
By Cody Battershill
Do What the Locals Do – Episode 5 – Calgary Zoo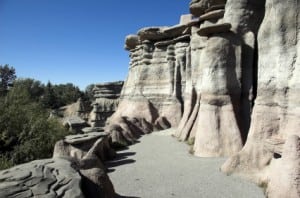 The Calgary Zoo is a great place for some harmless fun by yourself, with friends, family or your significant other. Located in the NE community of Bridgeland, it is close to the downtown business district of Calgary, where citizens can choose to ride the north east destined LRT train and arrive at the Calgary Zoo within minutes.
The Zoo is also accessible by vehicle from Memorial Drive, through Inglewood across the 12th Street SE bridge and by river pathway extending eastward from the downtown East Village community and another on the north side of the river.
Great Zoo Facts
Established in 1929, the local zoo has grown to be the second biggest in all of Canada!

Exhibits are organized into geographical regions including Australia, Botanical Gardens, South America, Prehistoric Park, Canadian Wilds and Destination Africa.

Types of animals at the zoo aren't limited only to these geographical regions.

One of the newest additions is the Arctic/Antarctic penguin grounds.

The Calgary Zoo is constantly looking for new species to include in their already large and diverse animal family.
One thing I absolutely love about this place is its awesome location. A day at the zoo usually includes a delicious Italian style sub at Spolumbo's on the corner of 9th Avenue SE and 12th Street SE, followed by a walk along the Bow River pathway westward to Eau Claire Market, then back to the car. There are so many different animals here (approximately 1000) that a full day spent at the Calgary Zoo might not include an opportunity to stop and see each and every kind of animal you would like to. It's just that big! On that note, make sure to take some sun screen on a hot summer's day and wear some good walking shoes regardless because of the large amount of walking done between exhibits.
No matter if you live in Calgary or are stopping by on a short business trip, the Calgary Zoo is an eventful local activity good for a full day or just an afternoon, your choice. Here is some general information for your convenience:
The Calgary Zoo
Address - 1300 Zoo Road NE

Phone Number - 403-232-9200

Hours - 9:00am to 5:00pm 7 days a week, except for Christmas and for the annual Zoogala fundraiser.
Thanks for stopping by! Check out more episodes of do what the locals do below.
Do What the Locals Do – Episode 2 – Canada Olympic Park