Do What the Locals Do – Episode 8 – Heritage Park
June 8, 2012
By Cody Battershill
Do What the Locals Do – Episode 8 – Calgary Heritage Park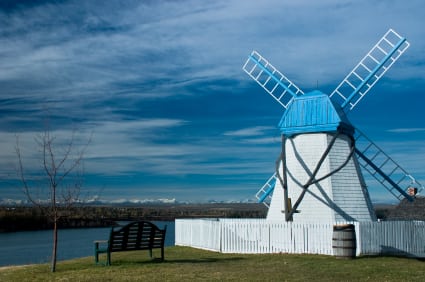 Welcome to another episode of do what the locals do in Calgary. Today we will explore a wonderful, fun-filled historical attraction named Heritage Park, in Calgary's SW quadrant on the brim of the Glenmore Reservoir, with park access on 14th Street SW and Heritage Drive SW.
Heritage Park transports you back in time to the old-western frontier when life was old-fashioned. Find an exceptional balance between discovery, adventure, historical facts and fun, making it a popular destination for locals and tourists alike. There are three main periods of Western history focused on, including the fur trading era of the 1860's, the pre-railway era of the 1880's and the hustling, bustling railway era of the early 1900's. This local Calgary attraction is great for people of all types. Whether you love history or are looking to be genuinely entertained, Heritage Park is the spot you.
Some Things to Do at Heritage Park
Heritage Park Historical Village – Travel back in time for an interactive, historical experience. Meet and chat with the costumed townsfolk, view 180 exhibits and feel like you are truly a part of the old-western Canadian frontier! Find everything from an authentic steam train ride to a bird's eye view from a Ferris wheel at Heritage Park!
Heritage Town Square – Free attraction found in the front, ahead of the gates at Heritage Park. Represents an urban prairie streetscape during the 1930s to the 1950s, a period in time where the use of sandstone was at large and hearing live band music was of the norm. Haskayne Mercantile Block is a gift shop with neat little trinkets and gifts found in this area.
Eat, then eat some more! – Looking for a delicious breakfast, lunch or supper? All of these can be found at any one of the fine food establishments found at Heritage Park. – Railway Cafe, Selkirk Grille, Wainwright Hotel Dining Room, Wainwright Hotel Bar Room, Club Cafe, Gunn's Dairy Barn, Drew's Saloon & Stopping House, Midway Treatery, Alberta Bakery and Shepard Station.
Find much, much more fun activities and events for singles, couples and families beyond the ones mentioned above at Heritage Park!
       Heritage Park Info
1900 Heritage Drive SW, Calgary, AB
Phone Number – 403.268.8500
Hours of Operation
Open May 19th to Sept 3rd daily - Village opens at 9:30am, exhibits at 10:00am and the park closes at 5:00pm.
After Sept 3rd, only weekends up until the month of October.
**The facility is smoke and pet free
Looking for more local Calgary activities and events? Here they are!
Do What the Locals Do – Calgary Stampede

Top 5 Must See Calgary Museums