Do What the Locals Do – Episode 9 – Sikome Lake
July 19, 2012
By Cody Battershill
Do What the Locals Do in Calgary at Sikome Lake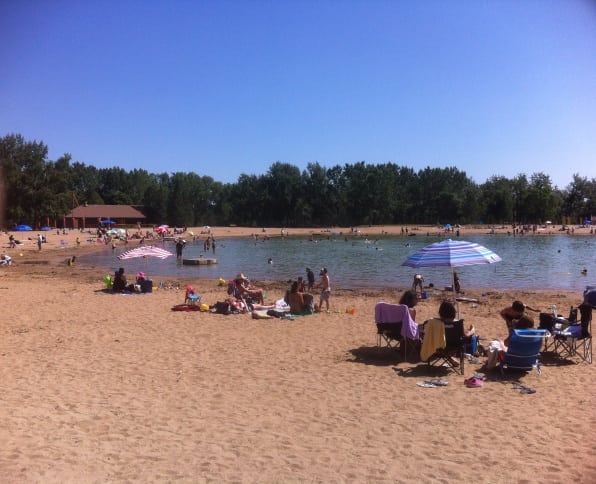 Sikome Lake is a popular destination within city limits where people can go to enjoy a warm and sunny day on a beachfront.
It first opened back in 1978 and is used by Calgarians as a swimming and recreational area during the summer months where it sees thousands of visitors daily.
Alberta Provincial Parks staff work the area, making sure your day trip to Sikome Lake in the Fish Creek Provincial Park is as enjoyable as it can be.
A Day at the Lake
A day at the man-made lake for myself includes a lot of tanning, playing catch, cooling off in the water, enjoying a popsicle and of course, enjoying some quality time with friends and family. Many people like to bike ride around Fish Creek Provincial Park and rendezvous back at Sikome Lake to cool off and relax on the beachfront.
One thing I absolutely love about the lake is that it isn't that deep! I have walked down the middle of the lake to the other side without having to swim; a must experience activity if you are tall enough that is! It's hard to think of how you could spend a warm weekend's day any better in Calgary than soaking up the sun at Sikome Lake.
This man-made lake has an awesome sandy beach and the water is great for swimming! More features of this local Calgary attraction include playgrounds, well-kept sections of grass, food and drink concession, picnic tables, BBQ areas and there are hiking trails and pathways surrounding the lake leading to other parts of Fish Creek Provincial Park. All in all, there is a little bit of something for everyone at Sikome Lake.
Find Sikome Lake in the massive Fish Creek Provincial Park in the SE quadrant of Calgary, just east of the neighbourhood of Lake Sundance.
Sikome Lake in Fish Creek Provincial Park

Sikome Circle SE, Calgary, AB
Phone Number – 403.297.5293
Still stumped on what you should do in Calgary? Be sure to check out the articles below for some ideas!
Do What the Locals Do River Pathways