Looking Back at What's Happened in East Village in 2015
Several years ago – in December of 2007 – the Calgary Municipal Land Corporation (CMLC) began working on the redevelopment of the worn-down and rather vacant East Village area, and just recently, the downtown neighbourhood saw its first "new" residents move-in which was perhaps one of the most exciting times since the beginning of the project.
But it wasn't just in October where exciting things were happening down at EV… the past 12 months has seen its own fair share of hype too!
First New Resident Moves In
On October 1st, 2015, FRAM+Slokker's FIRST new condo development saw its very "first" new resident move in. To follow were hundreds more not only at FIRST, but also Embassy Bosa's FUSE, the first of a multi-phase condo project now with its second tower underway.
In total, approximately 800 new faces made East Village their new home bringing new life, new faces and a re-energized feel to the once avoided part of downtown Calgary.
New Island Activities & Restaurants
Not only did everyone that moved into East Village have a new place, but they also could now cross over to St. Patrick's Island using the recently completed bridge and explore its parks, recreational areas and more.
The island has quickly become a festival / activity hub for many events in the city and is also where the Calgary Zoo is located. It also is connected to the Bow River pathway system which makes getting there as easy as it gets.
New residents also could easily walk across the cobblestoned street of Confluence Way to indulge at one of the three fine food and drink establishments found at the historical Simmons Building. They are: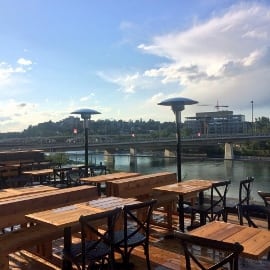 Phil & Sebastian Coffee Roasters
Heard of these local establishments around town? It's likely, as the trio were hand-picked based on their local roots and prowess as some of the best at what they do.
See more at Historical Simmons Building Open for Business today.
New Amenities
In addition to the new eatery, three of East Village's main amenities are well underway including:
The first two listed above are expected to open sometime in 2016, while the new central public library should be opening its doors sometime in 2018.
With many more projects to come such as the massive RioCan urban grocery store and more new condos and public spaces like "The Riff", there's a lot to be excited about in the years ahead!
"No Parking" N3 a Success
As residents began moving into their new homes beginning in October, another new condo development by the name of N3 began selling its units.
This highly debated but exciting new style of condo is already more than 80 percent sold to date as its units come much cheaper than others because there are no parking stalls – an urban-style experiment that has been a success thus far!
More New Condos
Meanwhile, FRAM+Slokker and Embassy Bosa have both been hard at work on their up and coming condo developments in East Village, including:
The first two projects are currently in the pre-construction phase while ground-breaking at VERVE has just recently happened.\
Each of these developments has its own unique set of awesome units for sale… check them out before it's too late!
I Love East Village!
It's been an incredible year in terms of development down at East Village! See all of our updates from the past several months at our East Village Calgary Summary today!
Questions About East Village Condos?

As an East Village Condominium Expert, I promise to help you find a unit that fits your wants, needs and lifestyle best while providing only the best level of service and expertise the industry has to offer.
Call me anytime at 403-370-4180 or message me below. I am looking forward to your call!