East Village Completion in 2023 and What's in Store for Us!
East Village is where Calgary was born, and now, after years of overlooking its true potential it is finally getting the revitalization it needs.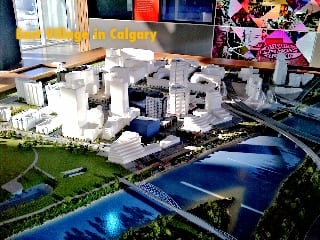 Calgary Municipal Lands Company (CMLC) truly has created a master plan for East Village that attracts the attention not only of locals, but of international developers who have recognized the rare opportunity it presents in one of North America's most prosperous cities.
Developers like FRAM+Slokker and Embassy Bosa, two residential developers with new and attainably priced condominiums already underway in the neighbourhood.
Widewaters Group is another with a proposed 315 room Hilton Hotel set to be a key piece of East Village's amenity puzzle.
The final result: a walkable, amenity-rich, mixed-use urban village filled with culturally tuned streetscapes, strategically placed businesses and easy-to-access public transit.
The Transformation
See the transformation yourself in this digital rendering of what a completed East Village will look like almost a decade from now.
Since 2007, the 49-acre riverfront community has slowly, but surely experienced a revitalization from old to new.
A transformation made possible by a $325 million dollar commitment by the government to improve floodplain-rising, infrastructure, streetscapes, recreational amenities, bridges and much more which in turn has attracted $1.7 billion in outside investments thus far.
Today, two new condos and the music centre are now under construction:
While several other proposed projects remain in the pre-construction phase. See more at East Village 2013: A Year in Review.
So, what can we expect from East Village when all is said and done in 2023? Here's what you need to know:
The Facts
3,918 total residential units

926 existing residential units

440 live / work / flex units

23,000 employees working in the area

11,500 potential residents in several different mid to high-rise condo developments

1000's of parking stalls throughout

Restaurant and eatery in Simmons historical building

Revitalized St. Patrick's Island and connecting bridge

300,000 square foot shopping centre
But that's not all to come in East Village as there are about 30 percent of the available development parcels that haven't been claimed quite yet. Exciting, isn't it?!
I Love East Village 
I am extremely excited to see East Village take shape over the next several years. Just last year the neighbourhood already hosted a staggering 148 activities and events which attracted more than 54,000 visitors.
Surely when all is said and done, those numbers will skyrocket and East Village will become the go-to place for activities, events, social life and everything else an urban lifestyle brings for years to come.
For a complete guide to EV, be sure to check out our East Village Calgary Summary today.
Join Us
Want to know more about up and coming developments, restaurants and anything else to do with Calgary? Join us today at Calgaryism on Twitter, Facebook and Instagram – we hope to see you there!