East Village Calgary: Projects, News & Everything Else!
March 29, 2015
By Cody Battershill
East Village Calgary Condos, Projects, and Everything Else!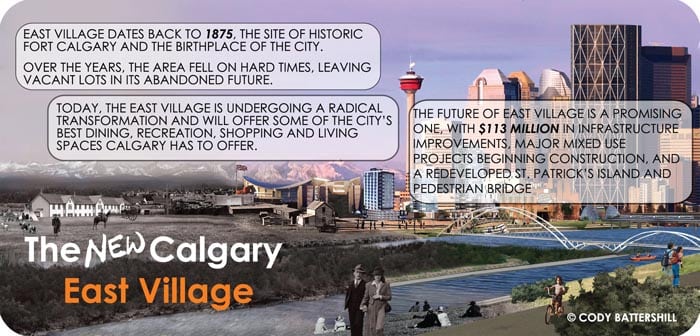 Have you ever wanted to live in downtown? Well, East Village Calgary is your chance to buy new and do so at an affordable price!
What is East Village anyway? If you haven't heart just yet, it is an up and coming urban community found east of downtown Calgary's business district and south and west of the confluence of the Bow and Elbow rivers.
Here you will find a balance between commercial, retail and residential amid unique streetscapes designed for livability and convenience from the get go.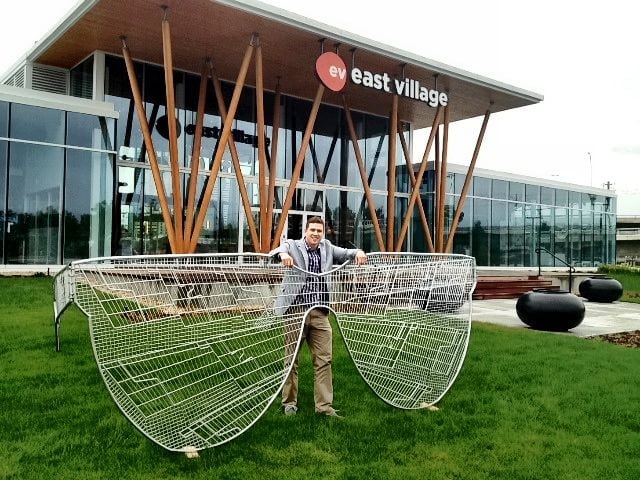 In 2008, redevelopment work began on the old and run-down neighbourhood. Since then, over a billion dollars has been invested collectively by all developing partners.
If you would like to know more about this new downtown community, below you will find every blog we have done here at Best Calgary Homes on East Village Calgary.
Have any questions? Don't hesitate to call me anytime or message me below!
East Village Location
[mappress mapid="26"]
East Village Reborn
East Village Calgary: Completed in 2023 - VIDEO: see the digital rendering of what EV will look like when completed in almost a decades time. From the completed mid-rise condo towers to the classy pedestrian street called "The Riff", it looks incredibly appealing for any urbanite I must say!

East Village 2013: A Year in Review - See what has been happening in the newly revitalized neighbourhood over the entire year of 2013. You'll be amazed at how much was accomplished and what is currently proposed for the area!

What to Expect at EV - Learn about what is to come and what we should expect in the newly redeveloped downtown community in the months ahead, plus some more interesting tidbits of information.

10 Cool Facts About EV – Are you unfamiliar with this up and coming community? There's no better way to find out about this new and exciting urban development other than through these 10 cool facts!


East Village Calgary Lifestyle – What would it be like to live in East Village? Here is a quick glimpse of what life would be like, it sure does look good!

8 Reasons to Consider a New Condo in EV - Here are 8 reasons why if you are in the market for a downtown condo to consider purchasing one in East Village Calgary.

Up and Coming East Village in Downtown Calgary - the new community is well on its way to becoming the amazing living destination in downtown Calgary that its  anticipated to be. Find out more about the up and coming urban community in downtown Calgary today!

EV Milestones - Some of the early key milestones in the redevelopment of East Village Calgary.

Projects and Announcements
M2 Begins Construction in EV - What is the new mixed-use M2 building all about? Learn what you will find inside its four-floor, 25,000 square foot structure when all is said and done in 2019!
New Central Calgary Library To Revitalize East Village – The City is building a brand new Central Calgary Library in EV that will replace the older current one and help to connect the rest of downtown with the area.

New Hilton Hotel in EV – The world renowned Hilton Hotel is another piece of the extensive amenity list found in East Village. See what to expect from this exciting new hotel today!

East Village Promenade – A piece of artwork by a famous international artist makes history. Have you seen it yet?

East Village Projects and Developers - List of the developers and ongoing projects part of the redevelopment of East Village Calgary.

National Music Centre in EV - If anything is going to be an attraction in the new downtown urban community, this will be it! The National Music Centre will put Calgary on the music map nationally and internationally!

East Village is Over 50% Sold! - If you are considering East Village as a location for your new condo or investment condo, now is the time to act!

National Music Centre Calgary - Construction Begins! - The new National Music Centre is now under construction! Find out more about Canada's first national music museum today!

Great News for East Village Condo Buyers - There's great post flood news for those who might have purchased a new condo with Embassy Bosa or FRAM+Slokker. Find out what it is today!

Evolution by Embassy Bosa

FIRST by FRAM+Slokker
FIRST New Calgary Condos in East Village - FIRST new condos are here! Find out the basics about this new and exciting East Village Calgary condos development today!

New East Village Condos - FIRST  - Another descriptive and informative blog on FIRST new condos in East Village Calgary. Learn about the very affordable, riverfront condo building now!

EV in the making - FRAM+Slokker – Learn about FRAM+Slokker, a team of real estate companies based out of Toronto, Ontario and find out what their goal is in East Village Calgary.

FIRST Condos Interior Design – What features will FIRST new condos have? Find out about the kitchens, bathrooms, bedrooms and living areas at FIRST today!

Free Upgrade at FIRST Condos! – A free upgrade when you buy at FIRST new condos - *subject to change at any time by the developer FRAM+Slokker*

FIRST Condos in Calgary - Over 60% Sold - These condos are hot on the market and are going fast! If you are looking to get in on the awesome deals offered at FIRST, be sure to act today before its too late! Call me anytime or message me below.

FIRST Condos East Village - Construction Begins - Groundbreaking for FRAM+Slokker's first of seven residential projects is now underway, as of February 7th, 2013!
Verve by FRAM+Slokker
Spring Deals Now On at Verve Condos (2015) - If you are looking to save a couple thousand bucks off your next new condo purchase at Verve, now is the time!

Verve Condos in East Village - Over 50 Percent Sold! - These condos are going fast. Find out why today!

Verve Brings New Level of Hype to EV - That's right, this new and exciting condo project is setting the stage for even more attention from the public eye. Learn more about this development being built on "The Riff" in EV today!

Verve New Condos - FRAM+Slokker has announced their third new condo project to be built in the downtown community. Find out more what all the hype is about today!
RiverHouse by FRAM+Slokker
RiverHouse New Calgary Luxury Condos - FRAM+Slokker has announced they will be construction an exclusive new luxury condo building as their second East Village project. Find out more about this unique living opportunity in downtown Calgary's newest community today!
Questions about East Village Calgary?

If you have any questions about any of the new Calgary condos in EV, contact me and I will be happy to assist you! Call me direct at 403-370-4180 or message me below.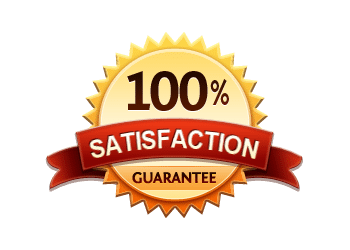 [gravityform id="35" name="Here to Help" title="false" description="false"]