East Village in the Making – Fram + Slokker
March 15, 2012
By Cody Battershill
FRAM+Slokker in East Village First New Condo Developers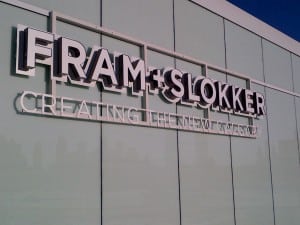 FRAM+Slokker are another partner involved in the East Village redevelopment project in downtown Calgary. FRAM is an Ontario based building company who have teamed up with Slokker Real Estate group of Ontario in the development of First Condos in Calgary's prestigious East Village. First Condos will host approximately 650 condo units on riverfront property.
FRAM+Slokker plan on purchasing more real-estate in EV in the near future, so expect more residential developments to come from the group. Included in the design of their current projects is 70,000sf of commercial space, combining with Embassy Bosa Inc.'s 70,000sf to make for 140,000sf of commercial space available for everyday amenities and services.
About FRAM+Slokker
FRAM+Slokker are an innovative joint company who are experienced in building impressive urban communities that are unique and sustainable. Their goal is to make East Village a desirable place to be.
FRAM is an award winning company with numerous projects found in Canada and the USA. FRAM has constructed over 11,000 different residences as well as commercial developments and other mixed-use properties. Their extensive experience in the industry will be reflected in their four piece development in Calgary's EV that will eventually host 800 units and cover approximately 730,000sf!
FRAM+Slokker contribution to East Village in Calgary is going to add an exceptional level of architecture and enhance the EV community experience. Look for future FRAM+Slokker developments in the area (many more developments in EV to come from them!).
Questions about East Village?

If you have any questions about East Village or First Condos in downtown Calgary, I would be happy to assist you at any time! Call me direct at 403-370-4180 or message me below.
[gravityform id="35" name="Here to Help" title="false" description="false"]