Calgary Parks – Edworthy Park
July 13, 2013
By Cody Battershill
Calgary Parks – Edworthy Park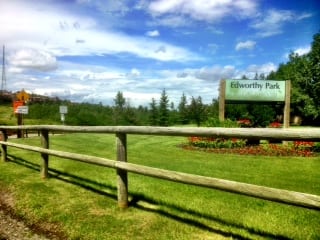 What would we do without our Calgary parks and pathways? Without them, our city would not be as glorious a place to live as it is today. One of these fine outdoor recreational areas we are so blessed to have in our city is Edworthy Park.
Once you visit Edworthy Park you will see why many Calgarians love it! Spread out throughout its area are several kids' playgrounds, countless picnic tables, sheltered BBQ pits, open playing fields and essential amenities including water fountains and public washrooms.
Heck, there's even Angel's Capuccinno and Ice Cream Cafe just across the bridge at Point McKay! This Calgary hidden gem serves up all the comfort foods you would find at home including a variety of sandwiches, ice cream, snack bars and more that are just perfect for a hot summers day. My favourite is the grilled cheese sandwich!
Edworthy Park also has pathways running from east and west. From here, you can explore the wilderness of the Douglas Fir Trail or maybe just keep it mainstream and stick with the Bow River pathway system. After all, a day at the Bow River parks and pathways is a day well spent!
Location
[mappress mapid="56"]
A Good Starting Point
Edworthy Park is unique in the fact that it is split between the northwest and southwest quadrants. From the southwest you can access the park through the community of Wildwood, while in the northwest it's easy to access via Point McKay parking lot where Shaganappi Trail and Bowness Road meet.

It's really up to you where you come from, but don't make the same mistake I did and drive all the way south on Crowchild Trail, west on Bow Trail and into Wildwood when I could have just simply stopped at Point McKay.

I even turned right off of Shaganappi Trail and headed east on Bowness Road! I had a good chuckle with myself when I noticed I could have saved myself 15 minutes of my time. Oh well...
Calgary Parks
Edworthy Park is definitely one of the best Calgary parks around. It is very busy during the spring and summer and is worth a visit if you haven't been. You can even reach Edworthy Park in no time from Bowmont Park, it's only about another 10 to 15 minute walk south!

Another one of the best Calgary parks is Bowness Park! Check it out!
What are your favourite Calgary Parks? Leave us a comment and let us know!