Fish Creek Provincial Park – Canada's Largest Urban Park
May 10, 2013
By Cody Battershill
Fish Creek Provincial Park – Canada's Largest Urban Park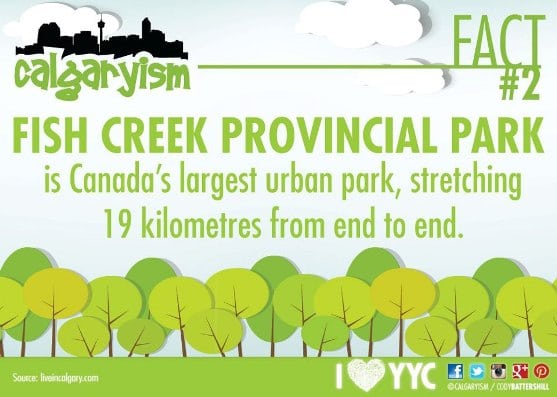 Calgaryism Fact #2
Fish Creek Provincial Park is Canada's largest urban park, stretching 19 kilometres from end to end.
It used to be the furthest point of southern Calgary. In present times, Fish Creek Park has been completely surrounded by communities on all sides. It's not hard to see why as Calgary's population continues to increase at a rapid rate.
Fish Creek Park Calgary provides locals with a large variety of recreational opportunities through the use of its extensive trails, picnic areas, fire pits, paved trails, shale trails, forested areas, waterways and open fields.
[caption id="attachment_13796" align="alignright" width="257"] Sikome Lake beach in Fish Creek Provincial Park Calgary[/caption]

It is the ultimate outdoor playground here in Calgary and is used by countless locals year round for a wide range of activities including…

Water recreation and beach
Fish Creek Park Calgary Location
[mappress mapid="27"]
Fish Creek Park Calgary Facilities
Glennfield – open park area with picnic benches, verandahs, fire pits and public washrooms. A great place to host a summer event with family and friends! Rental cost is $78.00 plus a $12.00 non-refundable deposit.

Sikome Lake – Opens for summer, starting on June 15th 2013 to September 2nd, 2013 from 10:00am to 7:30pm. Access is free!! Want to know more about our cities best man-made lake and sandy beach? Check out Do What the Locals Do at Sikome Lake today!
Hours of Operation
March 15th – April 30th – 8:00am to 8:00pm

May 1st – September 3rd – 8:00am to 10:00pm

September 4th to October 30th – 8:00am to 8:00pm

October 31st to March 14th – 8:00am to 6:00pm
What's your favourite activity at Fish Creek Provincial Park? Please leave us a comment below and let us know! Thanks for stopping in, hope to have you back soon!
More Calgaryism Fact's
Where did the name Deerfoot come from?