Fusion All-You-Can-Eat Sushi (Kensington) Restaurant Review
Sometimes you just got to get as much sashimi in you as possible! Thankfully, when such cravings happen there are places like Fusion Sushi in Kensington, a Japanese / Thai all-you-can-eat restaurant that uses good quality ingredients to boot.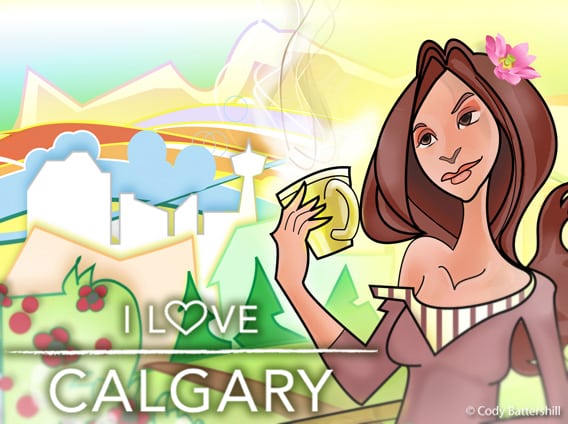 Here's Calgaryism's ratings for Fusion All-You-Can-Eat Japanese & Thai in the Kensington BRZ.

*10 rated as best
Location
Atmosphere & Service
Inside of Fusion Sushi you'll find a contemporary atmosphere with dark green / black paint, half booths and table seats with comfortable chairs. One side of the restaurant has a long table for larger groups just in case everyone is up for some all-you-can-eat sushi.

Our service was pretty much the same that you'd expect from most restaurants of this genre; not very attentive unless you ask for drink refills or need to hand in a freshly filled out sheet with your sushi / sashimi / udon / soup / tempura / thai and dessert selections.

Also see our Fusion Sushi Calgary Restaurant Review for non-all-you-can-eat sushi Fusion style in Kensington.
Our Food
The wonderful thing about this place is that they have nearly 200 different menu options to choose from. Some of our favourites included:

Mushroom and broccoli tempura

Green tea and mango ice cream

All three of the sushi rolls were quite delicious. We especially liked the rich mango and fresh avocado flavour of the fusion roll as well as the crunchy cucumber and tender crab meat in the volcano roll. Both of these were the highlight of our meal and are recommended!

Also, the salmon sashimi was quite soft and tender and was close to comparing with what you would get at any non-all-you-can-eat sushi restaurant in Calgary.

Oh, and if you like mushrooms, broccoli and sweet potato, definitely check out these tempuras; deep-fried in batter one of the best way's I know of how to eat such simple veggies no matter what kind they are.
All-in-all I was impressed by the quality of ingredients and number of choices we had at Fusion Sushi.
I'll definitely be coming back to this place the next time I'm craving an unlimited number of sashimi slices mixed in with some other Japanese cuisine favourites all for an affordable cost.
Fusion All-You-Can-Eat Sushi
Address – 201 10th Street NW, Calgary, AB
Phone Number – 587-352-2201
I Love Calgary
Looking for more of the best local activities, restaurants and everything else to do with YYC? If so, we invite you to stay updated with all these and more via your live social media feed by giving us at like at Calgaryism on Facebook, Twitter and Instagram today. We hope to see you there!