Globefish Marda Loop Calgary Restaurant Review
March 21, 2013
By Cody Battershill
Globefish Marda Loop Calgary Restaurant Review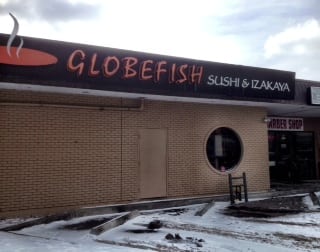 If you love sushi as much as I do, then Globefish in Marda Loop should definitely be on your sushi-to-do list! The food at this southwest Calgary sushi joint has been exceptional each and every time I have visited, and it always keeps me coming back for more.
Atmosphere and Service
Globefish Marda Loop has one of the best dining ambiances around, made true by its dim lighting, comfortable seating, trendy finishings and HD TV's.
Our server was very friendly and knowledgeable of the menu. We were looking for another roll to order and weren't sure which one to choose, so she suggested the Happy Crunch roll and man oh man… I'll always remember the Happy Crunch! Great suggestion!
Our lunch was getting off to a great start just like usual at Globefish Marda Loop, one of the Best Calgary Sushi Joints there is.
Our Orders
Beef Udon – $9.95 - crab, cilantro, noodles and beef in a delicious udon broth. This is basically the Japanese version of Vietnamese Pho, so if you like pho it's possible you will like the beef udon! The bowl isn't too massive to wreck your appetite for sushi rolls either, a good appetizer!
Beef Tataki – $8.95 - thinly sliced Alberta beef savoury to taste and absolutely delicious. Each plate comes with about 8 slices so if you plan on having more than just a one or two slices (which is very likely, trust me!), then ordering a few plates never hurt. So good! We had two orders.
Alaska Roll - $7.25 – smoked salmon, crab, avocado – this trio combines well for a delicious mouthful of sushi.
Happy Crunch Roll – unfortunately I can't tell you exactly what was on this, but it was a bit spicy and was ohh soo good. You have to try it!
Salmon Sashimi - $12.95 – 7 slices of salmon sashimi that melt in your mouth. My mouth is watering now just thinking about them.
Spicy Tuna Sashimi - $9.95 – Cubed cut fresh tuna sashimi with a spicy sauce that is to die for. Definitely a must try if you like spicy!
I just can't get enough of the sushi at Globefish Marda Loop. It truly is one of the best sushi restaurants in Calgary and is well worth a stop even if you live far away. Check it out!
Globefish Marda Loop
Address - #1 – 2009 33rd Avenue SW, Calgary, AB
Phone Number – 403-249-8866