Calgary Skyline: A Century of Change (1924 vs. 2024)
November 18, 2014
By Cody Battershill
Calgary Skyline Centennial Comparison - 1924 vs. 2024
Calgary's skyline has been anything but static since the turn of the century.
Considering the amount of proposed projects now under construction or in review, it seems that the city is poised to keep up with or exceed its current pace of downtown skyscraper construction in the decade ahead.
Recently completed downtown skyscrapers Bow Tower (2012) and Eighth Avenue Place (2011, 2014) join a handful of new office tower developments set to bring on a whole new look for the City of Calgary. They include:
Brookfield Place
Bow Tower South
City Centre I
First Canadian Centre East
Manulife
Palliser West
Palliser Square II
Telus Sky
…as well as a dozen or more new condominium projects in downtown and the beltline area. See for yourself a rendering by graphic designer Devin Henry of what the skyline should look like in 2024 in comparison to a century earlier: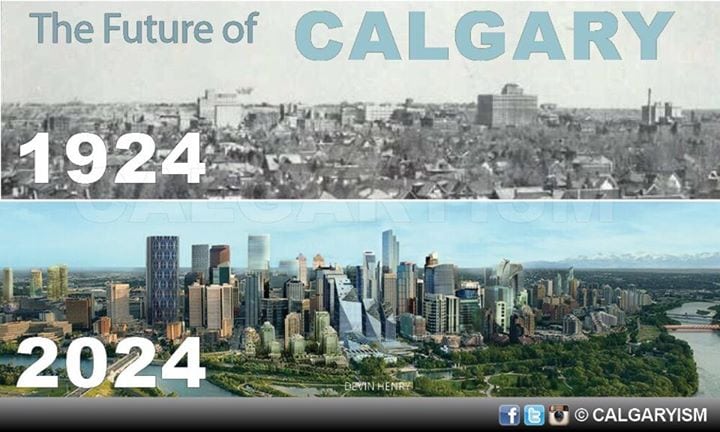 Amazing, isn't it!? Reality is that Calgary wasn't always as "beefed up" as it is today.
It wasn't until the 1970's when bigger, more expensive downtown skyscrapers would be built in a boom lasting for about 20 years. Then a 10 year lull in skyscraper construction until another boom would begin which has lasted to this day.
Before the Boom
There weren't many tall buildings in Calgary before the big construction boom of the 70's. Some of the tallest at the time, like the Grain Exchange Building which was completed in 1909, was a mere six stories high.
After that came the Fairmont Palliser Hotel. Completed in 1914, it had double the floor count than the previous record holder with 12. It would take nearly 35 years before any building would overtake the Palliser as tallest building in Calgary.
But then and again, it was only a matter of time before another building like the Elveden Centre (20 floors, completed in 1960) was built.
Today, the tallest building in Calgary is drastically taller than the 80 metre height of the Elveden Centre. The Bow Tower stands nearly three times that – at 236 metres – and should lose its title to the new Brookfield Place set to reign supreme in the near future at 247 metres tall.
I Love Calgary
Office towers just keep getting bigger, better and more sophisticated as the years go on. I am excited to see what our city will look like in two, even three or four decades past.
Join Us @ Calgaryism
Do you love Calgary as much as I do? If so, I invite you to join us and tens of thousands of locals at Calgaryism on Facebook, Instagram and Twitter today for updates on activities, events, restaurants and more to do with our wonderful city. Looking forward to seeing you there!