History of Calgary – 1988 Olympic Winter Games 25th Anniversary
August 12, 2013
By Cody Battershill
History of Calgary – 1988 Olympics 25th Year Anniversary!!
February 2013 marked the 25th anniversary of the 1988 Calgary Olympic Winter Games. Who would have known how much of an impact this world event would have on our city in the future?!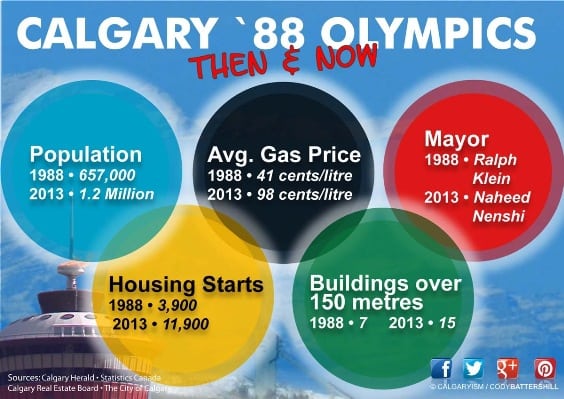 Population
1988 – 657,000
2013 – 1.2 million
Average Gas Price
1988 – 41 centre per litre
2013 – 98 cents per litre
Mayor
1988 – Ralph Klein
2013 – Naheed Nenshi
Housing Starts
1988 – 3,900
2013 – 11,900
Buildings Over 150 Metres
1988 – 7 buildings
2013 – 15 buildings

How Did It all Happen?
Over 30 years ago the City of Calgary won the bid to host the 1988 Winter Olympic Games, beating out two other finalist communities in Sweden and Italy.
It was the seventh time one of Canada's cities would bid to host the games. For Calgary it was its fourth and the most successful at that!
Olympic Venues and the Future

The 1988 Winter Olympic Games was a wonderful time for Calgary, Alberta and Canada as a whole.
Although it was the most expensive Olympics ever held to date, there was a net surplus from record breaking sponsorship and television revenues that would give the organizing committee the power to maintain its world-class sports facilities built for the 1988 Olympic Winter Games for many years to come. A large part of this was the negotiated 16 day time span for the event instead of the usual 12.
In the future these facilities would become the basis not only for Calgary activities and events, but for the training of Canada's Olympic athletes as well as other sports professionals. There need not much else to say except for the next time a Winter Olympics was held in Canada its athletes took home 26 medals!
Main Venues of the 1988 Olympic Winter Games
Canada Olympic Park – Cost of $200 million - Check out these Summer Activities at Canada Olympic Park!

Scotiabank Saddledome – Cost of nearly $100 million - home to the Calgary Flames, Calgary Hitmen, Calgary Roughnecks

Olympic Oval – Cost of $39.9 million - Check out these fun Year Round Activities at the Olympic Oval!

Canmore Nordic Centre – Cost of $17.3 million

Nakiska Ski Resort – Cost of $25 million - One of the fabulous ski hills and resorts we have less than an hour away with some of the Best Calgary Winter Activities!
Calgary's 88'Olympic Winter Game venues have left a strong legacy of competitiveness that still endures in the Calgary community today. They continue to serve athletes of all skill levels from beginner to recreationalist to Olympian and pro.
Check out more then and now visual comparisons of the History of Calgary today! You'll be amazed at how much our city has changed!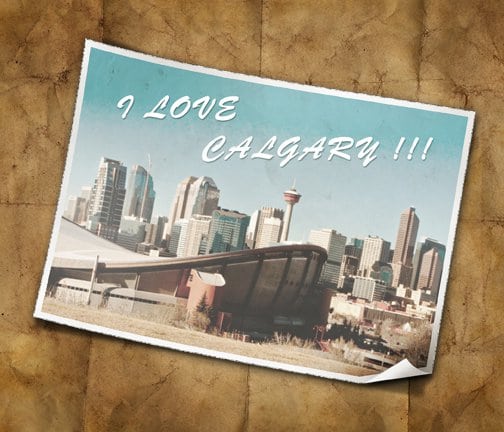 What are your favourite activities at the 88' Olympic venues? Leave us a comment below and let us know!
Until next time, get engaged in the Calgary community via Calgaryism on Facebook, Instagram and Twitter today! Check us out. Thanks, we hope to see you again soon!