Who Was Patrick Burns? One of Alberta's Best…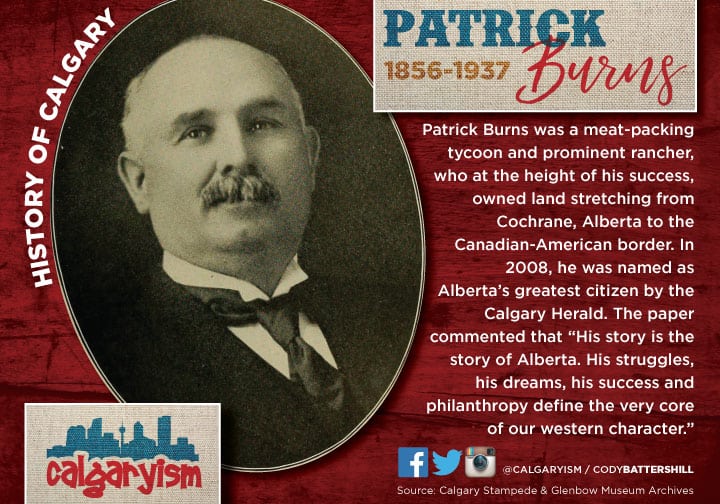 Who was Patrick (Pat) Burns? Many Albertans know this instrumental figure in the history of Calgary as one of the Big Four, a man whose influence on the city is everlasting and name adorns an inner city junior high school as recognition of that fact.

Patrick Burns has a great story to tell. In 2008, he was named by the Calgary Herald newspaper as Alberta's greatest citizen, saying that "…his story is the story of Alberta. His struggles, dreams, success and philanthropy define the very core of our western character."
Also see:
Early Life
Patrick Burns was born in Oshawa, Ontario, in 1856. He was the fourth child of Michael and Bridget O'Byrne and had 10 siblings. Shortly after his birth, his family moved to Kirkfield, Ontario, where he would spend most of his childhood years.

From Irish decent, his family emigrated from Ireland and agreed to shorten their family name as part of the naturalization process. First it was changed to Byrne, then later to Burns. While Pat didn't have much of a formal education growing up, he picked up a hard work ethic which helped him excel in the business he did throughout his lifetime.

In 1878, as a 22 year old man, Patrick headed out west with two of his brothers looking for new opportunities. They searched for good lands and eventually found ideal property for their homesteads just east of Minnedosa, Manitoba (about 200km west of Winnipeg). Gradually, he became involved in selling cattle beef.

He began his career with a single cow bought on credit and sold for four dollars, then began shipping goods to and from Winnipeg as a driver for his neighbours' cattle van. By 1885, he managed to set up shop buying and selling his own livestock.

Patrick's luck took a turn in 1887 when one of his old school friends struck a railway contract and offered him a job supplying the labourers who were to work on the project. This contract helped him establish a mobile slaughtering facility which could easily relocate ahead f the current work section before it was completed and begin preparing food for the workers. This success led to the acquisition of many other similar contracts between Pat and private companies.

(Top Right) – A look inside one of the meat packing plants in Patrick's empire
Alberta
In 1890, Patrick decided to move to Alberta where he would build his first large slaughterhouse. Years later, in 1898, he then built new packing houses in Calgary followed by more in Edmonton, Prince Albert, Regina and Vancouver.

After these projects, he looked towards establishing a large-scale ranching operation. He acquired large parcels of land and his company, P. Burns & Co, which would later change its name to Burns Food, became the largest meatpacking company in Western Canada. Upon opening his second slaughterhouse in Calgary, the Calgary Herald newspaper described the event as "the passing of yet another milestone on the road to Calgary's full measure of prosperity." They weren't wrong!

In 1901, Pat married a woman from Penticton named Eileen Ellis in London, England. During that time, he was already constructing a beautiful sandstone mansion on the corner of 13th Avenue and 4th Street SW for him and his new bride. It was a grand 18-room home that cost between $32,000 and $40,000 to build. Unfortunately, this historical building was demolished in 1956 due to new development in the area.

(Top Right) – Patrick standing in his driveway in front of the Burns Mansion
Bow Valley Ranch
The Bow Valley Ranch served as Patrick Burns operational headquarters for many ears. Purchased in 1902 along with adjacent property, the Burns Ranch at Bow Valley eventually included 20,000 acres bounded by the north by what is now known as the Stampede Park, the south by 146th Avenue, the west by Macleod Trail and the east by the Bow River.

This ranch was only a small part of Patrick's massive meat packing empire; however, it served its purpose as many livestock were brought to the site in preparation for being sent to the stockyard. Burns often offered the spare bedrooms free of charge to politicians, celebrities and other prominent figures in society who came to visit the Calgary area.

In 1973, the Government of Alberta bought the ranch from the Burns family as part of the development of a new park. Today, the Bow Valley Ranch serves as an upscale restaurant in Fish Creek Provincial Park, one of the largest urban parks in North America.

(Top Right) – Bow Valley Ranch in the early 1900's
Calgary Stampede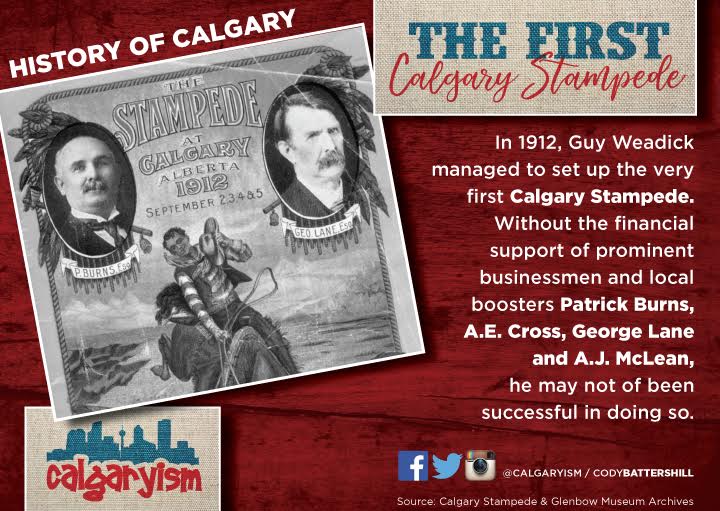 In 1912, Patrick Burns became one of the Big Four businessmen, who gave Guy Weadick their financial support to start up the very first Calgary Stampede. Together with A.J. McLean, A.E. Cross and George Lane, they gave Weadick $100,000 and dubbed the event "The Greatest Outdoor Show on Earth."

At this point in his life, Patrick owned 38,000 cattle, 1,500 horses and 20,000 sheep across 6 massive ranches. His slaughterhouses in Edmonton, Prince Albert, Regina and Vancouver, when working at full capacity, could handle more than 1,000 cattle, 3,000 sheep and 6,000 pigs a day.

His facilities were known to be extremely clean and featured cutting edge technology of the time. Eventually, he would also open abattoirs in Winnipeg, Seattle, Great Britain and Australia.

Throughout the early 1900s to 1914, his company was the main meat supplier for labourers working on the Grand Trunk Pacific Railway in northern British Columbia.
Later Years
After the First World War, Patrick Burns had become one of the most successful businessmen ever in Canada with several slaughterhouses and more than 100 retail meat shops across Alberta and British Columbia. But he didn't stop there. He also established 18 wholesale fruiteries, 11 wholesale provision houses and 65 creameries / cheese factories.

By 1928, Burns Foods generated sales of approximately $40 million, equivalent to about a billion dollars in present-day worth. At the height of his meat-packing empire, he owned about 700,000 acres of ranch land, roughly the same size as the small European country of Luxembourg.

In 1931, Patrick was appointed to the Canadian Senate as a representative of a division of Northern Alberta. He served as a senator until 1936 when he resigned due to health complications. Both his son Patrick Michael and wife Eileen Ellis died before he did on February 24th, 1937.
Philanthropic Deeds
Patrick had a reputation as a very generous man who but spoke only a few words. Because of his philanthropy, he was the first Canadian to be honored by the Vatican as a Knight Commander of the Order of St. Gregory the Great.
Some of his philanthropic deeds throughout the years include:
In 1903, he sent financial aid to Frank, Alberta after a rock slide devastated the community

In 1904, he donated three 750-pound bells to St. Mary's Cathedral

In 1908, he sent carloads of food to Fernie, British Columbia, after a fire left 6,000 people homeless

In 1914, he offered to pay 10 thousand pounds sterling ($50,000 CAN) to purchase the equipment for a "Legion" of Canadian Legion of Frontiersmen in the army

He painted a small Catholic Church near Calgary out of his own pocket, and when the time came to pay up, he requested the nearby Anglican church to also be painted so that it didn't look ratty in comparison

He donated large sums of cash to St. Mary's Perish, a church in Calgary

He paid for the construction of Albert Lacombe's "Hermitage" in Pincher Creek

He donated the land to be used for the Lacombe Nursing Home at Midnapore and paid for its expenses

He contributed to the creating of what is now today Western Canada High School

He provided the funds to build St. Joseph's College at the University of Alberta in Edmonton

He financed construction on a new student residence, school building and donated land for expansion projects at the Vancouver College in Vancouver
Lasting Legacy
Today, Patrick Burns legacy as one of the most prominent businessmen in Alberta's history is apparent. While his businesses stimulated growth in municipalities, they also expanded to partake in Western Canada's economic fortunes while also going overseas and into the United States.

He was influential in the creation of the Calgary Stampede and his philanthropic activities helped many small organizations and communities flourish when resources were limited. What he did throughout his lifetime embodies the very spirit of entrepreneurialism not only in Calgary, but throughout Canada, and is held in high revere as one of our country's most outstanding citizens of all time.
More of Calgary's History…
Want to know more about the history of Calgary? See below for visual infographic comparisons today:
I Love Calgary
For more of the best local activities, events, restaurants and history facts, be sure to give us a like or follow at Calgaryism on Twitter, Instagram and Facebook. Stay updated via your live social media feed today! We are looking forward to seeing you there!