K Town Fried Chicken Calgary Restaurant Review
August 15, 2019
By Cody Battershill
Love Fried Chicken? Check Out K Town!


K Town is a new restaurant in Calgary that opened about a month or two ago in the community of Crescent Heights.

We noticed it driving by on Centre Street North while exiting downtown, and decided to stop in a try it out. As soon as entered we realized that the "K" in "Town" probably stands for Korean.

Our best guess was the entire restaurant staff were Korean at that time; we really were going to get some authentic Korean fried chicken! We asked one of the cashiers to confirm and sure enough it's a Korean fried chicken restaurant. Perfect!

Here's Calgaryism's restaurant review for K Town Fried Chicken on Centre Street North:

Atmosphere – 8.5/10
Service – 7.0/10
Food – 9.5/10
Cost – 9.0/10
Overall – 8.5/10

*10 rated as best
K Town Fried Chicken: Location
[map src="" width="100%" height="350px"]
Located on Centre Street and 9th Avenue NW, K Town Fried Chicken is conveniently found in the inner city just north of downtown.

It's the perfect place to grab food to on the way home from work in the city centre. It also is just a few blocks south of 16th Avenue North, making it easy to reach via Deerfoot Trail.

K Town has a parking lot with probably 15 stalls. If you don't find one, there's some street parking available directly beside the restaurant.

Just make sure to park where you're allowed to because Crescent Heights does have special permits for streets that front residential properties.
K Town Fried Chicken: Atmosphere & Service
View this post on Instagram
Inside K Town Fried Chicken you'll find a brightly lit, pub-style interior with wooden tables and perimeter high-chair seating that looks out into the neighbourhood.

A small patio section on the north side of the entrance makes for a great place to enjoy your food and the warm weather at the same time. Each patio table has an umbrella for added comfort.

The cashier is near the front of the entrance,and beside it is the open kitchen where you can watch the chefs make your food. We appreciate the modern layout, which gives the restaurant an open feel.

Bathrooms are clean and unisex. Go in, lock the door and do your thing.

Service is very limited, however, as the restaurant runs more like a café. You order your food at the front, pay and tip before you get it, and serve yourself drinks.

Some people like this style, some don't. We don't mind it at all, as long as the food is good! The cashiers were still super friendly and provided us with extra ketchup whenever asked.
Our Orders
Fried chicken comes in full or half orders. Just to let you know, we had two half orders and probably one would have been enough for both of us. Take out never hurts, though!
A half order of chicken is about 8 to 10 reasonably sized pieces and a full is double that. Just a heads up!
Green Onion & Cilantro (half) - $14.50 – soy-garlic glaze, garlic chips, rice cake
View this post on Instagram
K Town's standard battered fried chicken is much less salty compared to KFC, but similar in texture. Comes covered with cilantro, green onion, garlic chips and handful or so of Korean rice cakes.

The soy-garlic sauce is a perfect blend, not tasting too strong like one or the other. It comes in a small cup for you to pour which is great because some people like tons of sauce, while others not so much.

The rice cake was a nice Korean touch to the dish. They are about two inches long and are soft like pasta. If you've been to other Korean restaurants that serve more traditional food, you'll see them on the menu as a main and included in other dishes as well.

Overall, we loved this fried chicken flavour and would order it again. It's also good for take out because of the sauce on the side, which can be applied later instead.
Spicy Chili (half) - $14.50 – KFC's chili paste sauce for spicy blast, jalapeno, rice cake
View this post on Instagram
While the spicy chili fried chicken wasn't necessarily spicy, you can just eat a jalapeno or two each bite to get a serious blast of heat.

That's what we did, and the dish comes with enough sliced jalapenos on top to do it every chomp. You may not want to though because these jalapenoes are pretty darn hot!

The sauce itself is more sweet than spicy. It's a good balance, kind of like chili oil with less than usual chili flakes. Apparently it's from KFC anyhow, so. Makes sense.
Super Salad - $9 – quinoa, Israeli couscous, feta, cucumber, tomato, onion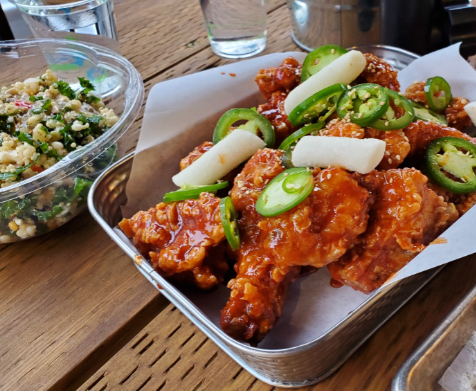 This little but delicious salad packs a lot of flavour. If you're feeling a bit guilty from eating all the fried foods at K Town, grabbing one will go a long way in making you feel better about it!
Final Word
Overall, we loved K Town Fried Chicken and would go back again in a heartbeat. When that craving kicks in for fried chicken, you know where to go next!
K Town Fried Chicken
Address - 919 Centre Street NW
Phone Number - 403-455-0610
Website - ktownfriedchicken.com
I Love Calgary
Check us out on Calgaryism for more of the best local activities, events, restaurants and everything else to do with our beautiful city! We are looking forward to seeing you there!