Le La Vietnamese Restaurant Review
September 15, 2017
By Cody Battershill
Calgaryism's Le La Vietnamese Restaurant Review

Hidden away near Chinook Mall in the Alyth-Bonnybrook-Manchester industrial area is Le La Vietnamese. This pho restaurant a good spot to stop in at for a bowl of your favourite noodle soup if you're looking for an affordable alternative to the other popular Viet restaurants in the area.
Here's Calgaryism's full review for Le La Vietnamese Restaurant in the southwest.

*10 rated as best
Location
[mappress mapid="356"]
Atmosphere & Service
Inside of Le La Vietnamese Restaurant you'll find a comfortable ambiance with unique green table tops and a variety of seating arrangements with tables for parties of all sizes. There's even bar stools for the lunch rush when you find yourself in for some pho alone. Both the bathroom and eating areas were well kept.

On this occasion, the restaurant was nearly empty (around 4:00pm), so I was expecting the only server in the restaurant to do an excellent job – and he did. My food and drink were both out quickly. He was also knowledgeable of the menu and was helpful in picking out a bun dish.
My Order
#63 – Grilled beef and spring roll on rice vermicelli - $9.50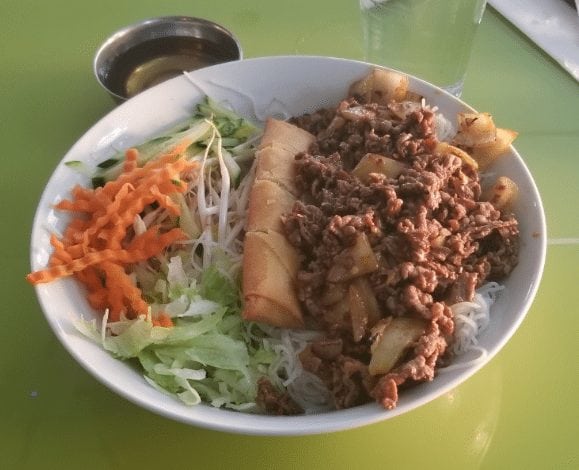 I chose beef and was given the option of curry or sautéed, so I chose the later to be safe and make sure I enjoyed what I was ordering. In less than 10 minutes, a hot, steaming bowl of rice vermicelli topped with sautéed beef, chopped spring roll, carrots, lettuce and bean sprouts was placed in front of me alongside a dish of fish sauce.

The beef was sautéed with onion and was delightful in the fact that it had absolutely no gristle. Mixing the bowl up you get a nice blend of tastes and textures, hot and cold, the trademark of Vietnamese Bun dishes. In comparison to other pho restaurants, however, this bowl just seemed a bit smaller and plainer than usual. It did hit the spot, but it just didn't fill me up as much. But then and again, I am a bigger guy and I eat a lot!
Final Verdict...
As I mentioned above, on an overall basis I would recommend Le La Vietnamese Restaurant to those looking to try another restaurant instead of the usual in that area: Pho Chu The, Bagolac Lemongrass, Green Basil are the usual suspects for me. On any other day, however, Le La Vietnamese would most likely not be my first pick of the four.

On a positive note, Le La Vietnamese Restaurant had very affordable prices – the best I've seen at any pho restaurant in a long time. For the price, the food is remarkable and is worth stopping into!

Also see our list of Best Vietnamese Pho Restaurants in Calgary for more excellent places around town.
Le La Vietnamese Restaurant

Address – 6625 Centre Street SW, Calgary, AB
Phone Number – 403-255-5665
I Love Calgary
Looking for more of the best local restaurants, activities, events and everything else to do with Calgary? If so, we invite you to join us at Calgaryism on Facebook, Instagram and Twitter to stay updated via your live social media feed today! We hope to see you there!