Lemongrass West Calgary Restaurant Review
January 7, 2018
By Cody Battershill
Lemongrass West Calgary Restaurant Review

With so many Vietnamese pho restaurants in Calgary, it's not unusual to see three of four of them within a few blocks of each other as you drive around the city. So how should you know which ones to go to?
Word-a-mouth is a good start. One of my family members suggest that we go check out her favourite pho place in the southwest called Lemongrass West. Let's just say that I am very pleased she introduced me to this excellent pho restaurant!
Ratings
*10 rated as the best
Location
[mappress mapid="386"]
Atmosphere & Service
Inside Lemongrass West you'll find a spacious interior with several booths around the perimeter in addition to several regular tables in the mid-section. The atmosphere is well kept and bathrooms are always clean as far as I could tell.

Service is sometimes hit or miss. It seems that I can't manage to get an extra side of sate sauce or my water refilled during off-peak hours, but when I am at this restaurant during rush times I don't even have to ask twice. If the service was consistent I'd say Lemongrass West would have it's score boosted up to well above eight.

Google reviews agree with my score - they have given this place a 3.5 out of 5.0 and I bet some have the same complaint and I do. It's not like they are unfriendly or anything like that, just inconsistent with filling drinks and being attentive at times.
Our Orders
Lemongrass Chicken Salad Rolls (3 rolls) $7.75 - freshly wrapped lemongrass chicken served with peanut sauce
These chicken salad rolls are among the best I've ever had! Inside is a fair share of chicken, cucumber, cilantro and carrots in a rice wrap and are a good size. We definitely recommend this order - 13B on the menu.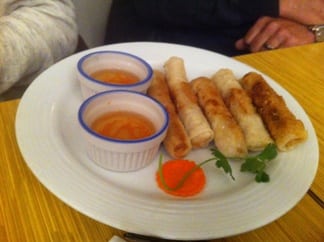 Crispy Spring Rolls $7.50 – crispy spring rolls served with fish oil
Lemongrass serves up a plate of five spring rolls that are crispy on the outside but chewy on the inside. I really love this variant and how different they are from other pho restaurants in Calgary. Another must try - 15 on the menu.

Just a heads up... these spring rolls are extremely filling. Make sure to leave some space for your main course!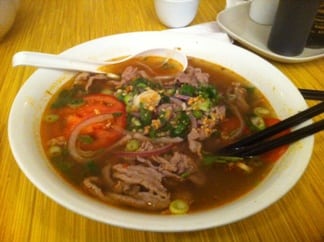 Sate Beef Noodle Soup - $10.95 – house made broth, rice vermicelli noodles, sliced lean beef, onion, green onion, topped with a tomato and served with lime, cilantro and bean sprouts
This particular pho sate was delicious. The broth wasn't salty at all so you could really taste the spicy sate. The sliced beef had absolutely no gristle and there was a pretty good amount of it in the bowl.

The extra veggies they put on top of the dish adds a nice touch. If you really like spicy, you might want to ask for more sate sauce right off the bat. They don't go crazy on the spice unless you ask for it.
Final Verdict
The pho is too good at Lemongrass West to turn it down no matter how inconsistent the service might be. One thing I really like about LemonGrass West, however, is the fact that they have a menu for gluten sensitive customers.

This makes it easy to go for pho with family or friends who may be gluten sensitive, or dine out yourself if you happen to be. Also see the Best Gluten Free Restaurants in Calgary today.
Lemongrass West
Address – 3715 51st Street SW, Calgary, AB
Phone Number – 403-242-2633
I Love Calgary
Looking for more of the best local activities, events, restaurants and everything else to do with Calgary? If so, we invite you to join us at Calgaryism on Facebook, Twitter and Instagram to stay updated via your live social media feed today! We hope to see you there!