Calgaryism's Review of Modern Steak in Kensington


Modern Steak is an established upscale steak house found in the Kensington Business Revitalization Zone of the northwest inner city area. I've heard many times from both friends and family that I have to try it, and finally got around to it this previous week!
Although on the expensive side, overall I feel that this restaurant was worth every dollar. I mean, you typically go to a steak house in Calgary expecting that your meal will be on the expensive side of things anwyays. But let me reiterate that I had no regrets about paying what I did for a meal for two. Every aspect of our food, drinks and service was perfect – including the table we were sat at, perfect for an intimate and romantic dinner!

*10 rated as best
Location
Atmosphere & Service
Walking into Modern Steak you'll notice it has a multi-floor set up with an open roof concept for more than half of the main dining area. You walk in on the third floor; the fourth floor is the kitchen. Walking down a set of stairs you reach the bar area with booth seats and down one more short set of stairs is the main dining area with all half booth seats.

We were sat at a table off to the side with a small curtain that acted like a separator from the main seating area. This table was round with enough space for four people comfortably and felt very private. There was also a unique modern glass chandelier above it. These two things made this evening out with the hubby feel that much more special.

We really enjoyed exploring Modern Steak's menu. We noticed they have four different types of beef including the Benchmark Angus, Alberta Grass Fed Beef, Brant Lake Wagyu and Springbank Ranch with varying cuts ranging from 6oz to 22oz. We didn't know what the difference between the types of beef were, but our server was very knowledgeable and explained them to us briefly but with detail. She also recommended the scallop and halibut crudo as an appetizer, saying that it was one of the most popular.

Throughout our visit, our server was attentive and made sure our drinks were filled up constantly. An older man who was the host for the evening also played his part to top us up and ask us how the food was. Overall, a very enjoyable restaurant dining experience for both of us!
Our Orders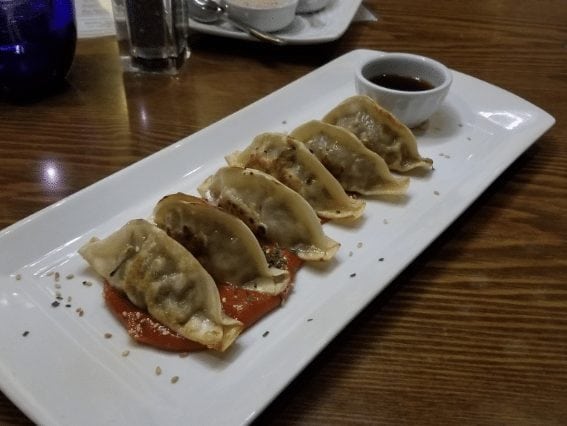 Wagyu Dumplings – $17.75 – Gochujang aioli, ponzu dipping sauce
These dumplings were set atop a red gochujang aioli that had a savoury, spicy and slightly pungent taste all at once. Our server explained this sauce was made mainly from rice, fermented soybeans and red chilis. It was absolutely delightful, so much in fact that we didn't even touch the ponzu sauce for dipping.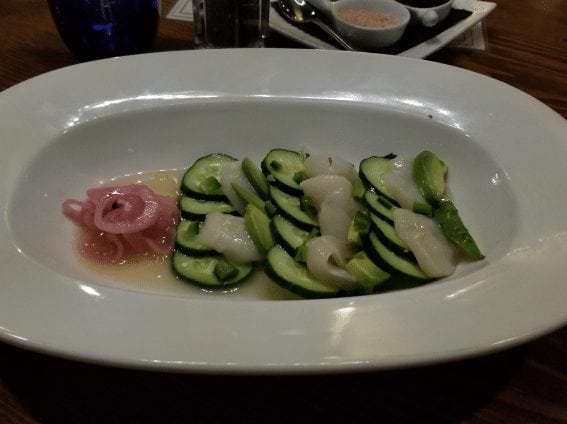 Scallop & Halibut Crudo – $19.75 – yuzu citrus, avocado, cucumber, pickled red onion, jalapeno, extra-virgin olive oil
This dish has sliced scallops laid on top of a bed of cucumbers, avocado and jalapenos with pickled red onions to the side, all atop a layer of citrus and olive oil. We absolutely loved this dish because of the mix of flavours and how light it felt as an appetizer. The scallops were fresh and savoury and combined seamlessly with the sweetness of the citrus, pickle of the onion and crunch of the cucumber to make for one heck of a seafood appetizer.

Benchmark Angus – Warner, AB – 12oz Striploin – $44.00
The 12ox striploin quality was near perfect with only two small gristly strips. The outside of the steak was a bit overcooked, but once we got to the inside it was pure heaven. Succulent and rather flavourful meat from this 45-day aged steak.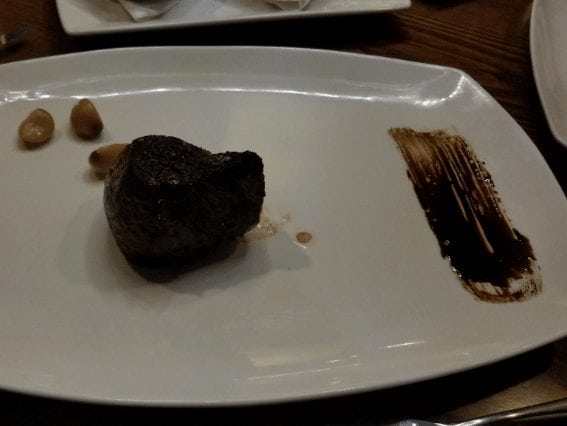 Benchmark Angus – Warner, AB – Filet Mignon – $49.00
Modern Steak's 8oz filet was very thick and near perfect with just one small gristly section. However, this gristle wasn't rubbery or hard to chew, but rather easy to eat and added a nice juicy flavour to the filet. The outside was charred to near perfection and the inside busting with steak juices. I would order this again and recommend it those who enjoy filet cuts like I do.

Both steaks come with three different tasting salts and a side of choice. We got the mashed potatoes and grilled mushrooms. I think I almost fainted once I tasted the lemon garlic mashed potatoes. So good!
Final Word
Overall, we really enjoyed our dining experience at Modern Steak in Kensington. As an upscale steakhouse in Calgary, it delivered quality meat cuts that were cooked to perfection and had juicy, savoury flavours, exemplary of what any steak house in Calgary should be like.

Just keep in mind this place is somewhat expensive. However, we did feel like we got some bang for our buck with an amazing table, food, service and drinks.
Modern Steak
Address – 107 10A St NW, Calgary, AB
Phone Number – 403-670-6873
Website – www.modernsteak.ca
I Love Calgary
Looking for more of the best local activities, restaurants and everything else to do with YYC? If so, we invite you to join us at Calgaryism on Facebook, Twitter and Instagram to stay updated via your live social media feed today! We hope to see you there!