Calgary Landmarks – Mount Royal University
February 20, 2013
By Cody Battershill
Calgary Landmarks – Mount Royal University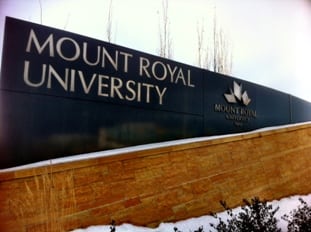 When people think of Calgary landmarks surely a multitude of different types of buildings come to mind. New skyscrapers like the Bow Tower, old buildings of historical importance, unique architecture or even professional sports venues would most likely be at the top of the list.
What about our universities who have built a foundation for learning, not only for our own citizens, but for those from abroad as well? These academic Institutions have given more recognition to our city than some other notable landmarks in terms of education and all that comes with attending post-secondary.
While some of us do end up forgetting a majority of what we learned in school for whatever reason, it doesn't mean that we have forgotten the experience!
Mount Royal University is one Calgary landmark that has been educating for over a century. In 1911, MRU (Mount Royal College at the time) opened its doors to the public and in its inaugural year had 179 students enrolled. Today, the educational university has expanded exponentially to include more than 12,000 students who are enrolled in a variety of programs including basic diplomas and certificates all the way up to and including bachelor degrees.
2011 / 2012 MRU Quick Facts
61 credit programs offers

79% of which are transferable to universities in Alberta

77.7% are full time (10,551)

27.6 average class size for credit programs

99% of classes have less than 50 students

$6.45 million awarded in scholarships and bursaries

*Sourced from mtroyal.ca
Public Facilities
Aside from educational facilities, Mount Royal University has a fully-fledged fitness centre with up-to-date equipment, gymnasiums, swimming pool, indoor ring-track and more all available to the public. Many who live around MRU use the facility even though they don't attend the university.
It will cost you $10.62 to drop in for the day as an adult and the centre hours are very decent, usually 8am to 8pm.
The Future of Mount Royal University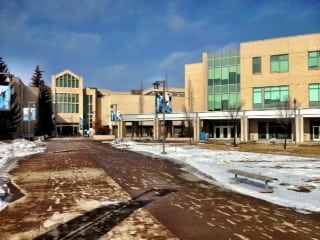 Mount Royal University has continually expanded since the beginning, with the most notable expansion happening not long ago on September 3rd, 2009 when it officially became recognized by the Canadian Government as a university.
Even today there is construction on-site with a brand new facility being built by the eastern gate. If the past is any indicator of what's to come in the future at MRU, then surely it will increase in size, students, programs and successful graduates while its prominence as a Calgary landmark will also.
Check out more local landmarks below…