5 Helpful Tips for Moving to Calgary with Pets
Did you know that relocating to another home can be just as stressful for your pet(s) as it is for you?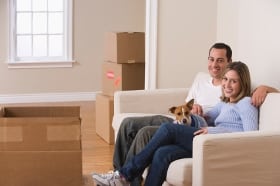 While we are probably excited to move into our new place, unusual activity and new environments can make our animal friends unsure of things.
Some might say it's just an animal, but truth of the matter is that many of us see our pets as a fully-fledged member of the family. Many of us might even treat them like the intelligent little humans they are!
So, why not make is easy on everyone and check out these easy-to-follow prep tips for moving to Calgary with pets. They may just make yours (and your pets) day! Also check out our Complete Guide for Moving to Calgary for people like you and I!
1 – Increase your attentiveness
As mentioned above, relocating can be pretty stressful for both humans and pets. One way to reduce that stress for your pet(s) is to increase the amount of attention you give them.

It's just so simple, right? Well, it might not always be so during a busy day or two of moving. However, there are many methods that you can use to make your pets feel that reassurance they might need.

It could be an extra walk, more yummy snacks than usual or perhaps less time spent in the kennel. Whichever method you choose, surely it will help the situation because you know your pet best!
2 – Remove them from the situation
If your simply too busy to take care of the pets, then removing them from the situation may be the best option.

Moving to Calgary or any other place for that matter is a lot of work and means there will be a lot of movement in and out of the house on moving day. That also means lots of noise, and, a potential mix of excitement AND stress for your pets!

One way to keep things calm in the midst of all the commotion is to put them in a quieter area such as an emptied bedroom, utility room or the backyard perhaps.

A short stay at daycare is also an option which will completely remove them from the sometimes hectic moving situation and let them socialize with all their animal friends.
Fish Owners
Fish owners should be extra careful when relocating their fish as they are extremely sensitive to stress. Even the slightest change in environment can be traumatic, or even worse – fatal.

If your moving to a faraway location, it's almost better you find your fish a new home and buy new ones on the other end of the move.

If you just can't part with them whatsoever, try purchasing oxygen releasing stones and battery powered air pumps; they can both be used in a smaller tank and help ease the stress your fish experience during their transition into a new home.

Special accommodations' will have to be made for those travelling by plane – ask your local fish aquarium and flight provider for more details!
3 – Pack a pet moving kit
We aren't the only ones who need an overnight bag with all the essentials!

Your pet(s) will be much more comfortable during the first few days of unpacking if they have their own overnight bag packed with food, chew toys and some of their favourite treats which will help calm their nerves.
4 – Familiar surroundings
Once you reach the other end of the move, try to set-up your furniture and decorations as much as possible before introducing your pet to the home. They should feel more comfortable with familiar surroundings and be happier as a result.
5 – Contact your local veterinarian
If you're moving to Calgary from an entirely different city all together, then it's important to contact your local veterinarian and acquire all records before you leave.

These important documents could include treatment history, prescription and other medical records that may be crucial for you to have at a moment's notice at some point in the future.

Also, ask vet if they can refer a colleague to you near the other end of your move. It will save you the hassle of finding a vet later on and should give you some level of assurance they will be a good one knowing that your trusted vet has pointed you in their direction.
Do you have any other ideas that would be good for your pets on moving day? If so, let us know below and we will add them to the list!
Questions about Moving to Calgary?

As an experienced Calgary Relocation Expert with REMAX House of Real Estate, I can help make your move as smooth as possible by providing you with all the information you need to make the best, most informed decisions.
Call me anytime at 403-370-4180 or message me below, I am looking forward to your call!