N3 "Carless" Condos Now Under Construction in East Village
January 2, 2017
By Cody Battershill
N3 Condos– Calgary's 1st Carless Project – Now Underway in EV

You may have heard about N3 by Knightsbridge (developer who also built University City) already if you live in Calgary as it has received much attention for being the first carless condo to be built in the city - ever. Now, this exciting new revolutionary condominium is under construction!
Located in the highly desirable downtown community of East Village, N3 offers accessibility and affordability unlike any other new condo in Calgary. Here's more of what you should know about this up and coming project.
Quick Facts
Developed by Knightsbridge

Community of East Village, downtown Calgary

Address – 8th Avenue & 4th Street SE

15 storey, concrete construction

From 460 to 620 square feet

Underground storage & bicycle lockers
Location
[mappress mapid="284"]
Located on the corner of 8th Avenue and 4th Street SE, N3 by Knightsbridge is adjacent to the St. Louis Hotel, across the street from the New Central Library and just a few steps from the new Loblaws Super Food Store.

Perhaps most importantly for residents will be the fact that it is just 273 steps away from the nearest C-Train Terminal, giving residents quick-and-easy access to public transportation considering that there will be no titled parking spots at N3 Condos.

BONUS: The 7thAvenue Terminal is free to use for people travelling west into the downtown free fare zone.

Meanwhile, the downtown business core is reachable via foot or by C-Train within a few minutes while several main bus routes running along Centre Street make getting to and from other parts of the city a breeze.

Still wondering about the amenities in EV? See these 3 More Reasons to Buy a Condo in East Village today.
Included With Your Purchase
Knightsbridge is offering some pretty decent incentives to attract buyers to living a walkable lifestyle at N3 Condos.
The following are all included with the purchase of an N3 new condo unit:

Unit completely furnished by IKEA brand

1 year free of high-speed internet

Lifetime Car2Go membership

$500.00 Car2Go minutes credits

$500.00 Visa gift card for enterprise rent-a-car

Biria "easy boarding" bicycle

Underground storage & bicycle locker

N3 Condos In-House Amenities
What amenities will be incorporated into N3 Condos?
Rooftop two-floor fitness centre

Outdoor kitchen, lounge and common areas

Main floor retail businesses

These in-house amenities are a bonus to those that are already found at places around N3 such as the Simmons Building, New Central Library, Loblaws Supermarket and individual businesses in bottom floor retail spaces found all over East Village.
A Walkable Lifestyle
Considering making a move at N3 Condos? You'll want to consider your lifestyle and if you can see yourself walking / biking and using public transportation / rental cars as your main method of transport for one, two or even five years into the future.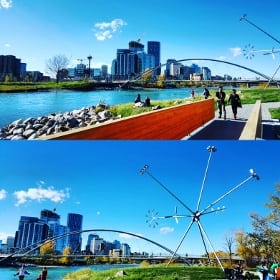 There are some definite pros and cons to buying at N3 Condos. A few pros include:
Pro – reducing your environmental footprint

Pro – a healthier lifestyle from walking and biking

Pro – save money on a car and all car-related expenses

Pro - lower priced units, hence, a lower mortgage

Pro - fully furnished units and other freebies
If you plan to work, live and play in the downtown area of Calgary, then N3 may be the perfect new condominium development for you.
But as with any new condo, make sure you consider all the pros and cons you can think of before making a move. See some of our new condo guides below.
More New Condos
 Questions about N3 by Knightsbridge?

As a highly experienced condo expert in Calgary, I promise to provide you with only the best level of service and advice the industry has to offer while guiding you every step of the way through the process of buying a new condo.
Call me anytime at 403-370-4180 or send me a message below for a prompt response. I am looking forward to helping you accomplish your new condo goals! 

[gravityform id="35" title="false" description="false"]