New Central Library Website is Now Up and Running…
As we all wait in anticipation for the splendid New Central Library (NCL) to be built, we can now follow every step of the way of construction at the brand new NCL website!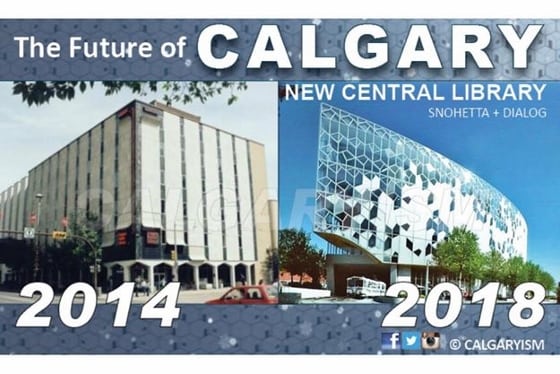 After several months of planning and construction, Canada Municipal Lands Company (CMLC), the master developer of East Village and company supervising the construction of the facility, has brought the website online. See the New Central Library Website here.
Some features of the new multi-page website include:
An overhead webcam showing construction pace

Details on project designs, materials, functions and public art

The complete list of companies and teams working on the library

As well as an up-to-date news section highlighting the latest newsletters.
Other features include precise 3D renderings of architectural drawings as well as a series of HD videos that will take website visitors through some of the most important moments of the New Central Library`s construction step by step.
Acting as a bridge between the downtown core and East Village, the New Central Library will attract visitors from all over the city with its state-of-the-art facilities and awe-inspiring architecture / design inside and out.
Did You Know the NCL…
Has a price tag of $245 million

Is 2/3rd's larger than the current downtown public library

Architecture is done by two firms Dialog & Snohetta

Occupies 278,000 total square feet of space

Will have 240,000 total square feet of library space

Keep over 600,00 books and other library items like magazines, etc.

Will have designated spaces for children, teenagers and special functions

Is built over the southwest LRT line

Is estimated to be completed sometime in 2018
Location
Learn More about the NCL
Have you seen the final design plans for the NCL? If not, you can see them here at New Central Library Design Unveiled today.

See this VIDEO: East Village's New Central Library a Visual Beauty today.

The New Central Library is Set to Revitalize Downtown as a key part of the amenity puzzle in East Village. Learn more today.
I Love Calgary
East Village is an exciting new addition to the downtown area of Calgary. With unique streetscapes and public facilities, it is set to become the next activity and festival hub in our city and be a go-to place to experience some of YYC's urban culture any day of the week.

Find out more about this up and coming area at East Village: News, Projects and Everything Else today.