New South Hospital in Calgary
September 2, 2012
By Cody Battershill
New South Hospital in Calgary
The new south hospital in Calgary will soon be completed! Provincial government officials announced it would begin opening in phases during spring of 2012, beginning with ambulatory clinics and urgent care. Day medicine programs and day surgery are next on the list, followed by critical care, inpatient and emergency services.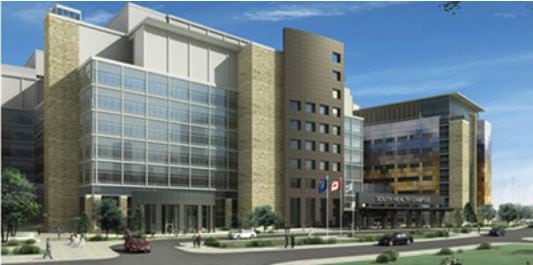 Most often with construction projects of this much intricacy and magnitude, set dates are announced, delayed, then set again to make sure everything goes according to plan and is safe for staff, patients and construction crews. For now, current opening dates are...

Neurosciences and Family Teaching Centre opening late summer early fall of 2012
Cardiac and Internal Medicine – fall of 2012
Emergency Services – winter of 2013
Surgical Rooms – Early in 2013
Fully Operational – Late in 2013
As long as everything goes to plan that is...
Over a decade ago, Alberta's provincial government started talking about the hospital, projecting it to cost of half a billion dollars with a completion date of 2010. Now two years past, the new deep south Calgary hospital still isn't completed, and is severely over budget. In 2008, government officials announced the cost of the project to explode to over $1.7 billion! Current cost is approximately $1.3 billion.
On top of being overdue both financially and time wise, the new south hospital has also been scaled down to include a fewer number of beds for the mentally ill and for new born babies / women who gave them birth (a.k.a. obstetrics).
Regardless, the massive facility (about the same size as Chinook Mall) will have all of the essential personnel and state-of-the-art medical equipment to provide all that we need.
The New South Hospital in Calgary...
2400 personnel
183 doctors
298 beds
11 surgical rooms
200,000 outpatients annually
2,500 child births annually
I am excited to see the new south hospital open. It will only bolster the already exceptional level of health care provided in Calgary, and hopefully lessen some of those lengthy wait times.

Also, check out our article for the Alberta Childrens Hospital. Thanks for stopping in!