Pure Vietnamese Kitchen & Bar Calgary Restaurant Review
August 21, 2017
By Cody Battershill
Calgaryism's Review of Pure Vietnamese Kitchen & Bar

I've heard some hype for a while now about this somewhat new (opened in 2016) Vietnamese restaurant just off the corner of 8th Avenue and 8th Street SW in downtown.
Hungry for a late lunch and in downtown's west end, we decided to head to Pure Contemporary Vietnamese Kitchen & Bar and test out the hype for ourselves

*10 rated as best
Location
[mappress mapid="344"]
Atmosphere & Service
Inside of Pure Contemporary Vietnamese Kitchen & Bar you'll find a fully renovated, spacious interior with several tables, a central bar and even a DJ booth.

The central bar has bar seats around the perimeter and massive speakers on top that sounded as good, if not better than the ones I've heard out at lounges.

This place has the set-up to be a total hit for evening get togethers whether it be a birthday dinner, bachelor party or some other event that requires lots of space and good, loud music.

Our service was as good as it gets; drink top-offs, constant attention and reasonable wait times for our food to be served.
Our Orders
Grilled lemongrass chicken fresh salad rolls – $7.75 - green apple, vermicelli, crispy chips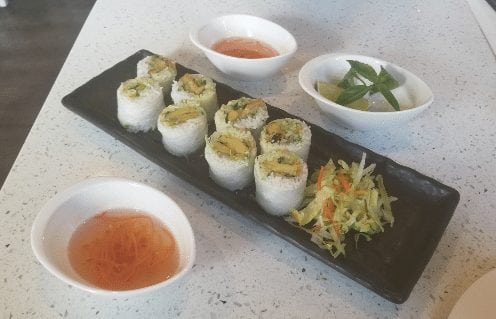 This is the first time I've had spring rolls cut up in even slices and brought out to me with such a nice presentation. This made them easier to eat.

The flavours were much like usual spring rolls but with a slight apple taste, a nice touch and differently delicious.
Sate beef pho – $11.75 - sliced beef, cilantro, annatto seed oil
My lunch partner let me have a taste of her sate pho and I wasn't unimpressed. The broth had a nice balance between sweet and rich while the vermicelli noodles were thinner than at most other pho restaurants and cooked just right.

There was also quite a lot of beef – no skimping on the meat at Pure!
Sate surf and turf vermicelli - $17.75 – shrimp, beef, pork, chicken, spring roll, peanuts, bean sprouts, scallions, herbs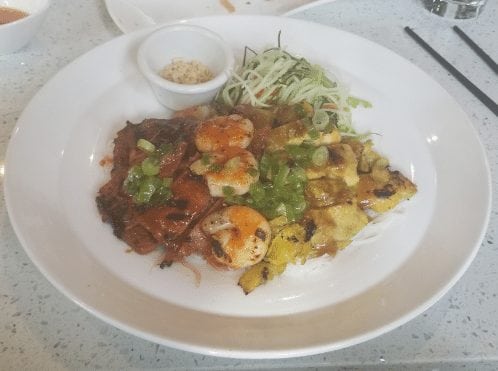 The combination of meats in this dish was an absolute delight. They were covered in a sweet and savoury sauce and doused with herbs and placed on top of the vermicelli, allowing the sauces and meat flavours to cover the vermicelli.

One thing I didn't like about this dish, however, was that it was rather small for the price. I expect to be 100 percent full after eating a vermicelli dish!
Overall, Pure is an excellent restaurant with all the traditional Vietnamese cuisines but spruced up a notch in contemporary style. I recommend this place to you if you're in the downtown west end area and are looking for a good bowl of pho or bun!
Pure Contemporary Vietnamese Kitchen & Bar 
Address – 100 – 815 8th Avenue SW, Calgary, AB
Phone Number – 403-475-1899
I Love Calgary
For more of the best local restaurants, activities and everything else to do with YYC, be sure to check out our social media page Calgaryism on Facebook, Twitter and Instagram – stay update your live stream today! We hope to see you there!