Queens Breakfast & Cocktails Calgary Restaurant Review
January 5, 2022
By Cody Battershill

If You Love Food, You'll Love Queens!
Any avid foodie in Calgary has probably heard of Queens Breakfast & Cocktails by now. And if you haven't, you'll be happy to know that this French-style breakfast and lunch restaurant is probably here to stay – it's just that good!
Here is why we love Queens Breakfast & Cocktails and why we recommend you check this place out as soon as you can!
Queens Breakfast & Cocktails: Ratings
Atmosphere – 10/10
Service – 9.5/10
Food – 10/10
Cost – 7/10
Overall – 9.1/10
*10 rated as best
Queens Breakfast Location
Located on Edmonton Trail just south of 32nd Avenue NE in an unsuspecting industrial area, Queens Breakfast & Cocktails has impressed foodie buffs all over the city with its French-inspired breakfast and tapas dishes.
Queens is easily reached heading north on Edmonton Trail NE from the Trans Canada Highway, or south on Edmonton Trail NE from McKnight Boulevard. Also, 40th Avenue NE eastbound from Centre Street and 32nd Avenue westbound from Deerfoot Trail will get you to Queens in a jiffy.
Queens Atmosphere & Service
Inside Queens, you'll find an extravagant ambiance decked out with classic accents and posh décor. The dining space is dimly lit with warm light, and the seating plan can accompany several tables – but don't let that fool you as this place is packed on weekends and almost full every day of the week.
Seats include a mixture of bar and half booth half tables with comfortable chairs and stools to boot, and there's enough to go around for large parties of eight or more. Bathrooms are private and always kept tidy.
All-in-all, Queens couldn't do too much more to make its dining space any better than it already is. This place just keeps me coming back for more, as it does for countless other foodies around town.
Queens Food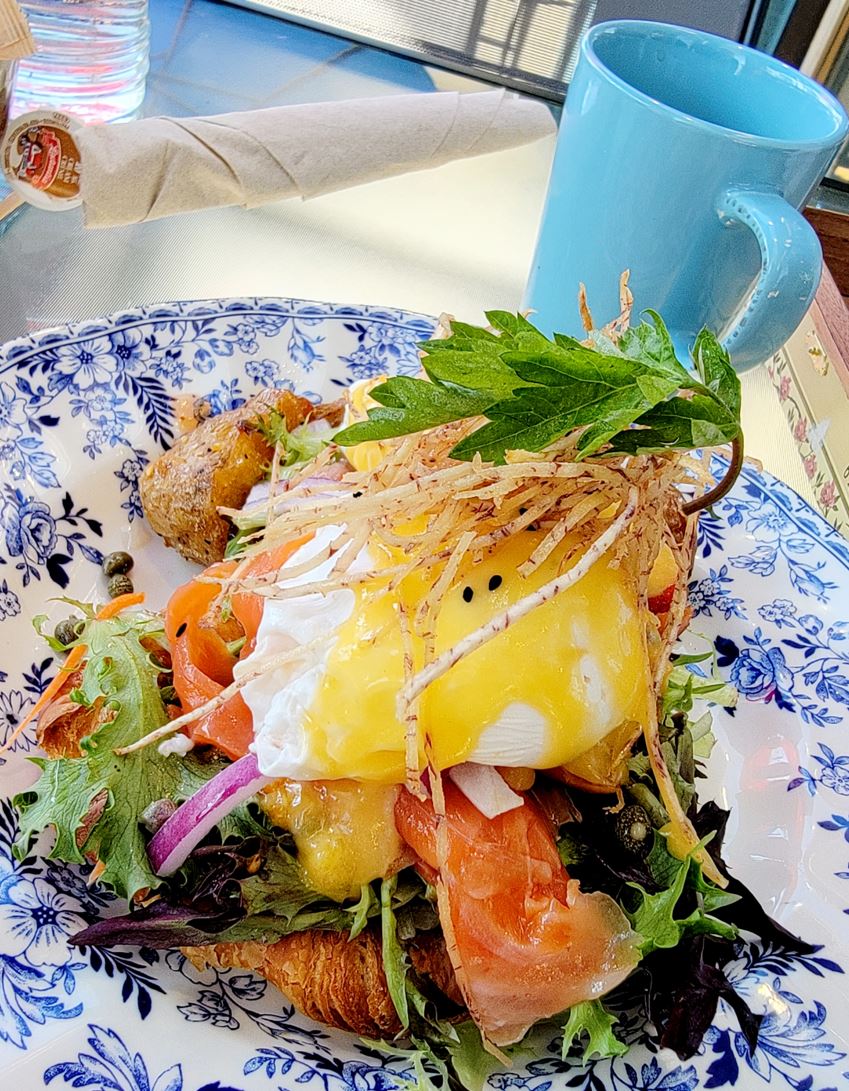 Smoked Wild Salmon Benedict - $23 – fried capers, red onions, horseradish crème fraiche on top of a fresh croissant
The smoked wild salmon benedict is perhaps one of the best bennies I've had in the city – ever – and that's saying a lot because I've had many! Lightly smoked and juicy to taste, the salmon is the highlight of this dish, but so are the crunchy capers, red onions and croissant that's so fresh it melts in your mouth.
Try soft poached eggs on top for extra yolk flavour, I really like popping them to have their insides drizzle down onto the rest of the dish. This benny is also served with queens' potatoes, so popping your soft-poached eggs will add some breakfast flavour to them taters as well.

Cr'q Madame - $21 – Dijon, ham, gruyere, bacon, sunny side egg
Queens "croque" was one of the most filling dishes I've ever had. Like a sandwich of sorts, it consists of two large slices of toasted bread with Dijon, ham, gruyere and bacon in between.
This carb-heavy option is well suited for those who eat a lot and want to get their money's worth out of breakfast. If you're looking for something to take home, this would be a good option as well.
Final Word
Queens Breakfast & Cocktails has made it onto Calgaryism's lists of best new restaurants and best French-inspired restaurants in the city. We absolutely loved our food all around and would dine in here or take out again in a heartbeat.
Address – 3927 Edmonton Trail, Calgary
Phone Number – 403-764-0878
Website – queensyyc.ca
Join Us Today!

Looking for more of the best local activities, events, restaurants and everything else to do with Calgary? If so, we invite you to join us at Calgaryism on Facebook and Instagram today. We hope to see you there!