Keynote Condos by Balboa Investments Have it All

The Keynote Condos are two of the most popular resale condominiums in the Beltline District, and for good reason! Search Keynote Calgary Condos for Sale now.
If you're unfamiliar with this awesome mixed-use development and are in the market for a downtown condo, take a few moments to check out these five reasons why I, as a real estate agent, absolutely love these buildings!
#1 – Downtown Location
Have you ever dreamed of living a walkable lifestyle in the heart of the downtown area? What about having direct access to the city's most vibrant entertainment districts, all within short walk from your front door?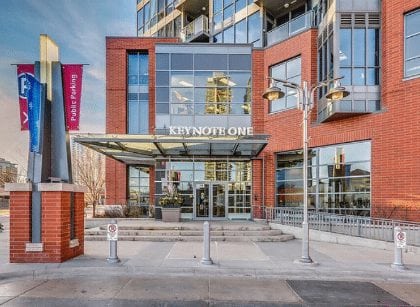 Truth is that many condo buyers who desire these things take a good look at Keynote One & Two towers in the Beltline District of Calgary for exactly those reasons. The two-tower condo development's location on 11th Avenue between 1st Street and Macleod Trail SE in the historic community formerly known as "Victoria Park" makes it hard not to.

If you're unfamiliar with the area, I encourage you to search 220 11th Avenue SE (Keynote One), or 225 11th Avenue SE (Keynote Two), and see just exactly where you'll find them. If you don't want to, I am more than happy to fill you in!
Here's what you'll find close to home when living at Keynote:
Downtown commercial core (3 blocks north)

Olympic Plaza (4 blocks north)

City Hall C-Train Station (5 blocks north)

East Village (5 blocks north and east)

New Central Library (5 blocks north and east)

Stephen Avenue (entertainment avenue) (4 blocks north)

Cowboys Casino & BMO Centre (1 block south and east)

10th Avenue entertainment & nightlife (2 blocks west)

Victoria Park / Stampede C-Train Station (3 blocks south

Stampede Grounds & Saddledome (3 blocks south and east)

17th Avenue SW a.k.a. the "Red Mile" (4 blocks south)

First Street Village (entertainment area) (4 blocks south and east)

Elbow River (6 blocks south)

Repsol Sport Centre (6 blocks south)

Lindsay Park (6 blocks south)

All these destinations are literally reachable within less than 5 to 10 minutes of walking from the Keynote Towers.

And that's just the tip of the iceberg when it comes to the amount of quality amenities, shops, services and entertainment found nearby!
#2 – Sunterra Market
Every time I go to Sunterra Market to do some grocery shopping, I can't help but be envious of Keynote residents. I mean, what's not to like about having immediate access to Sunterra and its MARKETbar café / restaurant, or Starbucks for a quick morning snack and coffee? It's a wonderful thing in all aspects!

Sunterra is a family-owned company that formed more than 4 decades ago right here on a farm in Acme, Alberta. The grocery store offers a unique European-style shopping experience where it sells affordable, fresh and wholesome foods.

Sunterra's focus on providing quality and healthy foods to customers creates a sense of community unlike any other grocery store I've been to. Because of its healthy focus, it also makes you feel super healthy. Is this a placebo effect for me? Maybe, but oh boy it's satisfying either way.

If I could, I would shop there every day, which is why I am always so envious of Keynote residents – because they can with the utmost convenience!
#3 – Great Floor Plans
There are some condo buildings in the downtown and inner-city area that I simply wouldn't recommend to my clients for a number of reasons. I can say with 100% percent certainty that the Keystone development is not one of them!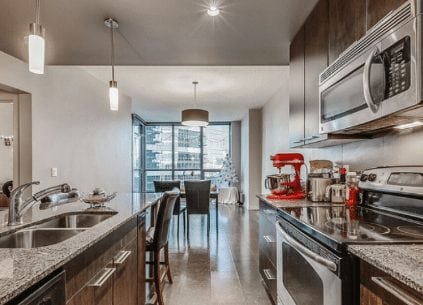 Keynote One & Two boast very spacious, open-concept floor plans and feature quality finishings such as granite countertops, hardwood floors and stainless-steel appliances to name a few. Floor plans were also designed with lots of edges so you don't feel like your living in a cookie-cutter box.

All units I've been in have great flow between main areas like the kitchen and living spaces, highlighted by an amazing expanse of floor-to-ceiling windows with some spectacular views especially for condos located on higher floors.
#4 – MARKETbar by Sunterra
Sunterra Market is just one aspect of the business. There's also a café and restaurant on the second floor called MARKETbar. Here you'll find daily lunch and dinner specials for around $10.00, plus a wide variety of salads, sandwiches and other homemade meals to choose from with something different being served up almost every time.

If you're more into dining, the restaurant side of MARKETbar is a classy place to sit down and relax while enjoying a good, healthy meal. Heck, you can even order take-out and bring it upstairs to eat at home if you really wish!

MARKETbar also offers a wide variety of cooking classes that use in-house ingredients from the first floor. It's a wonderful way to become familiar with the grocery store and learn a few recipes while you're at it!

All my clients who have moved into Keynote have said what a wonderful joy it is to have such direct access to Sunterra Market. They all say something along the lines of how convenient it is and how it makes their living experience at Keynote that much more enjoyable!
#5 – Well-Equipped Fitness Facilities
Don't have time to hit up Repsol Sport Centre for a workout? No problem! Keynote's fitness facilities are fully-equipped with dumbbells up to 100 pounds, bars up to 100 pounds and several cardio / weightlifting machines.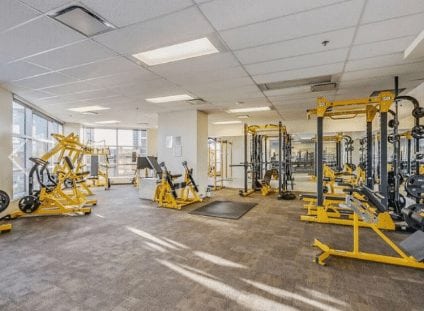 Having an excellent fitness facility right at home can make a huge difference when it comes to living a healthy lifestyle. Heck, there's even a hot tub!

Many condo buyers love the fact that Keynote's facilities are so well equipped, so well in fact that gym membership elsewhere isn't even necessary.
Calgary Condo Guides
Are you thinking about making a move into Keynote? If so, give me a call and I would be happy to assist you in finding a unit that fits your wants, needs and budget best!
Questions about Keynote Condos in Calgary?

As a highly experienced condo specialist and REALTOR® in Calgary, I guarantee to provide only the best service, advice and third-party representation throughout your real estate transaction while guiding you every step of the way.
Call me anytime at 403-370-4180 or send a message below for a quick, if not immediate response. I am looking forward to heling you accomplish your real estate goals!