Why Should You Consider Buying a New Home Versus Resale?
Have you ever imagined building a home from scratch? If you're a home owner, it's safe to say that you've probably thought about creating an entirely customized home for you and your family at one point or another, especially if you've watched shows such as Bravo TV's "Million Dollar Listing" or MTV's "Celebrity Cribs".

Maybe you're already living in a home that you custom built, plan on building one from the ground-up in the near future or have bought resale properties you're entire life and are looking for a fresh start. Search New Calgary Homes for Sale now.
Well, if you've bought a new home before, you probably already know about the perks of doing so in comparison to buying a resale property. However, not all of us are experienced buyers.
As a matter of fact, some of you may be a first time home buyer, or, have made one or two moves before but never into an entirely new property, which is why I am here to tell you why you should consider buying a new home in Calgary the next time you make a move.
New Design & Warranty
Like most "new" things, a new home has an aura of newness that isn't only embedded in the construction date, but also in the design features that have been taken from the latest and greatest from Calgary's home builders.

Years of experience in the industry has led most of our cities premier builders to creating new and innovative floor plans as well as interior / exterior designs that fit in perfectly with our modern lifestyles.

Another desirable thing about buying a new home is the Alberta New Home Buyer Protection Act, as well as the mandatory warranties that come with all household appliances. Now you can rest assured if something is faulty or doesn't work properly one, two or possibly several months after move-in.
Customization
Whether you're building a luxury home in Aspen Woods or have found a pre-designed floor plan in Evanston, chances are that you'll have a dozen, two-dozen or a massive list of customizable options to choose from with your builder of choice.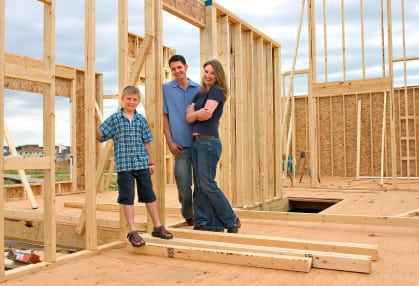 Buying a new home in Calgary, in most instances, will offer you exactly that; customizable options such as…
Flooring and kitchen countertops

Blinds and lighting fixtures
…while more high-end purchases will have a much larger list of design choices for you to make.
Luxury buyers who are building new may even get to choose fancy appliances such as a touch-screen 8-burner gas-stove and have the builder incorporate its exact dimensions into the design of the kitchen, just one example of how custom new homes can be.
A Fresh Start
If you were to buy a resale property, truth is you don't know what exactly could be wrong with it or its appliances even after a thorough home inspection. On the other end, there ARE Pros and Cons to Buying a New Home in Calgary.

Buying a new home gives you piece of mind with the warranty included (mentioned above), and also gives you a fresh start with floors, walls and appliances that haven't been worn or used in any way.

Oh, and let's not forget the fresh new house smell that's mesmerizing in itself. Okay, okay, probably not the best reason to buy new, but hey, it's worth mentioning
More Buyers Guides
Questions About New Calgary Homes?
As an experienced REMAX Real Estate Professional, I will help you accomplish your real estate goals by providing you with exemplary service, knowledge and all the information you need to make the best decisions.
Call me anytime at 403-370-4180 or message me below; I am looking forward to getting in touch with you!