Red's Diner (Kensington) Calgary Restaurant Review
April 8, 2018
By Cody Battershill
Calgaryism's Review of Red's Diner in Kensington


Red's Diner has long been a go-to breakfast restaurant in Calgary's southwest inner city. Chances are that if you've lived here long enough, you've heard descriptions of its delicious breakfast and brunch plates rolling off the tip of one of your friends tongues before.
About a year ago, Red's Diner expanded its franchise to a third location in the heart of the Kensington Business Revitalization Zone. Located in the base of Lido Condos, the restaurant has a large contemporary layout that can accommodate a lot of hungry brekkie and brunch goers every day of the week.

*10 rated as best
Location
[mappress mapid="397"]
Atmosphere & Service
Inside Red's Diner you'll find a more than spacious atmosphere with all sorts of seats: high chairs, bar seats, two-person booths and larger tables for the whole family. They did a great job in utilizing this large space to create an enjoyable ambiance with the touch of Red's usual décor – good for any occasion.

Since Red's Diner opened in Kensington, I've been multiple times. Some were during peak weekend brunch hours while others weren't. We can honestly say that every time the service has been on point. Drink's are refilled, the menu explained if necessary and the food comes out quick.

I wouldn't expect anything else from Red's Diner to be honest. Even the 4th Street SW BIA and Ramsay locations have been on point every time I've been.
Our Food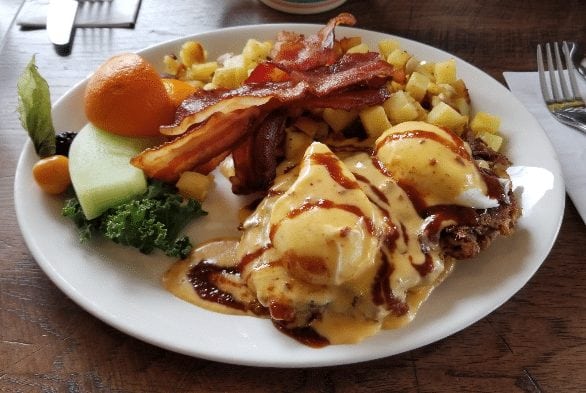 Pulled Pork Benny – served on a toasted English muffin with pulled pork, creamy house made chipotle hollandaise and BBQ drizzle - $17.50
If you love eggs benedict, you got to try this lovely version at Red's. The pulled pork is soft, chewy and filled with juicy flavour that is enhanced by the tangy sweetness of the barbecue and mild spiciness of the hollandaise.

All of Red's bennies are served with hash browns grilled on the stove top and a small serving of fruit. The hash browns are also grilled (not fried) on the stove top. From an eat-healthy, live-healthy perspective, this is the best way to go!
Final Word
We've had many other dishes at Red's Diner in Kensington. While we didn't write a review based on them, we can tell you that each time the foods been up there with an 8/10 or 9/10 rating at least.

We highly recommend this place the next time you're looking for some delicious breakfast or brunch in the northwest inner city / downtown west end area!
Red's Diner (Kensington)
Address - 286 10th Street NW
Phone Number – 587-356-1808
 I Love Calgary!
Looking for more of the best local activities, events, restaurants and everything else to do with YYC? If so, we invite you to join us at Calgaryism on Facebook, Twitter and Instagram to stay updated via your live social media feed today. We hope to see you there!