Repsol Sport Centre: 5 Fun Facts
November 12, 2018
By Cody Battershill
Repsol Sport Centre is One of the Best in YYC!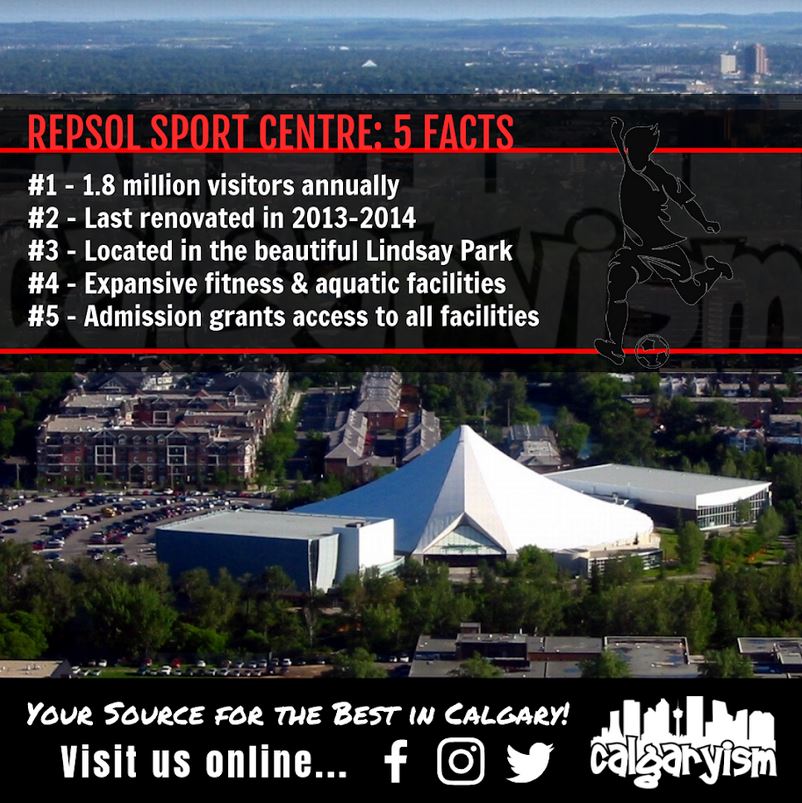 The Repsol Sport Centre is one of the best and all-inclusive recreation centres you'll find in Calgary hands down.

There's quite a few things to know about this excellent recreation facility in the inner city area just south of downtown, one of them being it was formerly known as the Talisman Centre.

That's because the sponsor for the facility changed hands a few years back from Talisman to Repsol, another prominent energy company with offices in downtown Calgary.

If you're in for a workout, swim, leisure, sports or perhaps some camps to keep the kids busy during the summer, you'll want to check out what this facility has to offer.

Here's 10 facts you should know about Repsol Sport Centre and why you may be interested in going for a visit:
#1 - 1.8 Million Annual Visitors
Every year, the Repsol Sport Centre has 1.8 million people walk through its doors. Considering the sheer amount of sports activities, programs and events going on throughout the year, that's not a huge surprise.

Let's not forget that it has state-of the-art facilities that are often renovated to keep up with a contemporary lifestyle.
#2 – Last renovated in 2013 – 2014
Because of the June floods in 2013, the Talisman Centre was shut down indefinitely with $10 million in damages.

New lower level activity spaces including multi-sport studio's 1 and 2 and the strength and balancing studio were built during renovations to repair damages ensued.
#3 – Located in Lindsay Park
Lindsay Park is a beautiful green space with lush trees and paved pathways running through and alongside the river.

These pathways extend east along the Elbow River towards Victoria Park C-Train station, making it easy for public transport users to get to the Repsol Sport Centre.

They also run south and cross over into the Mission neighbourhood, a highly desirable and walkable community in Calgary.
#4 – Expansive fitness facilities
Do you hate going to smaller gyms with limited equipment?

That's not the case by any means at Repsol Sport Centre. Enjoy two full weight racks and multi-level work out areas with more weight machines and cardio equipment than you can imagine.
#5 – Admission grants access to all
You don't have to pay separate if you want to use the fitness facilities and pool on the same visit.

However, access to special membership features like instructed workout classes will cost you extra. It may just be worth getting a membership after all.
Visiting Repsol Sport Centre?

Overall, everyone I know (myself included) thinks that Repsol Sport Centre is top-notch when it comes to recreation facilities in Calgary. We recommend giving it a go, even if its just for a visit or two.

Visit the Repsol Sport Centre website here to learn more
I Love Calgary
For more of the best local activities, events, news and everything else YYC, we invite you to join us at Calgaryism on Facebook and Instagram. Stay tuned with what's going on in Calgary via your live social media feed today. We hope to see you there!