Rocky View vs. Foothills MDs – Which County Should You Choose?
July 1, 2021
By Cody Battershill

Benefits of Living in Rocky View and Foothills Counties
If you're a home buyer looking to purchase an acreage near Calgary, you probably are already familiar with the various counties found close to the city.
Rockyview County, for example, is located north of Calgary and includes areas such as Bearspaw, Cochrane and Airdrie. On the other hand, Foothills County is found to the south of the city and envelopes Heritage Pointe, Okotoks and most of Bragg Creek.
While both municipal districts (MDs) offer homeowners most of the same such as large acreage lots, close proximity to amenities and incredible mountain views, there are some differences that any potential acreage buyer will want to consider before signing on the dotted line.
Here are a few benefits of living in either of Calgary's closest counties that may help you choose one stunning acreage over another.
Rocky View MD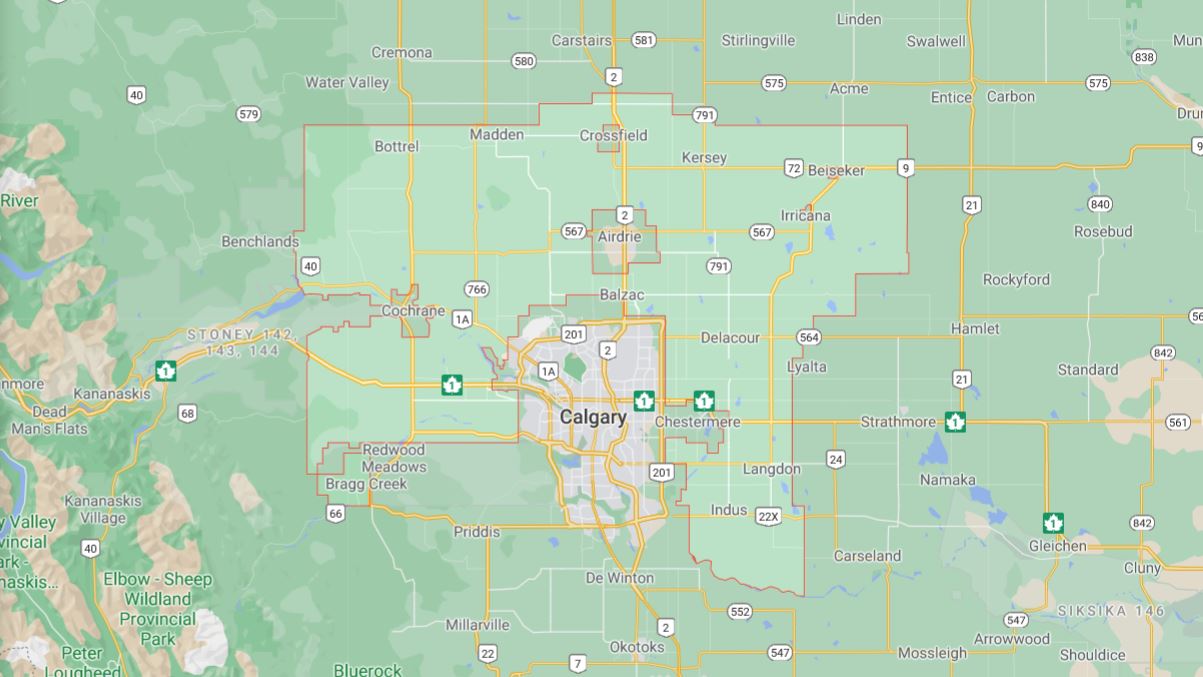 Quicker access to the City of Calgary
Some parts are further from the mountains
Closer to Trans Canada Highway
Home to CrossIron and New Horizon Malls
Rocky View is known for its luxury enclaves such as Watermark at Bearspaw and the wide-open panoramas and serene ambiances offered by many of its acreages. However, compared to its friendly neighbour (Foothills County) to the south, it also has a few differentiating characteristics that may interest any rural property buyer thinking about making a move to the area.
Rocky View offers quicker access to more areas of Calgary vs. Foothills not only because it forms a 'C' around the city to the east, west and north (see image above), but also because its furthest borders are closer on a comparative basis. Residents generally have better access to Banff National Park via double-laned Highway 1 versus those living in Foothills who rely on the single-laned Highway 40, which meanders through the Kananaskis area before reaching the Trans Canada.
Mountain buffs who love the outdoors may want to choose a home in the western part of Rocky View County such as Bearspaw or the Elbow Springs that gives them quicker access to Banff National Park for leisure and recreation. Meanwhile, those that work to the north of the city may prefer an acreage in the Rocky View County to put them closer to their job site(s).
Residents in Rocky View County also benefit from being a relatively short drive to CrossIron Mills and New Horizon Malls near Balzac. These two major outlet shopping centres have all the amenities you could ever ask for.
Foothills MD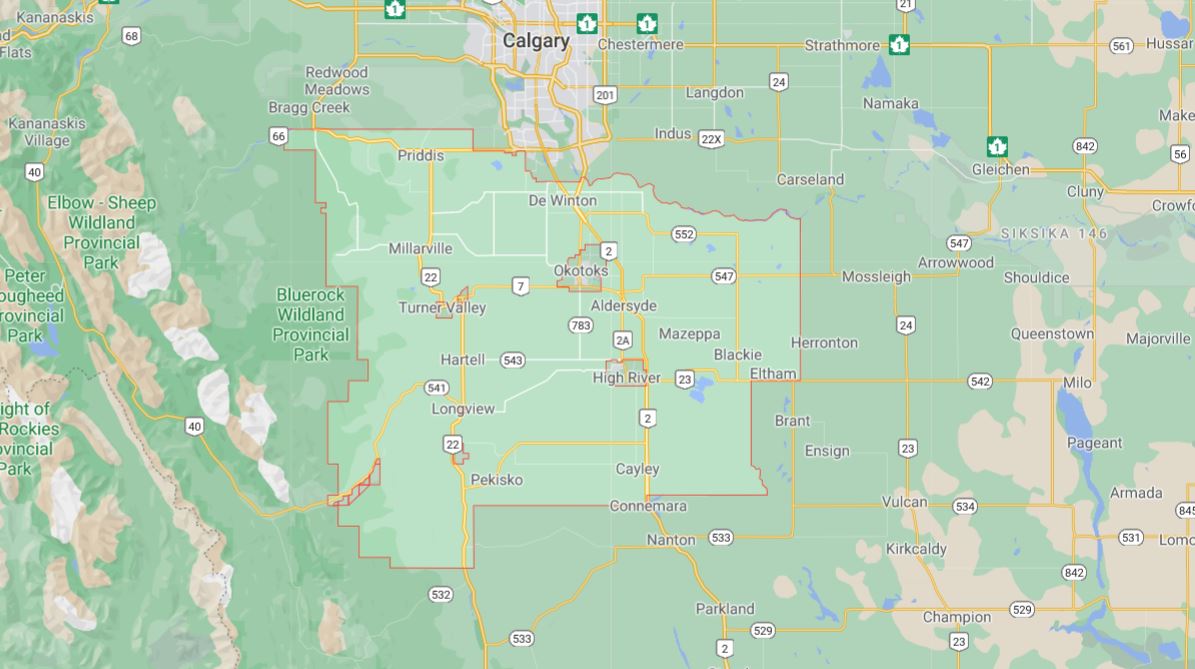 Generally closer to the foothills and mountains
Closer to the US border
Quick access to Bragg Creek and Kananaskis County
Foothills County is another municipal district to the south of Calgary also known for a handful of luxury developments like Heritage Pointe and Artesia, but also for its highly private and expansive acreages set amid – you guessed it – rolling foothills with breathtaking panoramic views.
What sets Foothills apart from Rocky View? For starters, the county is generally closer to the Rocky Mountains and provides quicker access to outdoor leisure and recreation amid the foothills and mountains. In addition, mountain biking and hiking enthusiasts will love the close proximity they have to the endless number of trails in the Bragg Creek and Kananaskis areas when living in the Foothills MD.
Homeowners who frequently cross the Canada-U.S. border for work, leisure or other reasons may also want to consider living south of Calgary in the Foothills County versus north in Rocky View MD. According to Google Maps, driving to the border drops by more than an hour and a half when living in the Foothills MD versus most rural areas in Rocky View MD.
Keep Your Real Estate Goals in Mind

The location of your acreage and the pros and cons related to how it will affect your job, interests and activities should always be taken into account when considering making a move to either the Rocky View or Foothills Counties near Calgary.
And if you find an acreage that checks off all the boxes on your list of wants, make sure to consult a professional Realtor® for even more insight on how purchasing that property may be ideal for you and your family based on your real estate goals.
As experienced Realtors® in Calgary with extensive experience in buying and selling acreage real estate, we would love the opportunity to help you accomplish your real estate goals. Contact us today for a free consultation!