Seed N Salt – Hidden Gem in Mission, SW Calgary
April 8, 2019
By Cody Battershill
Seed N Salt: Health Food Hidden Gem
View this post on Instagram
The restaurants, shops and services on our list of hidden gems in Calgary are in a category of their own; no other city has them, and often enough they are solo businesses without franchise.

Because of their uniqueness and quality, we love showcasing hidden gems in Calgary like Seed N Salt (we'll call it Seed and Salt for now). This food establishment is addictive as it offers a one-of-a-kind, ridiculously healthy eating experience which is mirrored by few, if any other café-style / fast-food restaurants in the city.

Located in Mission, Seed and Salt is somewhat like your local neighbourhood Freshii – but WAY better. It serves up several different salad bowls, grain bowls, smoothie bowls and even seasonal items, making this hidden gem is the place to go if you're looking for a highly nutritious, customized meal any time of day.
Seed N Salt – Location
[map src="" width="100%" height="350px"]
Found on 4th Street between 20th and 21st Avenue SW, Seed and Salt is well within walking distance for residents in the Beltline, Mission and Cliff Bungalow. Public parking can be found on the street and on some nearby avenues.
Seed N Salt – Atmosphere & Service
This hidden gem has an efficient café-style set up in place. You order on one end of the kitchen then have your meal come out the other near the cashier. Water, cutlery and napkins are self-serve. So are dishes, so remember to put them and your garbage / recyclables away!

Tables are also varied, with some large round ones in front of comfy booths near the walls and regular wooden tables spread throughout the rest of the dining space. These tables are large and make for a great spot to perch up with your computer!
Salads, Bowls, Breakfast… Choices are Endless
View this post on Instagram
The days of walking into a healthy food and drink establishment and having few options, or the "same old" to choose from are over.

This hidden gem in Mission has a ridiculous amount of options, so many in fact that you'll never get bored trying out new dishes which depart from your usual choices. You might just discover some new favourites along the way!

Unfortunately Seed and Salt doesn't have nutrition information for each of its bowls quite yet, so it may be a task to calculate the exact daily intake of carbs, sugars, fats and vitamins you're getting with each order. Rest assured they will have these for each dish soon enough!
Seed N Salt - Breakfast
Breakfast at Seed and Salt goes for about $10 or less. In other words, the price is right!

Choose from a few different bowls with quinoa, egg and a slurry of other healthy ingredients. Or, go traditional and get a slice of toast, some avocado and a slice of bacon.

Two oat bowls are also offered with varying ingredients. Here's the menu (as of April 2019):

Seed N Salt – Salads
Seed and Salt's salads are a huge hit and have made this food establishment's reputation a step up from Freshii.

We highly recommend the Mayan Getaway and Kale Caesar, because we've had both of those to date. For ultra health nuts, you'll want to stick with the latter suggestion; it's less calorie and carbohydrate intensive.

Vegetarians will be in heaven with prices like these, but if you need protein you'll have to add on a few bucks. The salad menu as of April 2019: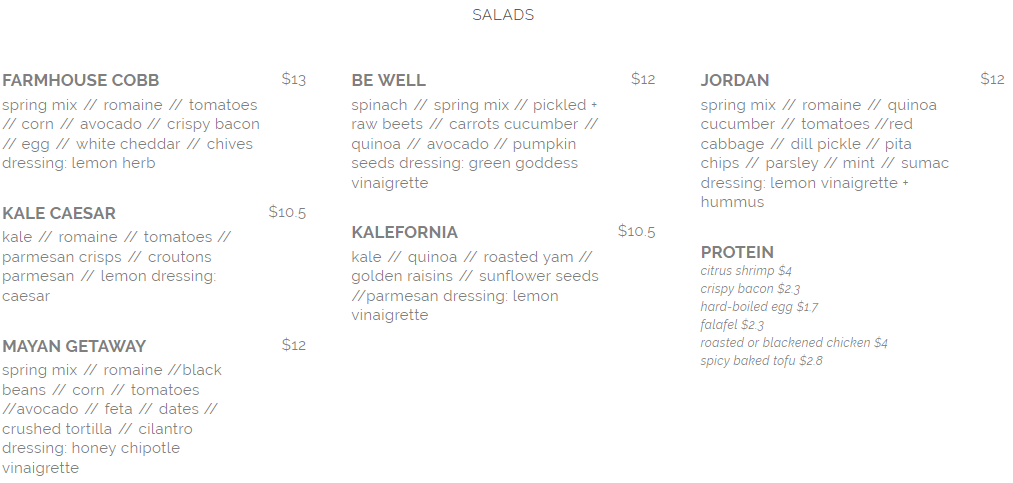 Seed N Salt – Bowls
Each of the rice / quinoa bowls at Seed and Salt have their own pleasant concoction of ingredients that tune to a certain ethnic cuisine or taste from various parts of the world.

Our favourites include the Tulum and Glory, with the Tulum winning hands down between the two. The crushed tortilla chips add a pleasant texture and blend seamlessly with the rest of the ingredients in this Mexican-style dish.

Also don't forget to add your protein to your bowl! Compared to Freshii, Seed and Salt uses much higher quality protein, so take advantage of it! The bowl menu as of April 2019: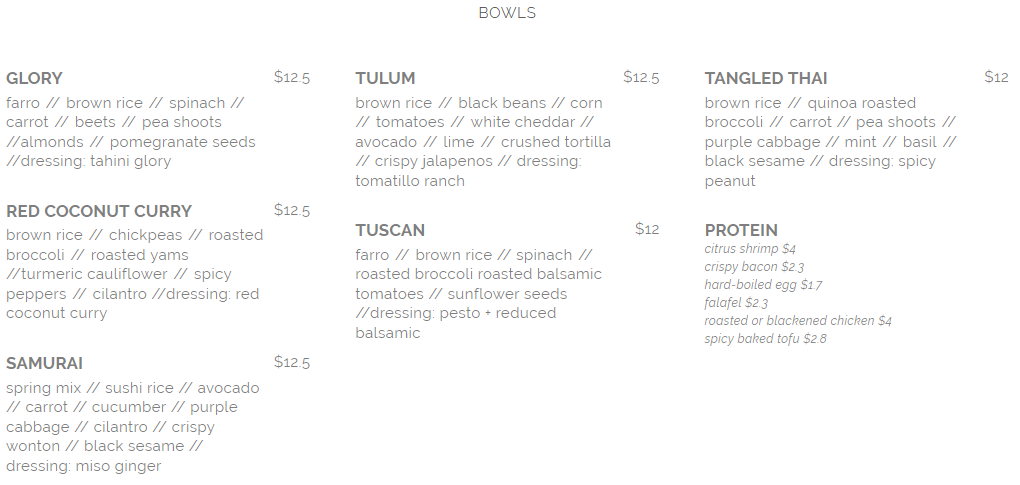 Seed N Salt - Smoothie Bowls
The smoothie bowls at Seed and Salt are a great alternative to your typical breakfast or lunch. They also are stacked with an assortment of fruits and are moderately healthy. The smoothie bowl menu as of April 2019:

Other Food & Drink
You never know exactly what you'll find on the menu at Seed and Salt. This hidden gem keeps its exciting with its "seasonal" menu that offers fresh, healthy salads in the spring, and in winter some salivating, spicy chilis.

They also have four or five different smoothies as well as an assortment of small bites, desserts, coffees and bottled beverages to choose from. There's also a few packaged snack bars and other items of the sort sitting in a "grab-it-yourself" refrigerated shelf area near the cashier.

All-in-all this hidden gem in southwest Calgary has a wide range of healthy food and drink options. Located along the 4th Street Business Improvement Area in the community of Mission, it's the ideal place to stop in at any time of day for an all-round healthy and nutritious meal.
Seed N Salt

I Love Calgary
Where else are there hidden gems in Calgary? See these Calgary Hidden Gems: Restaurants, Shops and Services today for a complete list that we've compiled over the years!