Spicy Amigos Mexican Restaurant Review
June 4, 2018
By Cody Battershill
The Spicy Amigos Mexican Restaurant Review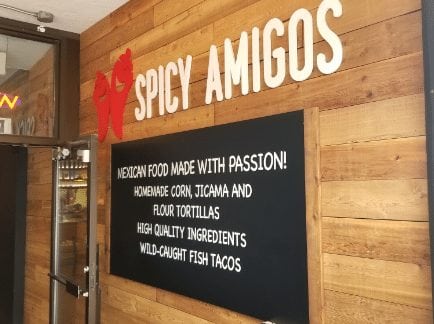 Searching for the best Mexican restaurants in Calgary on Google was how I learned about this hidden gem in the downtown west end. Called Spicy Amigos, its Google rating of 4.5 out of 5 stars with close to 200 votes sold me on putting this Mexican restaurant at the top of my must-visit list.
Located on 4th Avenue between 7th and 8th Street SW, parking can be a little bit tricky with the one-way streets inherent to the downtown core. Once parked though you'll notice a cozy little patio section with a big Spicy Amigos sign – it's hard to miss!

*10 rated as best
Location
[mappress mapid="414"]
Atmosphere & Service
Inside Spicy Amigos you'll find a casual café-style atmosphere with several tables where you order your food on one end of an assembly line then follow it to the cashier on the left - like you would at Subway or Mucho Burrito. This makes for a pretty efficient flow for customers especially those with little time on their lunch breaks.

A small patio section outside has a handful more tables, some with a bar ledge looking out onto 4th Avenue SW. I could see this chill patio space being a huge hit for people visiting Spicy Amigos at all hours of the night on Saturdays, a day of the week where the restaurant is open 'till 4am.

Everyone serving you on the assembly line was very friendly and helpful. Unfortunately, there is no table service though; you're on your own when it comes to drink refills, napkins and any extras you might need from the establishment.

I was more than happy to take care of these however considering we ordered two meals, one soup and two soft drinks for just $37.00!
Our Food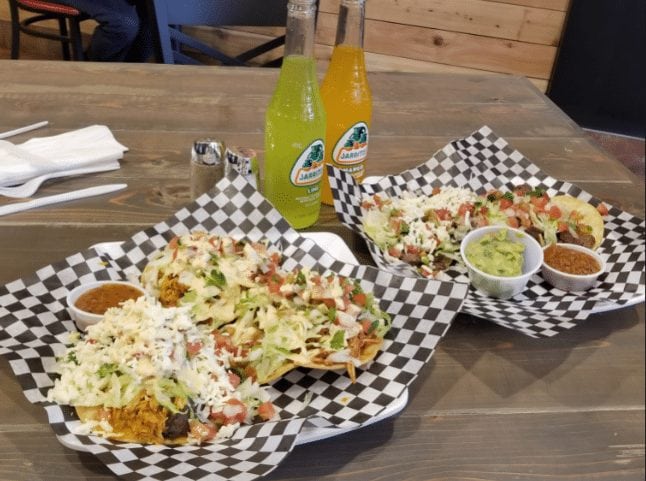 Tostadas - $12.00 – 3 crispy corn tortillas, layered with refried beans, choice of meat, onions, cilantro, pico de gallo, served with your choice of homemade salsas
These crispy tostadas can be tricky to eat if you put too much ingredients on them. The assembly line gives you several choices of toppings after choosing from 9 different meats (3 beef, 3 chicken, 3 pork) as your main.

We really enjoyed the light taste and mixture of textures of the tostadas. The refried beans added a lovely sweet beany taste and acted somewhat like glue, holding the lettuce, meat and cheese together. Just be prepared with napkins and try not to wear white if you're going down the tostadas road!
Tacos - $12.00 – 4 soft tortillas with your choice of meat, onions, cilantro and pico de gallo, served with your choice of homemade salsas
The soft tacos were much more manageable to fit into your mouth. For this reason, we highly recommend the tacos over the tostadas; they may not have as much on them, but they are loaded with meat flavour and are complimented well by the selection of toppings you choose.

We had cotija cheese, guacamole, spicy salsa, pico de gallo and a bit of lettuce on each of ours, a good, safe and relatively non-messy mix if you're trying the tacos down at Spicy Amigos.
Tortilla soup - $6.00 – chicken broth seasoned with tomato and guajillo peppers served with chicken, crispy tortilla, cotija cheese, crema and avocado
Some tortilla soups use too much cheese and other soft ingredients that end up tasting like a big bowl of smoosh. This bowl has a nice balance of the avocado, cheese and enough crunchy tortilla strips to give it the crunch any tortilla soup it needs and make it one of the best in the city.

A huge bonus is that you get a decent amount of shredded chicken in it too. For just $6.00 a pop, you can't beat the price compared to other Mexican restaurants where its $10.00 or even $14.00 per bowl.
Final Verdict
Overall, we highly recommend Spicy Amigos to anyone who enjoys good, wholesome and casual Mexican cuisine for an extremely affordable price. Key points:
Affordable food
Fast service & turn over
Several meat varieties for meals
Customize your meals via assembly line
Open late on Saturdays (4am)
Delicious & authentic cuisine
Self-serve café-style
Downtown west end location
Spicy Amigos
Address – 821 4th Avenue SW, Calgary, AB
Phone Number – 587-353-1484
Website – www.thespicyamigos.com
I Love Calgary
Looking for more of the best local activities, events, restaurants and everything else to do with Calgary? If so, we invite you to join us at Calgaryism on Twitter, Facebook and Instagram – connect with tens of thousands of other locals and stay updated via your live social media feed today!