Studio Bell – EV's National Music Centre – Opens July 1st!
May 23, 2016
By Cody Battershill
Long Awaited NMC in East Village is Opening July 1st, 2016!
After three years of construction, the new National Music Centre currently nearing completion in the downtown community of East Village is set to open on July 1st, 2016!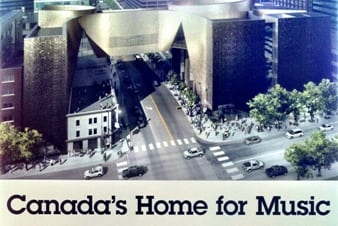 There's no better date to open what will be such an important facility in our country's national music scene than on Canada Day!
Studio Bell – New Cultural Landmark for Calgary + Canada
East Village's new National Music Centre will be the first facility of its kind to celebrate a full spectrum of musical genres in Canada.

The state-of-the-art building, designed by Brad Cloepfil of Allied Works Architecture, stands out on the skyline with its glazed terra cotta exterior and uniquely shaped contour. The most noteworthy features of this exciting new development include:

160,000 square feet of space

300 seat performance hall

Five full floors of space for 22 different exhibitions

Three Canadian music hall of fames

Massive collections of musical artifacts, equipment and instruments

Interactive exhibits that utilize sight, sound and touch for an exciting user experience

Find out more of what to expect when this new community is all said and done at East Village: Completed in 2023 today.
Opening Day Activities
The first 500 people to register for the opening event (begins June 15), will receive a gift upon their arrival on Canada Day; them and all others who arrive on the opening day will also get to delight in free admission!

And just in case you can't make it down on opening day, Studio Bell will have its doors open seven days a week for the entire month of July – from 10:00am to 5:00pm. Admission prices are as follows:

Students / Seniors - $14.00

Construction completion and programming options are expected to be fully done sometime in October of 2016. Find out more about other East Village Projects, News, and Everything Else today.
I Love East Village
Are you as excited for everything going on down in East Village as I am? Drop us a line below and let us know what you are looking forward to the most in the up and coming downtown neighbourhood!

Until then, we invite you to join us at Calgaryism on Twitter, Facebook and Instagram for more of everything to do with the rest of YYC. Give us a like and you'll stay updated via your live social media feed – it's that easy. We hope to see you there!