Top 5 Summer Activities at Canada Olympic Park
July 9, 2018
By Cody Battershill
Top 5 Summer Activities at Canada Olympic Park
What summer activities are there at WinSport's Canada Olympic Park? What used to be one of the main facilities for the 1988 Winter Olympics now has a handful of exciting summer activities to do, most of which are fun for the whole family!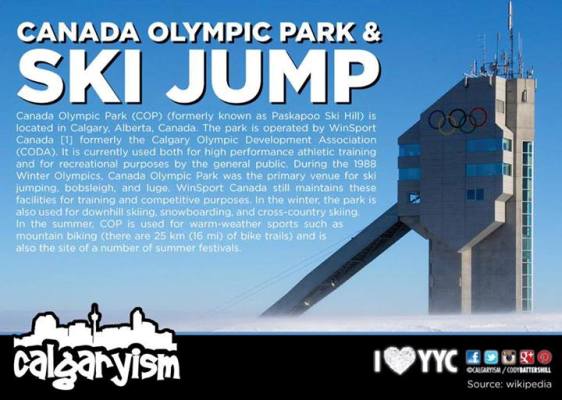 Without further ado, here's Calgaryism's list of top 5 summer activities at C.O.P.. Please let us know what your favourite summer activity is at WinSport's facilities and we will add it below!

Also see our list of Best Calgary Summer Activities
Mountain Biking
If you're a mountain biker, or perhaps are thinking of becoming one, there is an awesome bike park at Calgary's C.O.P. for you to explore.

Whistler's Gravity Logic designed the park with a variety of terrains from beginner (green trails with small features) to advanced (serious jumps and obstacles), and even expert only black trails featuring gigantic drops.

With a high speed quad chair lift and 100 more of vertical terrain coming soon, the dirt jumps, pump track and obstacles will all be combined into one mega area.

Test out the brand new fleet of Norco bikes on the upcoming new bridges, drops, wall rides, and roller coasters.
Summer Bobsleigh
Another option for those with a need for speed is the quick 60 second Bobsleigh ride. Albeit it a short ride, the memory will be long lasting.

The summer Bobsleigh Ride at Canada Olympic Park is not on ice, but rather it's a ride on wheels. You plus three are accompanied by a professional driver as you soar down the official 88' Winter Olympics Track around 14 wild twists and turns at speeds of around 11 km/hr and experience up to 4G's of force! Weeeeeee!
North America's Fastest Zipline
If you're an adrenaline junkie, trying the fastest zipline in North America should definitely get the epinephrine going!

After thorough instruction, you'll fly down the cable in a safe and comfortable harness at insanely high speeds of 100 to140 km/hr, dropping about 100m metres in altitude and traveling 500m down the slope of Canada Olympic Park.

This activity is perfect for a quick adrenaline-pumping thrill with friends, family and whoever else is up for it!
Skyline Luge

How would you like to experience the world's longest Luge track? Well, now you can, because it's at Canada Olympic Park!

At over 1800 meters long and made with a series of 50 twists and turns, you'll be on a continuous downhill course at the Skyline Luge right here in Calgary!!!

Skyline Luge is a unique wheeled gravity ride where the rider takes full control. Literally, the braking and steering system control both the speed and the direction. Don't fret, it's easy to learn and suitable for all ages and abilities.

This ride provides exhilaration at its finest! It's little bit wild, but totally perfect for the entire family, group, or team.
18-Hole Mini-Golf Course
There's few mini-golf courses that compete with the 18-hole, professionally designed one at WinSport's Canada Olympic Park.

Featuring a picturesque view of the Rocky Mountains, this is the perfect summer activity for friends, family and people of all ages to connect with one another while enjoying a competitive edge.

Every mini-golf hole is unique, featuring a variety of lengths, banks and elevations which will test not only your putting skills, but desire to have fun!

The course is located on the west side of WinSport's campus and there's free parking to boot!
What's Your Favourite Summer Activity at C.O.P.?

Hurry up and get to it!!! You don't have much time left of nice weather to fulfill the list of fun summer activities listed above!

For more information on such as costs and hours of operaton, be sure to check out WinSport's Canada Olympic Park Summer Activities today.

Until next time, check out more summer activities at the best in Calgary. Want to get involved in the Calgary community via social media? Check us out at Calgaryism on Facebook, Instagram or Twitter today!