Sumo Lounge Calgary Restaurant Review
Eau Claire Market is one particular area in downtown Calgary known for its long list of food and drink establishments that stand out of the crowd – with Sumo Lounge being one of them.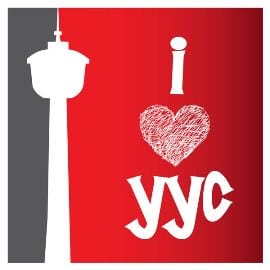 Located on the back end (north side) of Eau Claire Market, Sumo Lounge also boasts a nice patio space for a chow down on your favourite sushi delights during spring and summer.

*10 rated as best
Location
Atmosphere & Service
Inside of Sumo Lounge you'll find a warmly decorated interior (hence, the red paint) and cool Asian accents all around. Booths and tables are modern and there's a sushi bar where people can sit as well if they like.

The patio space is what really makes Sumo Lounge's atmosphere great; it is one of the few sushi restaurants in Calgary that boast a patio space, making it a unique destination for sushi in the spring and summer.

Our service was great! It may have been the restaurant owners who were serving us as they seemed to be an older couple possibly who swapped out helping all tables. They did very well considering the place was packed on a Friday night and it was just them two working the floor.
Our Orders
White / red tuna and raw salmon sashimi – $2.50 – $3.50 per piece – raw slices of fish
One way I like to judge how good a sushi restaurant is by trying their sashimi as you can tell how fresh it is and see if the fish is quality in itself. While the raw salmon was a good size and quite fresh and tasty, the white and red tuna slices just weren't as tasty and were quite small pieces to begin with. I definitely would recommend the salmon sashimi however!
Beef tataki – $14.00 – rare beef slices served with ponzu sauce and minced spicy daikon
Lo and behold Sumo Lounge's beef tataki appetizer: savoury, not too sweet, fresh, high-quality, delightfully aromatic and melt-in-your-mouth are all terms I would use to describe this dish. Simply amazing and a must get if you like tataki!
Green Dragon Roll (8 pcs.) – $15.00 – tempura prawn, unagi, cucumber, mayo, masago & avocado
The highlight of this roll was definitely the very fresh and tasty avocado, while the mayo added a nice (and sweet) texture to the minimal flavour of the eel. Add a bit of crunchy cucumber and you have a winner! I will definitely be getting this dish again!
Salmon Mango Roll – (8 pcs.) – $15.00 – tempura prawn, tobiko, cream cheese, salmon, fresh mango and house made sauce
Whoever came up with this fruity concoction of loveliness should be given a huge pat on the back. Combined with the cream cheese, the mango really accentuates the taste of the tempura prawn inside. This is a must try dish at Sumo Lounge Eau Claire Market!
Overall, Sumo Lounge delivered an exceptional dining experience with no problems at all. For the amount of food we ate, the bill was very reasonable and I will be coming back here for more deliciously fresh sushi sometime soon… you should check it out too!
Sumo Lounge Eau Claire
Address – 136 200 Barclay Parade SW, Calgary, AB
Phone Number – 403-290-1433
Join Us
Looking for more of the best restaurants in Calgary? If so, we invite you to join us at Calgaryism on Facebook, Instagram and Twitter today… we hope to see you there!