TELUS Sky New Downtown Calgary Skyscraper Announced
July 6, 2013
By Cody Battershill
TELUS Sky New Downtown Calgary Skyscraper Announced!
A new and exciting downtown tower is in the works as a part of the redevelopment for the Art Central building at 100 7th Avenue SW in Calgary.
[caption id="attachment_19421" align="aligncenter" width="400"]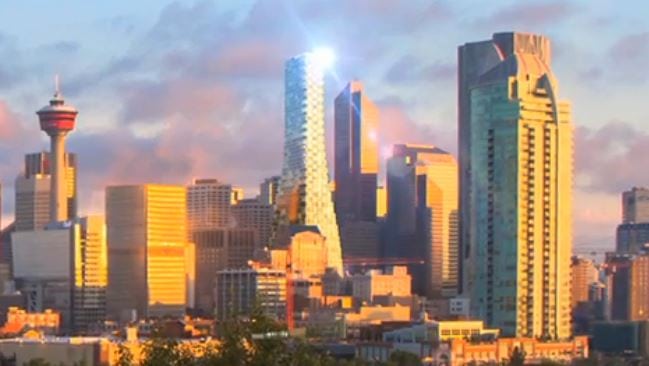 Courtesy of TELUS[/caption]
This time it's the communications giant TELUS who is taking the reins with plans to construct a mixed-use 58 storey skyscraper called the TELUS Sky Tower that will include retail, residential and office spaces.
The first 26 floors will be office space, while the 32 floors above will be host to 341 condo units.
It is rumored that the TELUS Sky Tower's resplendent design was worked on by Bjarke Ingles, a world renowned architect with an impressive portfolio of well over 100 projects.
Could it be that the new TELUS Sky Tower will be in tune with the superior design and sophisticated look of the Bow Tower? We will just have to wait and see.
Expected completion for the massive project is slated for 2017 with a projected cost of $400 million.
Other TELUS Sky Features
LEED Platinum certified building

155,000 of the 430,000 square feet of office space will be used by TELUS.

15,000 square feet of retail space located on the second floor with connectivity to the plus +15 network

The project will be responsible for the creation of around 250 jobs

Will feature a public gallery 5,500 square feet in size
More Downtown Calgary Office Space to Come
Indicators point towards another downtown development cycle for the City of Calgary. A number of new construction projects are currently underway in the area, including…
Hines 40 floor Eighth Avenue Place Tower 2 – 841,000 square feet – 2014 estimated completion

Cadillac Fairview 36 floor Calgary City Centre – 820,000 square feet – 2015 estimated completion

Oxford Properties 25 floor Eau Claire Tower – 615,000 square feet - 2016 estimated completion

Brookfield 42 and 56 floor two tower project – 2.4 million square feet - 2018 estimated completion

See an in depth look of the history of the Calgary skyline for yourself!
Current Figures
A recent report released by commercial real estate services company CBRE shows that there is over 1.7 million square feet of space currently being built in downtown Calgary, while an estimated 2.7 million square feet is either in the pre-construction stages or will be announced in the next few months.
Calgary currently is in second place in Canada for most downtown office space with 38.5 million square feet. We still have a ways to go to catch the massive number of 80 million square feet found in Toronto's city centre. Here are some of the best photos of downtown Calgary's skyline!