3 Things to do in Beautiful Banff
July 16, 2013
By Cody Battershill
3 Things to do in Beautiful Banff, Alberta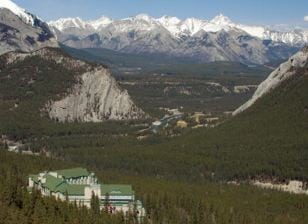 Beautiful Banff is Calgary's gateway to the majestic Rocky Mountains, one of Alberta's prize characteristics with a splendor unmatched by anything else natural in our province.
The mountain town is also a hot spot for fun activities and events year round that can be enjoyed by anyone. No matter how old or young, tall or short, thick or thin, there's something fun and exciting to do in Banff, Alberta!
Here are some of my favourite things to do in Banff during the summer. Get ready to have a blast!
White Water Rafting
White water rafting is one of my favorite activities up in the Rockies, and there's no better place to begin your water filled day than in beautiful Banff, Alberta.

You can either choose an exhilarating ride on more intense rapids or go for a more leisure ride down the Bow River. Either way, you will have the opportunity to enjoy the fresh clean water that's runoff from Canada's beautiful Rockies and experience breathtaking views.

Some common areas to experience the rapids include:
Wild Water Adventures
For more information be sure to check out Wild Water Adventures today!
Canadian Outback Adventures and Events
For more information be sure to see the Canadian Outback today!
Chinook Rafting
For more information be sure to check out Chinook Rafting today!
Horseback Riding
Horseback riding is one of the most popular things to do in Banff, Alberta! You can get a feel for it with just an hour's ride, or you can get saddled up for an entire day!
No matter what you choose, they have some very beautiful horses and the trails are carefully mapped out to help captivate the scenic beauty, the free wildlife, and the fresh air of the Rocky Mountains.
Some popular places to begin your day include:
Holiday on Horseback
For more information be sure to check out Holiday on Horseback today!
Banff Adventures
For more information be sure to check out Banff Adventures today!
Brewster Adventures
For more information be sure to check out Brewster Adventures today!
Trail Hiking
One of the best ways to experience Alberta's Rocky Mountains is to adventure through them on a hike!
Banff has tons of hiking trails through different areas, not to mention those also found in Kananaskis Country.
Trails range from short and leisurely to long and intense, and most will take you to places that will leave a hint of beautiful Banff in your mind for a very long time! Perhaps even stay the night in a tent on one of the camp grounds!
Only a few of MANY to mention include:
Here's one of the best websites to find information in hiking trails in Banff National Park.
Things to Do in Banff, Alberta…
I love the fact that we Calgarians only have to drive an hour west of Calgary to reach beautiful Banff, while others from around the world spend whole pay cheques to come and check it out. Aren't we lucky!? I'd say so!!
We would love to hear what your favourite things to do in Banff, Alberta are! Leave us a comment below!
For more fun activities and events, be sure to do what the locals do in Calgary. Until next time, thanks for stopping in and hope to have you back soon!