Toloulous Banff Restaurant Review
August 6, 2018
By Cody Battershill
Calgaryism's Review of Toloulous, Banff, AB

It can be hard to get a table at almost any restaurant found within a block radius of Banff Avenue in downtown. Toloulous is one of them!

Located on Caribou Street, this southern American restaurant serves up an enormous selection of cajun seafood and burgers as well as Louisiana-style drinks all for a very reasonable price.

We enjoyed our time at Toloulous and thought that you should too if you haven't already. After all, theres some pretty unique menu options that make eating here an exciting experience on it's own.

*10 rated as best
Atmosphere & Service
Inside of Toloulous you'll find a smaller interior with bright and colourful decor all around. Seating is a bit tight but it's not so bad for Banff.

There's a pop up patio that spans a good distance along Caribou Street. It's got about 8 to 10 tables for parties of 2 and 4, but the noise pollution might make you think twice about sitting outside.

In terms of service, our waitress was fantastic! She explained the menu well, giving us a good idea on what items were unique to the restaurant such as the catfish and alligator bites.

Actually, there's so many different options on the menu you might have a hard time choosing like we did. We were very happy with the suggestions made and went with the catfish bites, magnolia salad and a BBQ pork po' boy as our entree.
Our Food
Catfish bites – $12.60 – bite-sized pieces of catfish golden friend with Creole tartar sauce for dipping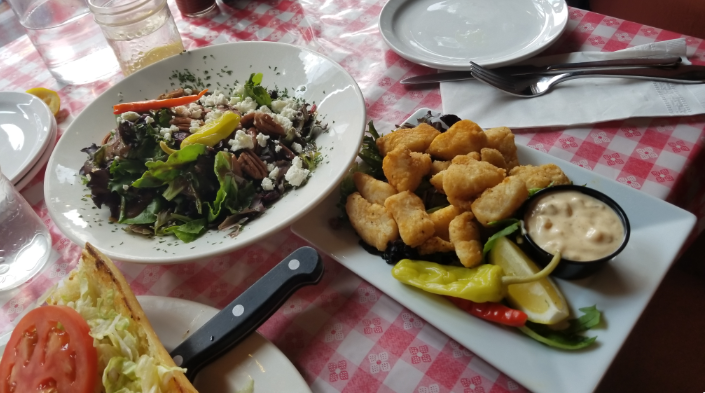 Think calamari except with catfish as a substitute. That's what you're getting with these catfish bites, and they are pretty darn good.
Magnolia salad - $12.99 – goat cheese, pecans and dried cranberries on a bed of mixed greens topped with honey mustard and balsamic dressing
This salad was decently sized and had a nice mix of textures and tastes. If you like fruity, cheesy salads, then this is an ideal pick for you.
BBQ pork po'boy - $15.95 – in house slow cooked BBQ pork on grilled baguette with lettuce and tomatoes, served with a side of your choice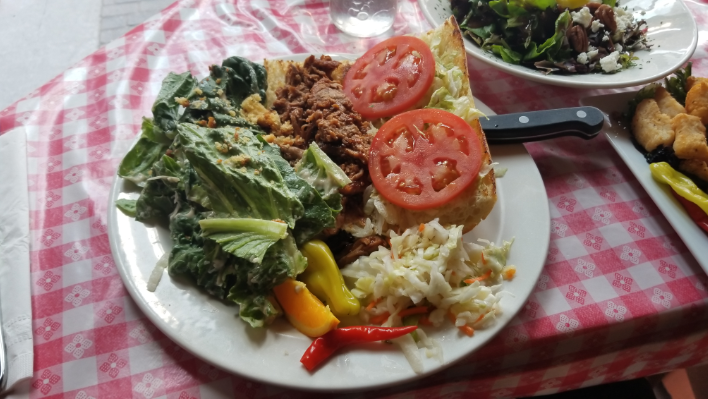 Po'boy sandwiches are a classic southern-style luncheon item which I would like to describe as the panini's of Louisiana. What you get is an open-faced piece of soft and doughy bread with the ingredients on top. The bread was delicious as was the pulled pork which was a bit sweet but still delightful.

Overall, this sandwich was a relatively affordable lunch pick and was recommended by the waitress alongside the bubba shrimp po'boy. Unfortunately, they had run out of shrimp at that time so we chose the first option.
Final Word
Overall, Toloulous was a great place to stop in for a quick lunch in Banff, Alberta. The food was out relatively quickly (within 10 minutes after ordering) and the service just as good. I would say the food quality to be above average, but don't expect anything gourmet from this southern diner.
Toloulous
Address - 204 Caribou Street, Banff, AB
Phone Number - 403-762-2633
I Love Banff
Living in Calgary makes it easy to head out to Banff any day of the week. About an hour west on the Trans Canada Highway, it's the perfect place to unwind and enjoy some time in a place where you're surrounded by the beauty of the Rocky Mountains.