Top 10 Remembrance Day Events in Calgary (2017)
November 6, 2017
By Cody Battershill
Top 10 Remembrance Day Events in Calgary (2017)
With Remembrance Day just around the corner, we have compiled a list of our best events to attend to honour those who have given so much to give us the life that we are able to live today.

Here's Calgaryism's list of top 10 Remembrance Day Events in Calgary for 2017: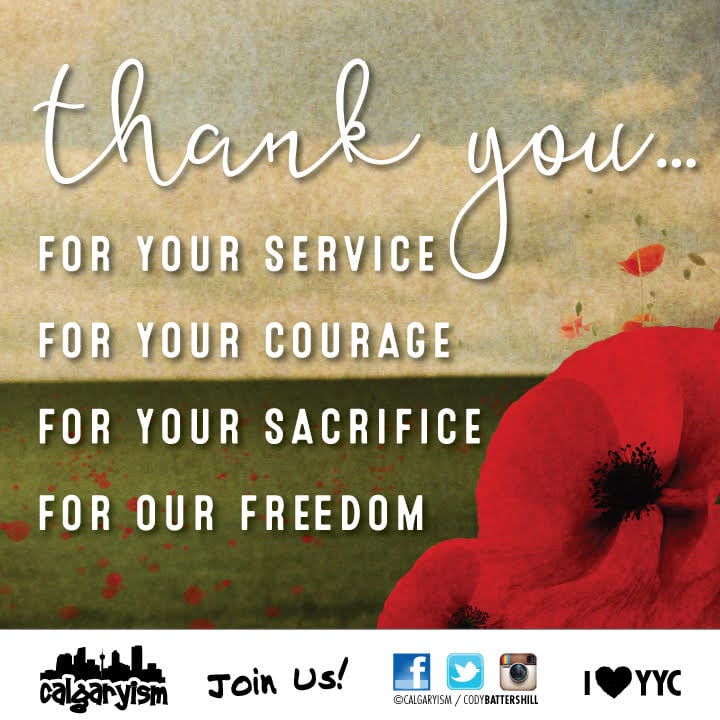 #1 – Field of Crosses Memorial Project
Where – Memorial Dr. between 3rd & Centre St. NW

You may have noticed the crosses that are put out for Remembrance Day every year along the side of Memorial Drive in the northwest. If you want to grasp a sense of the true magnitude of the sacrifice that was made for our freedom by soldiers of Canada's past, this is a good place to visit.

Every single cross of the 3,000 that are put out on display are inscribed with the name, rank, age and date of death of a soldier from southern Alberta who was killed in action at some point throughout Canada's history.

Every sunrise between November 1st and the 11th, there's a flag raising ceremony at the Field of Crosses which includes ceremonial music from a piper and bugler. Also, there's an official Remembrance Day Ceremony Event at the Field of Crosses starting at 10:30am on November 11th, 2017.

Everyone is welcome to visit the site at anytime during ceremonies or throughout day and night.
#2 – The Military Museums - Remembrance Day Service
When – Nov 11, 2017, 10:30am

Where – 4520 Crowchild Trail SW

The Military Museums service is a good way to honour the soldiers of Canada's past and do some extra activities as well since admission to the museum is free on Remembrance Day.

The museum is open regular hours on that day from 9:00am to 5:00pm. Parking is very limited so if this event is in your sights make sure to arrive early. There's also hot chocolate, tea and coffee on the house.

Make sure to bring some non-perishable food donations for the Veteran's Food Bank.
#3 – Battalion Park Ceremony
When – Nov 11, 2017 - 10:30am to 12:00pm

Where – 3001 Signal Drive SW

The Kings Own Calgary Regiment is hosting the 6th Annual Battalion Park Remembrance Day Ceremony at Battalion Park in Signal Hill, SW Calgary.

Like every year, there will be an early ceremony followed by some public addresses and speeches with a wreath laying afterwards.

Battalion Park is better known for its four geoglyphs numbered 51, 113, 137 and 151 made up of 16,000 whitewashed stones that represent the 51st, 113th, 137th and 151st battalions of the Canadian Military.
#4 – Central Memorial Park Parade
When – Nov 11, 2017 – 10:30am to 12:30pm

Where – 1221 2nd Street SW

The Central Memorial Park Memorial includes the Calgary Highlanders Parade, put on between 4th Street and 12th and 13th Avenue SW.

The Canadian Military Regiment soldiers take part in the ceremony near the park's Cenotaph, honouring those brave soldiers who gave their life in wartime fighting for our nations cause.

This Remembrance Day event is a popular choice for those living in the downtown and beltline areas of Calgary.
#5 - Jubilee Auditorium Service
When – Nov 11, 2017 – 9:30am to 11:45am

Where – 1415 14th Avenue NW

The Jubilee Auditorium Remembrance Day service is quite like that at Central Memorial Park. Weather permitting, there will be ceremonies which include wreath-laying by Veterans', Political, Civic and Community organizations as well as those who wish to lay a wreath privately. Following is a March Past on the west side of the building near the main entrance.

Seating is assigned for this Remembrance Day Event, so make sure to get your ticket before hand. Parking is free for those attending the ceremony on November 11th.

The official ceremony starts at 10:30am and at 11:45am it finishes, just in case 9:30am (doors open) is too early for your liking.
#6 - Fort Calgary's Remembrance Day Event
When – Nov 11, 2017 – 10:30am

Where – 750 9th Avenue SE

This special Remembrance Day event is held in one of the most special local landmarks there is in our city.

For the main event, expect to see bugling, bagpipes, choral singers and readings. After these ceremonial activities, enjoy browsing the goods of over 60 artisan shops including literature, painters, art-card makers, glass makers, wood makers and more. You never know what neat little keepsake you'll find!

The RCMP's own Veterans' Association has facilitated this event, come out and show your support on November 11th, 2017.
#7 – Hanger Flight Museum Ceremony
When – Nov. 11, 2017 – 10:30am to 11:15am

Where – 4629 McCall Way NE

Weather permitting, the Hanger Flight Museum will be hosting its annual Remembrance Day at the old BCATP parade square. Make sure to dress accordingly and get there early as parking is limited! The ceremony begins at 10:25am.

The museum will then be open until 4:00pm on the same day with admission by donation of your choosing as tribute to Canada's war heroes. This is a great way to learn a little bit about what military servicemen and women do and gain a mutual respect for their sacrifices.
#8 – Flight Risk – Lunchbox Theatre
When – Oct. 23 to Nov. 11, 2017
Mon. to Sat. 12:00pm, Thurs. to Fri. 6:00pm

Where – 160, 115 9th Avenue SE

This adult only theatre event tells the story of a World War II Veteran named Hank who is having trouble celebrating his 100th birthday because of old pains and sorrows he experienced as a soldier.

Eventually, Hank is swayed into opening up about these woundings to his nurse Sarah and is finally able to find the peace he's been looking for all these years.

What's best is that this play is inspired by a true story of a World War II Veteran right here from Calgary.
#9 - Afghanistan: Requiem for a Generation
When – Nov. 10 to Nov 11 – 8:00pm

Where – 205 8th Avenue SE

In 2012, the premiere of this highly acclaimed symphony by composer Jeffrey Ryan first showed in Calgary. Now, he's back to commemorate the end of Canada's military role in Afghanistan.

Text's by Canada's first War Poet, Suzanne Steele, pays tribute to lives that have been brought together and torn apart by war while also helping to create a timeline for viewers to follow.

Jeffrey Ryan is a Toronto-born composer with styles ranging from art song, choral music and opera to chamber ensemble and orchestral works.
#10 – Your Own Remembrance Day Ceremony
When – November 11th, 2017

Life doesn't stop for special holidays, just like it doesn't stop for war. Many of us will still have responsibilities to fill and people to take care of and we might not be able to make it out to a Remembrance Day Event in Calgary in 2017.

If this is you, it's easy to do your own little ceremony wherever you are. At 11:00am on November 11th, take a good long moment of silence to remember what Canada's fallen soldiers and current military servicemen and women have sacrificed.

We wish you a gracious Remembrance Day in 2017!
I Love Calgary!
Looking for more of the best local activities, events and everything else to do with YYC? If so, we invite you to join us at Calgaryism on Facebook, Instagram and Twitter – stay updated via your live social media feed today. We hope to see you there!