Calgaryisms Top 3 Canada Day Events in Calgary (2015)
Looking for a place to celebrate the birth of our great nation this coming July 1st?
If you haven't made plans just yet for Canada Day 2015, you'll definitely want to check out any of these top three events happening in Calgary that will make this special holiday a day of fun and celebration for all.
Eau Claire Market Block Party
When – 12:00pm to 11:45pm

Where – Eau Claire Market, 200 Barclay Parade SW
Location
People from all over Calgary flock to the Canada Day Market Block Party held at Eau Claire Market for a number of reasons, including:
Over 150 artisan shops, food trucks and other vendors to enjoy (indoors and outdoors)

Live music and entertainment on stage and around event area

Riverside location with Princes Island Park, Peace Bridge and St Patrick's Island a few moments away

Family fun, friendly faces and a relaxed atmosphere for all to enjoy – face painting, balloon twisters, magic shows and more

It costs absolutely nothing to enjoy this action-packed Canada Day event
This could be one of the last Canada Day Market Block Party's to happen before the redevelopment of Eau Claire Market and associated area is underway!
Most family events are on between 11:00am and 3:00pm – don't miss it!
Rock the Walk on Stephen Avenue
Where – Stephen Avenue (8th Avenue SW downtown)
Location
Visit to the #IAMDOWNTOWN stage on Stephen Avenue this Canada Day for a full line-up of musical talents throughout the day. You might recognize some of these artists: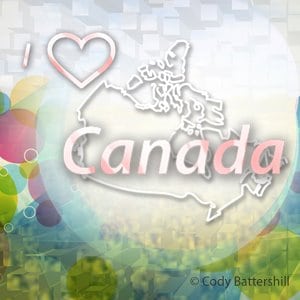 But hey, if you aren't familiar with some of these great artists then that's even more reason to get out to Stephen Avenue this Canada Day and explore fresh new faces in the local music scene.
Also expect to see food and shop vendors around the concert stage.
Dominion Day at Heritage Park
Where – Heritage Park, 1900 Heritage Drive SW

Cost – $13.25 to $25.75 per person
Location
Heritage Park is celebrating Canada Day the old fashioned way with a Dominion Day style parade following a pancake breakfast that is free for the first 2015 people into the park! Throughout the rest of the day, enjoy a wide range of family activities including:
… and much more. We recommend you go early for the free pancake breakfast and have a great full day of exploring all there is at Heritage Park!
I Love Canada
We Canadians are so lucky to be living in one of the safest and most prosperous countries in the world. I want to wish you a happy birthday Canada and thank you for everything that you have done for all of us. We love you!