Best Valentine's Day Date Ideas in Calgary (2019)
January 20, 2019
By Cody Battershill
What to Do this Valentine's Day in Calgary?
What should you do for Valentine's Day in Calgary? To start, a romantic dinner is a more than a good idea for all you who are looking to impress that special someone. If you haven't booked a dinner at a restaurant just yet, you'll want to do so before its slim pickings for availability!
That's okay though. February 14th isn't all about how posh the restaurant is or how much money you spend, but more about the thought and effort put into treating that special someone in your life. Here are some alternative Valentine's Day date ideas in Calgary apart from a dinner reservation.
GLOW - Downtown Winter Light Festival
The second annual GLOW Downtown Winter Light Festival starts just in time for Valentine's Day 2019 in Calgary.

For the "love lights" event, in downtown you'll find different public spaces lit with unique projections and installations in addition to theatrical experiences and interactive light art, making it the perfect event to participate in after a romantic dinner.

GLOW Festivals' light installations will be linked by several hubs where you'll be able to find information, refreshments and live performances.

Some sites will keep you indoors as well and make use of Calgary's unique +15 skywalk network, parking garages and even hotels to make this Valentine's Day event perfect for all people of all ages­­ to enjoy and participate in!

When: February 14th, 2019
Where: Downtown Calgary
Cost: Free
Website: Experience Glow
Calgary Zoo – In the Heat of the Night

The Calgary Zoo is hosting its annual Valentine's Day event, something that's been happening for more than 20 years! Sticking to the trend over the years, you'll delve into the world of romance between critters of all types after a romantic dinner and other activities.

Begin the night with a glass of prosecco before a romantically set 4-course dinner meal in the Enmax Conservatory. Romantic music, games and onsite photography are also part of the fun, that is, before the presentation about romance in the wild because afterwards, who knows what will happen!

Keep in mind that you must buy tickets before picking your table for this event. In the Heat of the Night sells out every year so make sure to get your tickets soon!

When: February 14th – 15th
Where: Enmax Conservatory, Calgary Zoo
Cost: $115 per person
Website: Calgary Zoo Events
TELUS Spark - Valentine's Day Adult's Only Night
TELUS Spark will make your Valentine's Day 2019 as romantic and educational as it gets. I mean, the two CAN go together when done right; TELUS Spark's famed adult's only night on Thursday's has a great reputation for being fun no matter the event.

Whether you're single or a couple, this event will bring you on an adventure to discover what happens to the human body biologically when you break up with your partner, get between the sheets with a sexual partner and all that happens in between.

This event offers two ticket types: admission and dinner + admission. If you're in eating and staying for the event, table space is limited so you'll want to book as soon as you can.

When: February 14th, 2019, 6:00pm – 9:00pm
Where: TELUS Spark
Cost: $26 (admission) or $90 (+dinner) per person
Website: TELUS SPARK - For Adults Only
Colour Me Mine
A staple for dates in Calgary, Colour Me Mine's hands-on approach to Valentine's Day will without a doubt get those cupid arrows soaring through the air.

Inside Colour Me Mine you'll find hundreds of different ceramic pieces ranging from picture frames and kitchen ware to super heroes and romantic mementos. There's even sentimental ceramics such as "I love you" for all you love birds out there.

These are just a few of the pieces they have that make the perfect Valentine's Day gift, especially when you've put your heart and soul into painting one for that very special person in your life.

For those that aren't exclusive with each other just yet, perhaps this is just the type of romance that will score you some serious brownie points and lead you towards monogamy.

When: Open 7 days a week
Where: Multiple Locations
Cost: $40+
Website: Colour Me Mine
Paint Night
Another fun and artsy way of saying "I love you," or maybe just "you're pretty fly" for the less serious couples is to check out a ticketed paint night event happening on or around Valentine's Day in Calgary.

Paint Night is ideal for a fun and romantic evening because you both are responsible for painting half of the image to be created. This is perfect for breaking the ice with a fun and light-spirited atmosphere or for more serious couples to create a sentimental masterpiece that will be hung together, hand in hand.

With Paint Night's being hosted all around the city at different pubs, coffee shops and restaurants, it's easy enough to find one close to home. Most events are adults only and serve food and drink while you eat. A substitute for dinner? Maybe!

When: Most days of the week
Where: Multiple locations
Cost: $40+
Website: Paint Night
Couples Cooking Class
It's been said that a way to a man's heart is through food. It's also been said that that there are few turnons that hold more water than a man who can cook.

So why not sign up for cooking classes together and be well on your way to learning some new cooking tricks in the kitchen? After all, it should only leave both of you smiling if you choose to bring these newly learned talents back home.

You'll also get to spend a few hours in an intimate setting with your cooking partner. This is the perfect chance to make a solid romantic evening out of food and chatter and hopefully some good humour with no crickets or awkwardness on your part!

There are multiple kitchens around Calgary that offer couples cooking classes especially for Valentine's Day – but also year round, including:

Classes usually fill up long before V-Day, so make sure to book well in advance.
Couples Spa Treatment
Valentine's Day is a celebration of being with another, which is why a trip to your nearest spa for a couple's package is always a good idea on or around February 14th!

Kick back with bae and enjoy some time being pampered with treatments like hydrating facials and relaxation massages together.

Spas all around the city offer Valentine's Day couples packages ranging from one or two treatments to the full shebang. Some of our favourites:

Once again, make sure to book yours well in advance for a special occasion in Calgary such as Valentine's Day.
Dinner at Home w/ Mobile Professional Cook
Staying at home for the evening might be right up your alley if Valentine's Day happens to land on a weekday. Not to worry, as there's plenty of things you can do at your place to spice things up.

One of those things is to reserve a mobile professional cook to come and make you an extravagant gourmet meal right in your very own kitchen!

The best part about this service is that you don't have to worry about any of the planning, shopping, preparing or serving of the food – it's all taken care of for you. This means you'll have more time to sit back, relax and enjoy the evening with your partner.

A handful of companies offer this special in-house service in Calgary, including:

As with most other date ideas above, you'll want to book your professional mobile cook well ahead of special occasions such as Valentine's Day.
Ice Skating
A more active Valentine's Day date idea in Calgary for 2019 is to slap on a pair of skates and go skating hand-in-hand with your partner!

If you're both terrible at skating, the Olympic Oval is probably your best bet as they provide free learner bars to use as you skate around the Olympic-sized speed skating track.

On the other hand, for a more adventurous outing try checking out Bowness Park for some skating action on the lagoon amidst a beautiful and serene natural setting.

Prince's Island Park is also quite beautiful at that time of the year and makes for a very romantic, almost surreal Valentine's Day experience.

Calgary outdoor rinks and hours:

Big Marlborough Park – 5:00am to 11:00pm daily
Bowness Park Lagoon (rentals available) – 5:00am to 11:00pm daily
Carburn Park – 11:00am to 11:00pm daily
Olympic Plaza (rentals available) – 10:00am to 9:00pm
Prairie Winds Park – 10:00am to 10:00pm
Prince's Island Park - 10:00am to 9:00pm
Thomson Family Park – 10:00am to 9:00pm
Chick Flick Marathon
A stay-at-home movie is a simple, yet romantic way to spend a day or evening with bae. The movie viewing itself should be one aspect of this date idea.

Consider taking some time to make a meaningful movie playlist. Perhaps rearrange the house to create a more intimate atmosphere. Top it all off with having one of your favourite delivery restaurants drop off food – or even better – make a home cooked meal for you two yourself!

We recommend checking out some of the best chick flicks of all time for this one:

Clueless – 1995
Romy and Michele's High School Reunion - 1997
10 Things I Hate About You – 1999
Miss Congeniality – 2000
Sweet Home Alabama – 2002
How to Lose a Guy in 10 Days - 2003
The Notebook - 2004
Mean Girls - 2004
Valentine's Day – 2010
No Strings Attached – 2011

Looking for a place to load up on a bottle or two of your favourite wine to sip on during your chick flick marathon? See these Best Wine Stores in Calgary today.
Shooting Range
Blast your Valentine's Day off with a big bang at the shooting range! This high-intensity, adrenaline-pumping date idea is as unique as it gets and may just be the perfect memorable activity for you and your partner on or near February 14th!

There are two indoor shooting ranges in Calgary:

Choose from a wide arsenal of firearms ranging from .09 and .50 caliber pistols to .38 and .405 caliber rifles. Heck, there's even tactical shotguns that you can blast down range at the bullseye – or if you choose – at custom targets of zombies and other fairy tale abominations for a small price.
How Much it Will Cost You...
Basically how the cost works is you purchase a day pass then pay for the ammo you shoot, which means you could try all available guns on the range if you really wanted to!

At The Shooting Edge, for example, ammo costs are as follows:

9mm = $30 for 50 rounds
.223Rem/.308Win = $40 for 20 rounds
.40S&W = $35 for 50 rounds
.357Mag/.44Mag = $12 for 6 rounds
.45ACP = $47 for 50 rounds
12ga/.410ga = $12 for 5 rounds

If you've never been to a shooting range in Calgary before, there's a registration process and short, mandatory safety meeting before being cleared to go onto the shooting range.

Arrive well in advance to make sure your on time for your reservation later on Valentine's Day.
Live Entertainment
As Calgary's cultural and entertainment scenes grow, so do the opportunities for locals to get out and experience a quality show on or near February 14th.

Every year there's a wide selection of live music, special plays and inclusive events which are geared towards the most romantic day of the year.

Calgary Valentine's Day shows happening in 2019:
Recreate Your First Date
Remember that special moment in time where you two first met? It may have been love at first site, or perhaps what started out as a friendship blossomed into one of the most loving relationships of your life.

Just as special as the first time you met was the date that you went on - when, where, and the rest of the details - so recreating it on your part should rank pretty high on the scale of romantic gestures.

Don't be afraid to up your game, however, and spend a bit extra on things that would have made that first date even better than it was... if that's even possible!
Mountain Trip 
We here in Calgary are blessed to be able to reach the Rocky Mountains within just an hour of driving.

Depending on what day Valentine's Day lands during the week, a mountain getaway may or may not be a good idea. But regardless, there are few better Valentine's Day date ideas in Calgary than a trip out to a town like Canmore or Banff for a night or two.

Just a few date ideas for when you're out in the mountains:

Romantic dinner
Banff gondola
Banff hot springs
Skiing at Lake Louise, Nakiska, Sunshine Village
Lake Louise ice skating

Also see our list of Best Restaurants in Canmore, Alberta for some dining ideas.

Also check out these 3 Things to Do in Banff, Alberta for some fun date ideas.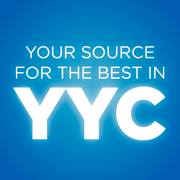 I Love Calgary
Looking for more of the best local activities, events and restaurants in and around the heart of the new west? If so, we invite you to discover them at Calgaryism on Facebook, Twitter and Instagram today and stay updated via your live social feed. We hope to see you there!